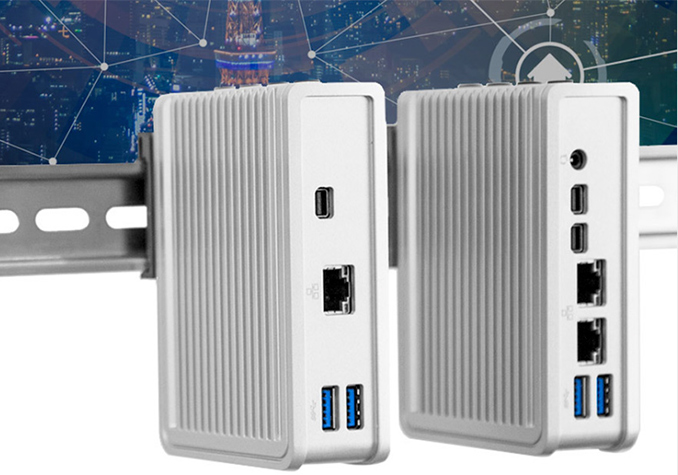 Logic Supply this week introduced its new series of ultra-compact form-factor (UCFF) PCs that boast a fanless design as well as rich connectivity via an optional 4G modem. The Logic Supply CL200-series systems are designed primarily for applications that do not require performance of modern PCs, but benefit from their versatility when it comes to software compatibility and connectivity.
As computer usage expands across all industries, demand for specialized systems is growing. One particular area of growth are miniature special-purpose systems designed for various emerging workloads that did not exist a couple of years ago. Logic Supply's CL200-series UCFF PCs clearly fit into this category. Measuring 83×116×34 mm, these systems little bigger than a large wallet. They come in sealed Hardshell chassis designed to enable fanless cooling and keep airborne debris out, which is important for target applications, such as digital signage, data acquisition, automation, network gateway, and others.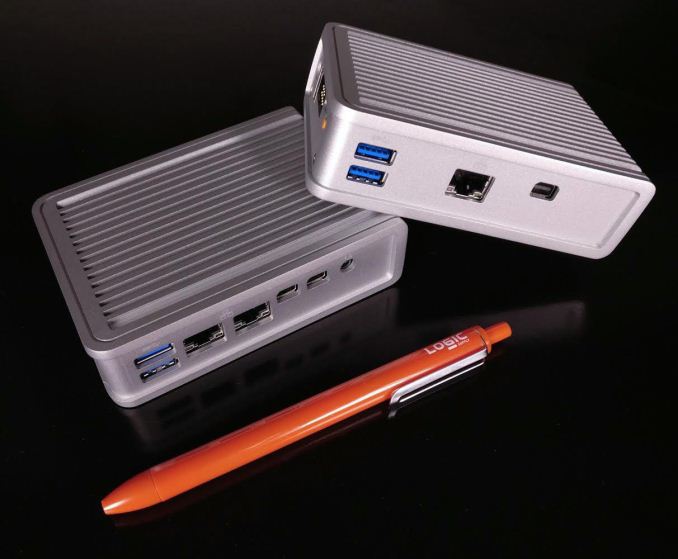 The Logic Supply CL200-series industrial PCs are based on Intel's Celeron N3350 SoC (2C/2T, 1.1 – 2.4 GHz, HD Graphics 500, 6 W), not exactly a high-performance processor, but should be enough for tasks that do not need a lot of compute horsepower (at least from Logic Supply's point of view). The manufacturer will ship CL200 two base configurations: the entry-level CL200 and the more advanced CL210. The CL200 is equipped with 1 GB of LPDDR4 and 8 GB of eMMC storage, it has two USB 3.0 connectors (+ one USB 2.0), a GbE port, an RS-232 box header, a microSD slot, and a mini DisplayPort. By contrast, the CL210 is outfitted with 2 GB of RAM, 32 GB of eMMC storage, two USB 3.0 (+ one USB 2.0), two GbE, one 3.5-mm TRRS audio jack, an RS-232 box header, a microSD slot, and two mDP connectors. Given the storage constraints, the CL200 will only ship with Linux 16.04, whereas the CL210 will be offered with either Windows 10 or Linux 16.04. When it comes to wireless connectivity, the CL200-series PCs will support Wi-Fi, Bluetooth, and 4G/LTE, but actual configurations will have to be built-to-order due to different requirements (some customers may prefer lack of any wireless connectivity due to security concerns, for example).

Preliminary Specifications of Logic Supply's CL200 Industrial PCs
CL200
CL210
CPU
Celeron N3350 SoC
2 cores/2 threads
1.1 – 2.4 GHz
2 MB L2
6 W
iGPU
HD 500, 12 EUs at 200 - 650 MHz
Memory
1 GB LPDDR4
2 GB LPDDR4
Storage
eMMC
8 GB eMMC
32 GB eMMC
Other
microSD
Wireless
optional 802.11 Wi-Fi + BT 4.2 + 4G/LTE
Ethernet
1 × GbE with RJ45 connector
2 × GbE with RJ45 connector
Display Outputs
Mini DisplayPort 1.2
2 × Mini DisplayPort 1.2
Audio
mDP
1 × TRRS connector
mDP
USB
2 × USB 3.0 Type-A on front
1 × USB 2.0 Type-A on bottom
RS-232
1 × RS-232 box header on bottom
PSU
External
OS
Linux 16.04
Windows 10 or Linux 16.04
Logic Supply's CL200-series systems are entering a pretty saturated market niche. They are going to face competition from ECS' Liva Z and Liva Q PCs, ZOTAC's Pico-series computers, Intel's own Compute Cards as well as many other products. All of the aforementioned PCs have their own peculiarities, some offer better performance, other support better connectivity, but since we are talking about computers for specialized applications, design wins of these PCs will depend on suitability for particular usage scenarios and project requirements.
The manufacturer has not announced pricing of its CL200-series industrial PCs, but only said that it would ship them this spring.
Related Reading:
Source: Logic Supply