Miscellaneous Aspects and Concluding Remarks
Battery life is an important aspect for wireless storage devices. Western Digital claims up to 10 hours of run-time on the battery for pure HD video streaming from the internal drive. However, usage of additional USB devices or SD cards and/or using the device as a Wi-Fi access point with uplink to another network may bring down the claimed best case numbers. To get a better idea of the actual power needed to keep the internals running, we connected the drive and its charger to a Ubiquiti mFi mPower unit. In the first pass, we recharged the battery from 0 to 100%. The graph below shows the power consumption at the wall for this process. It is close to 12W for more than 2 hours to get the unit back to full charge.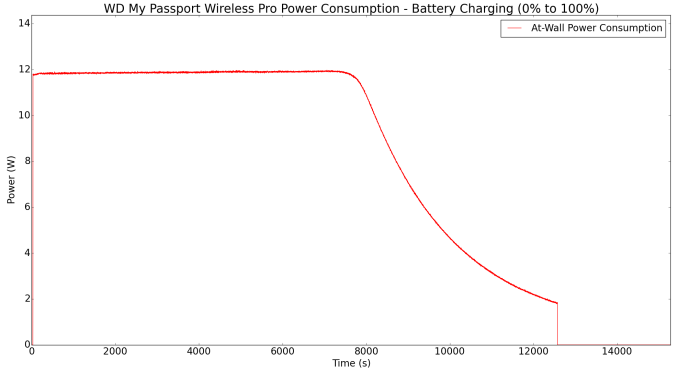 Power consumption (bus power) was recorded using the Plugable USBC-TKEY while operating the unit in DAS mode. This routine was processed for both CrystalDiskMark and the AnandTech DAS Suite.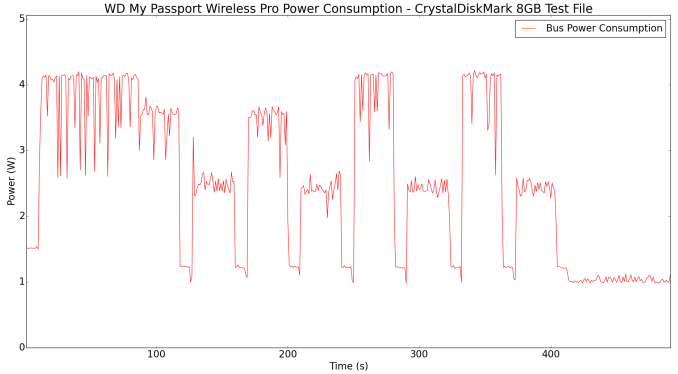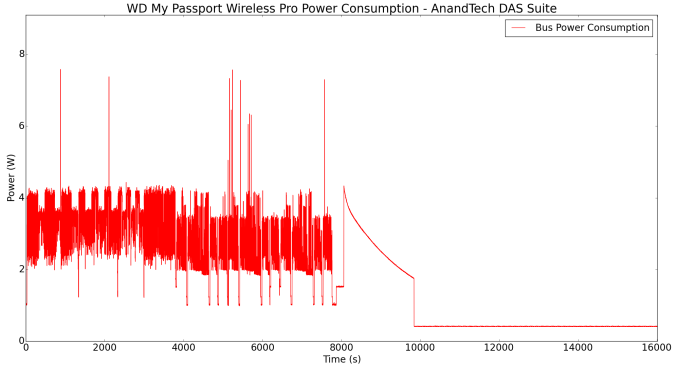 In the traditional CrystalDiskMark benchmarks, the power consumption never goes beyond the bus limit. However there are spikes of more than 7W in the DAS Suite workload. Given the presence of an internal battery, this is not much of a concern.
Coming to the business end of the review, it is clear that Western Digital continues to differentiate itself in the crowded wireless storage market. The addition of 802.11ac support, and the continued targeting of content creators as well as consumers (with features such as Plex and support for external storage devices formatted in exFAT) are welcome aspects. The experience with the My Passport Wireless Pro was positive overall. The only quibble we have is that the WLAN radios are both 1x1 configurations. Having 2x2 radios could provide better performance. It is not outside the scope for such products, since the first generation unit did come with a 2x2 802.11n WLAN adapter.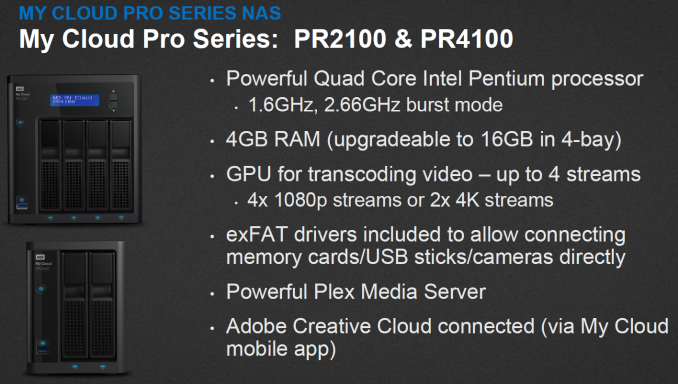 In other related news, Western Digital is also launching new 2-bay and 4-bay NAS units in the My Cloud Pro Series. These utilize the Braswell Pentium N3710, and the internal Quick Sync engine can transcode up to four streas for simultaneous streaming. Integration of Adobe Creative Cloud further strengthens WD's market positioning for the Pro series products.
The My Passport Wireless Pro has a MSRP of $230 for the 2TB model and $250 for the 3TB one, and comes with a 2-year warranty. Street prices seem to be around $190 and $220 for the two models. The PR2100 and PR4100 MSRPs start at $400 and go up to $1650 depending on the exact storage configuration. Diskless models come with a 2-year warranty, while the populated models come with a 3-year warranty.