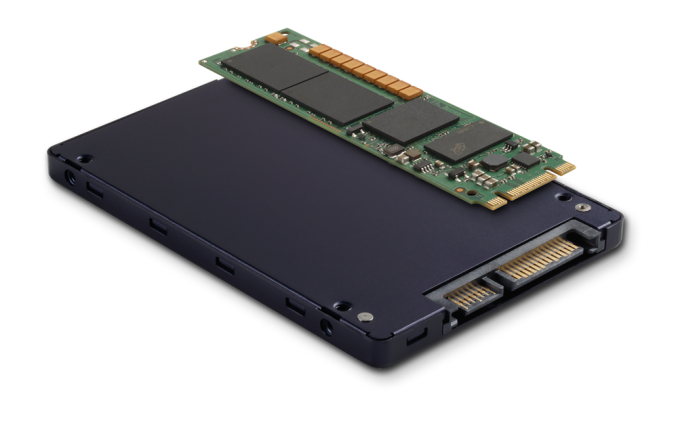 Micron has announced their latest generation of enterprise SATA SSDs, all based on their 3D TLC NAND. The new 5100 series is a full range of enterprise SSDs with capacities ranging from 240GB to 8TB and in three tiers of endurance and performance. Spare area ranges from a minimum of 15% on the density-focused 5100 ECO up to a massive 60% on the performance-focused 5100 MAX. Conversely, write endurance ratings vary from less than one drive write per day (DWPD) on the 5100 ECO up to 5 DWPD on the 5100 MAX. The 5100 ECO and middle-tier 5100 PRO offer M.2 models up to 2TB in addition to their 2.5" form factor models, while the 5100 MAX is only available as a 2.5" drive.
Micron's decision to use TLC NAND across the entire range is a notable departure from previous enterprise SSD product lines. The shift was made possible by two major factors: demand for the highest performance and highest write endurance has shifted from SATA to PCIe SSDs, and Micron's 3D TLC with sufficient over-provisioning can hit their endurance targets and the bandwidth limits of SATA more economically than a drive based on 3D MLC would.
As enterprise SSDs optimized for consistent sustained performance, the 5100 series does not implement SLC caching and all writes go to TLC NAND. This means that the random and sequential write speeds of the lower-capacity models are significantly impaired, but the larger models in each of the three tiers can saturate a SATA link with sequential writes.
Micron 5100 Series Specifications Comparison
5100 ECO
5100 PRO
5100 MAX
Form Factor
2.5" 7mm and single-sided M.2 2280
2.5"
Capacities

480GB, 960GB, 1920GB, 3840GB, 7680GB (2.5")

480GB, 960GB, 1920GB (M.2)

240GB, 480GB, 960GB, 1920GB, 3840GB (2.5")

240GB, 480GB, 960GB, 1920GB (M.2)

240GB, 480GB, 960GB, 1920GB

Controller
Marvell 88SS1074
Interface
SATA 6Gb/s
NAND
Micron 384Gb 32-layer 3D TLC
Sequential Read
540 MB/s
Sequential Write
380–520 MB/s
250–520 MB/s
310–520 MB/s
4KB Random Read (QD32)
93k IOPS
78k–93k IOPS
93k IOPS
4KB Random Write (QD32)
9k–31k IOPS
26k–43k IOPS
48k–74k IOPS
Endurance
0.45–8.4 PB
0.65–17.6 PB
2.2–17.6 PB
MSRP
55–45¢/GB
65–55¢/GB
75–65¢/GB
Encryption
optional TCG Enterprise and FIPS 140-2 validation
The 5100 series has hardware similarities to the 1100 series client SATA SSDs and the consumer Crucial MX300, all of which use Micron's 3D TLC and Marvell's 88SS1074 "Dean" controller. The 5100 series adds full power loss protection and enterprise-focused firmware. In a feature Micron advertises as Flex Capacity, the divisions between the three product tiers can be blurred with manual over-provisioning. When reducing the accessible capacity of the drive using the device configuration overlay (DCO), steady-state write performance will naturally improve due to the increased spare area. But in addition, past certain thresholds the 5100s will also engage the same changes in flash management strategy that the higher-endurance tiers apply out of the box. Thus, a 5100 ECO can be reconfigured to be a 5100 PRO in all but name.
The different capacity and form factor options across the three tiers of the 5100 series adds up to 21 different models, each available with or without TCG Enterprise support and FIPS 140-2 certification. Many of these configurations will not initially be available in retail channels and will instead be sold primarily to high-volume customers. Exact pricing has not been announced, but retail prices are expected to range from 45¢/GB to 75¢/GB depending on capacity and endurance tier, and high-volume direct sales will be cheaper.
With the 5100 series replacing the M500DC and M510DC, Micron's business and enterprise SSDs have all transitioned over to their new naming scheme except for the S600DC SAS SSDs. Micron hasn't announced what model number their future SAS SSDs will use, but they currently use 1100 for client SATA SSDs and 7100 and 9100 for PCIe SSDs. They also reserved 2100 for client PCIe SSDs before putting those plans on hold. The 1100 and 5100 Series use Micron's 3D TLC NAND while the rest are still based on planar MLC NAND. Micron expects the 7100 series successor to also switch entirely to TLC when it adopts 3D NAND, so the successor to the 9100 series might be their first use of 3D MLC.
Source: Micron