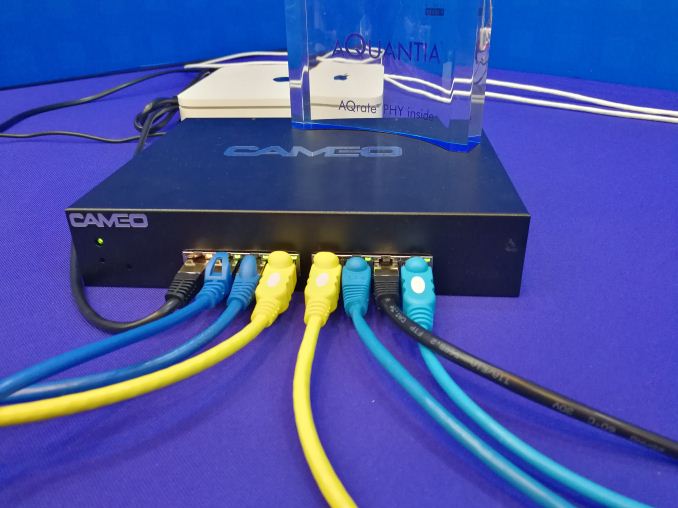 For users that have been following our recent coverage of Aquantia's new multi-gigabit Ethernet solutions for consumers, the AQtion AQC107 and AQC108 controllers (along with their corresponding PCIe cards), the running theme through all of the >1 Gb Ethernet standards on RJ-45 has been the availability of switches. There are plenty of enthusiasts that would happily upgrade their home network infrastructure to something bigger than gigabit ethernet if there was a realistic price alternative. Current 10GBase-T solutions, for example, can cost >$150 per port for the systems and >$100 per port for the switch, whereas gigabit ethernet is ~$2-5 per port. Aquantia is hoping to break that mould, and showed some of the systems that related partners are moving towards working.
I should state at this point that what was on display was early prototypes – Aquantia is working with ODMs and OEMs on getting the fundamentals of such switches right first, before those partners actually coming to market. Aside from the slew of typical enterprise players showing enterprise switches, Aquantia wasn't prepared to state on record who they are partnering with in the consumer space for switches, although we were told so suspect the usual suspects. Any information we got from the meeting today we were told was expected to be preliminary and non-final, with potentially large differences between now and final products.
All that being said, we were told that Aquantia is working on three main solutions for ODMs to look into: a 4-port solution, an 5-port solution, and an 8-port solution. The heart of these platforms is Aquantia silicon supporting four ports, with the 5-port switch version using a 4-port plus 1-port silicon design. The models on display, and used as the top image in this news piece, were done in collaboration with Cameo, who will be one of the first vendors (if not the first) to come to market with a product.
Aquantia demonstrated basic iPerf performance over the network using the switch in 10G mode with two Aquantia AQC107 add-in cards between two systems, showing 9.5G bandwidth in a basic test. The demo switch that was being used was not a final version by any means, in terms of looks and noise levels (it was overengineered for the demo), but this is something Aquantia expects OEMs to address rapidly.
Naturally, we asked about pricing of the switches and availability. With the aforementioned caveats, we were told that the switch vendors themselves will be the ones dictating pricing. That being said, after suggesting that pricing in the region of $250-$300 for an 8-port switch that supports Aquantia 10G solutions (so likely 5GBase-T and 2.5GBase-T as well) would be great, we were told that this was likely a good estimate. Previously in this price range, options were limited to a sole provider: ASUS' XG-U1008, a switch with two 10GBase-T ports and six one-gigabit Ethernet ports for $200. Above that, some Netgear solutions were running almost $800 for an 8-port managed solution. So moving to eight full 10G ports in this price bracket would be amazing, and I told Aquantia to tell OEMs that at that price ($~30 per port), those switches will fly off the shelves with enthusiasts who want to upgrade.
Given the early nature of the designs on show, discussions on availability are expected to happen later this year, although Aquantia is likely to let partners announce their own products and time scales for the roll-outs.
Related Reading