NAND Support: Everything
The SF-2000 controllers are NAND manufacturer agnostic. Both ONFI 2 and toggle interfaces are supported. Let's talk about what this means.
Legacy NAND is written in a very straight forward manner. A write enable signal is sent to the NAND, once the WE signal is high data can latch to the NAND.
Both ONFI 2 and Toggle NAND add another bit to the NAND interface: the DQS signal. The Write Enable signal is still present but it's now only used for latching commands and addresses, DQS is used for data transfers. Instead of only transferring data when the DQS signal is high, ONFI2 and Toggle NAND support transferring data on both the rising and falling edges of the DQS signal. This should sound a lot like DDR to you, because it is.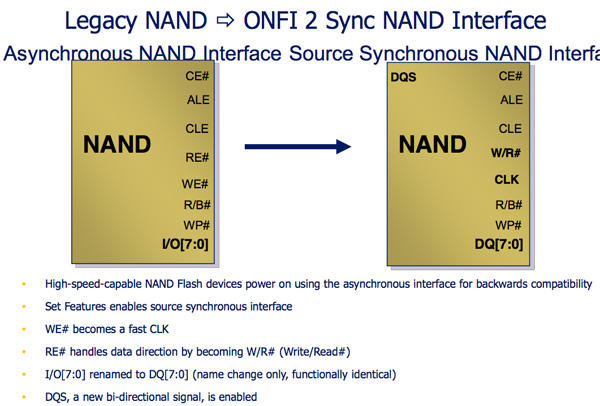 The benefit is tremendous. Whereas the current interface to NAND is limited to 40MB/s per device, ONFI 2 and Toggle increase that to 166MB/s per device.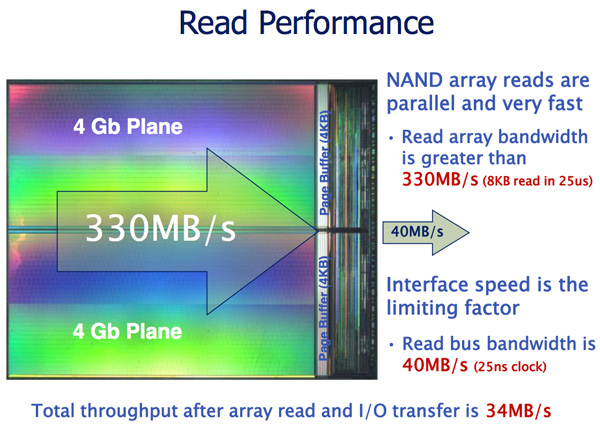 Micron indicates that a dual plane NAND array can be read from at up to 330MB/s and written to at 33MB/s. By implementing an ONFI 2 and Toggle compliant interface, SandForce immediately gets a huge boost in potential performance. Now it's just a matter of managing it all.
The controller accommodates the faster NAND interface by supporting more active NAND die concurrently. The SF-2000 controllers can activate twice as many die in parallel compared to the SF-1200/1500. This should result in some pretty hefty performance gains as you'll soon see. The controller is physically faster and has more internal memory/larger buffers in order to enable the higher expected bandwidths.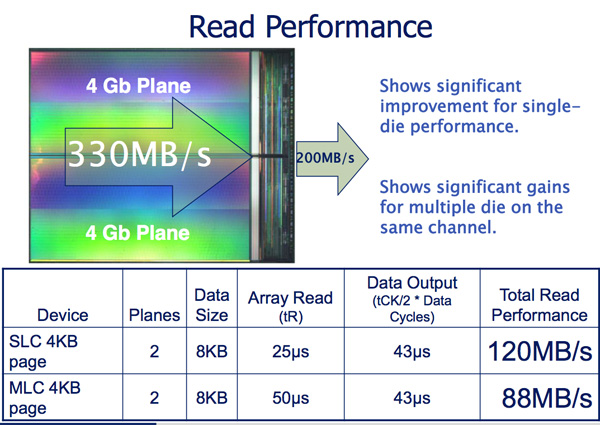 Initial designs will be based on 34nm eMLC from Micron and 32nm eMLC from Toshiba. The controller does support 25nm NAND as well, so we'll see a transition there when the yields are high enough. Note that SandForce, like Intel, will be using enterprise grade MLC instead of SLC for the server market. The demand pretty much requires it and luckily, with a good enough controller and NAND, eMLC looks like it may be able to handle a server workload.