In a world where space is at a premium, the smaller motherboards get, and yet still retain full functionality, never ceases to amaze me. With desktop Llano processors taking the integrated graphics crown, an all-in-one mini Llano system becomes ever more appealing. To support this, ASUS have sent us their premium mini-ITX motherboard for review, which I have put through the bench suite.
Overview
We have had a number of ASUS boards through our hands this year, all of which give a comfortable feeling of design we have come to expect from ASUS, and their mini-ITX is no different. The package includes Bluetooth, integrated wireless (and antenna), as well as extra onboard USB 3 and a variety of video outputs, all in a tiny form factor.
One of the surprising bits about this package is that the install CD offers Google Chrome 11 as an install, perhaps suggesting that ASUS and Google have a software distribution partnership, like ASUS and Norton have had for a while.
I had severe trouble overclocking this motherboard when in AHCI mode, with a distinct refusal to boot into Windows beyond a base frequency of 107 MHz. Using software, I was able to bring this up to 110 MHz when on the integrated graphics. When using a discrete GPU, I still could not get past this 107 MHz bootable limit, but could reach 120 MHz using software quite easily. In IDE mode, the overclocking worked flawlessly at 140 MHz, which is quite a feat.
When I initially started testing the board, the only benchmark that was out of place was our DPC Latency test. Every five seconds or so, it would jump to between 1000-3000 microseconds. After about a week (!) of to and fro with ASUS trying to find the cause of the issue, which they had trouble replicating, I found that their software AI Suite II was the culprit. This software, when installed, will become part of the startup sequence - but when turned off, the DPC Latency reduced to a normal level. Note, most users wont actually notice a DPC Latency of 3000.
As I was testing this board with a pre-release BIOS, it stands to assume that ASUS may iron out these discrepancies by the time the board comes to market. With that in mind, combined with a 3 year warranty, the F1A75-I Deluxe should be a reasonable package for any Llano user if it hits a reasonable price point - ASUS have told me an expected RRP of $145.
Visual Inspection
When you combine a mini-ITX with the standard AMD CPU retention bracket, it does not leave a lot of room for a motherboard manufacturer to fit in a ton of extras. As we can see from the board below, ASUS have packed in almost every square millimeter with routing, resistors, and anywhere that is left is advertising motherboard features. The F1A75-I Deluxe comes in the black and gradated blue scheme we have come to expect from ASUS, with a single PCIe x16, and two DDR3-1866 DIMM slots.
The four onboard SATA 6 Gbps ports are 180 degree angled, so users with locking SATA cables can easily detach the cables individually, and to the right of these we find the front panel connectors. While I initially thought this is an odd position, it actually works rather well, and a lot better than some other front panel placement solutions I have encountered.
The board has two fan connectors, both four pin, one for the CPU and another general chassis fan. Despite the top end CPU pumping 100W power at stock, these two fan headers do not cover the three I would prefer for my all-in-one water cooling, or if I wanted more low power fans inside a small case. ASUS have told me that two fan-headers cater for the majority of users in a miniITX chassis, with one for the CPU and one for another fan - there is apparently some request for more headers on the board, but the PCB real estate is an ever present consideration.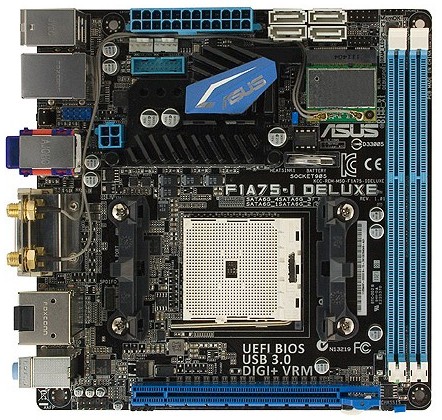 One thing of note is that ASUS have routed the integrated wireless cables to the back panel for the end user. I have had some mini-ITX boards that require the user to route them, which could end up a mess. ASUS have done a good thing here and kept them the ideal length, as well as neat and tidy. We have seen the wireless card stick out perpendicular to the board on various mini-ITX boards before, to increase board real estate, but ASUS have gone with the low profile approach. The tallest bits on the board are the back panel and the battery, so with some low profile memory and a low profile CPU cooler, this could be a great board for a tiny chassis, as long as you do not need the PCIe slot.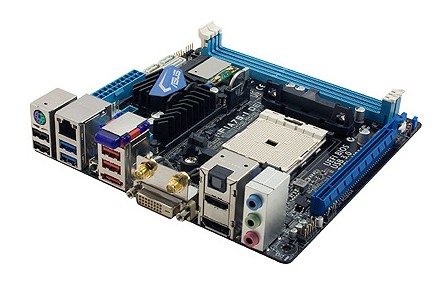 Other features include ASUS' Dual Intelligent Processor design, the TPU and EPU, designed to aid overclocking for performance and configure energy modes for low power usage. As a result, we only see one 4-pin 12 V connector on this board, suggesting ASUS are not necessarily aiming at the high powered Llano users, but more on the low powered ones and then building the functionality around such a processor.

On the back panel is a PS/2 connector, four USB 2.0 ports, two USB 3.0 ports, Realtek Gigabit Ethernet, a clear CMOS button (always a handy addition), Bluetooth, an eSATA 6 Gbps port, DVI-D/HDMI/DisplayPort connectors, an Optical S/PDIF output, two antenna connectors for the wireless module, and a triplet of audio jacks.