Board Features
ASUS F1A75-I Deluxe
Market Segment
Small Form Factor
Size
Mini-ITX
CPU Interface
FM1
CPU Support
Desktop Llano
Chipset
A75
Base Clock Frequency
100 MHz by Default, 90 to 300 MHz in 1 MHz increments
DDR3 Memory Speed
1333 MHz by Default, 800 MHz to 1866 MHz supported
Core Voltage
0.800 V to 1.700 V in 0.0125V increaments
CPU Clock Multiplier
CPU Dependent, Fixed unless Black Edition processors used
DRAM Voltage
1.35 V to 2.30 V in 0.1 V increments
DRAM Command Rate
1 or 2
Memory Slots
Two DDR3-DIMM
Maximum 8 GB, Non-ECC Unbuffered
800 MHz to 1866 MHz selectable
Expansion Slots
1 x PCIe x16
1 x mini-PCIe
Onboard SATA/RAID
4 x SATA 6 Gbps (RAID 0, 1, 10)
1 x eSATA 6 Gbps
Onboard
4 x SATA 6 Gbps
2 x Fan Headers
1 x USB 2.0 header
1 x USB 3.0 header
1 x S/PDIF Out header
1 x Front Panel Connector
1 x Front Panel Audio Connector
1 x MemOK! Button
1 x Clear CMOS Jumper
1 x Wireless 802.11 b/g/n
Onboard LAN
RealTek RTL8111E Gigabit Fast Ethernet Controller
Onboard Audio
Realtek ALC892 8-Ch High Definition audio CODEC
DTS Surround Sensation UltraPC
Power Connectors
1 x 24-pin ATX
1 x 4-pin 12V
Fan Headers
1 x CPU (4-pin)
1 x CHA (4-pin)
IO Panel
2 x USB 3.0 Ports
4 x USB 2.0 Ports
1 x PS/2 Port
1 x Gigabit Ethernet
2 x Antenna
1 x Clear CMOS button
1 x Optical SPDIF output
3 x Audio Jacks
HDMI/DisplayPort/DVI-D Video Outputs
1 x eSATA 6Gbps
Bluetooth Module
1 x Optical SPDIF output
BIOS Version
07/18/2011
Warranty Period
3 Years
ASUS have used the Realtek NIC/Audio combo for this board. We are not short of USB ports, especially on the back panel for such a small board. As mentioned before, I would have preferred another fan header, but with such a large retention bracket for the processor, there is not much space to fit on much else unless ASUS built upwards for the wireless card.
In The Box
User Manual
I/O Shield
2 x Locking SATA 6Gbps
2 x Wifi Antenna(s)
1 x Remote Controller
1 x USB Wireless Adapter
The additions to this board are not that substantial – there is no additional USB 3.0 bracket or a couple more SATA cables. Instead, an extra bit of kit I have never seen before has been added – the remote controller.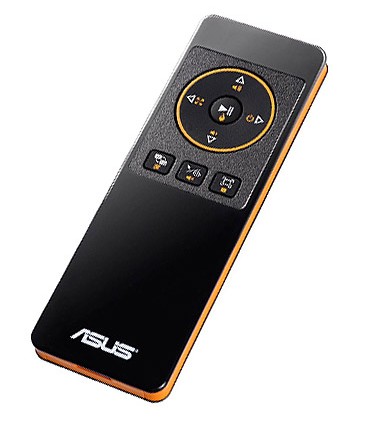 I am not sure if this is ASUS made, or a licensed bit of kit, but using the USB wireless adapter, the user can use the remote controller for moving the cursor around or turn it upside down for the keyboard. Rather than use any fancy gyroscope detection, imagine just moving the mouse using the arrow keys on the keyboard with the mouse moving at constant speed – that's what using this tool is like. When I have been using the keyboard, from three feet away from the wireless connector, only about 80% of the key presses go through if I take my time to type – less if I type at my normal pace. The controller itself is not ergonomic enough to fit easily to hand, and does not feel robust enough to take the daily strains that a standard controller might take. The keyboard layout is a bit odd from the standard QWERTY, with the I and K keys being on different lines. Ultimately, I could only see myself using this bit of kit for DVD menus or selections.
Update: I asked ASUS the reasoning of such a bit of kit. They have told me that they went this route instead of a general WMCE remote, and users have specified text input as a main addition required. The key fitting for ASUS was for it to have similar dimensions to a smart phone, and make it easy to hold with palms and using thumbs to type.
The antenna that come with the package are substantial in size and are also magnetized at one end, allowing the user to connect them together to hang in one place, or have a board to magnetize them to. Perhaps best to keep them away from any mechanical hard drives, though.
Software
The installation disc that comes with the board uses ASUS' easy style installation for both drivers and software. Previously, we have encountered ASUS partnering with Norton to provide a version on the CD – this is still available. However, this time ASUS have also partnered with Google to provide a build of Chrome 11, which is a more than welcome bit of software.
The installation itself is straight forward – select 'Install All' and you can select/deselect certain software for an automatic installation, with automatic reboots as necessary. One point of difference I found was in the estimated time to completion – with the drivers, the software predicted 33 minute to completion, whereas it only took 10 minutes including restarts. Similarly with the software, 34 minutes were predicted, but it only took seven.
The software itself focuses around three packages – ASUS Suite II, which we have encountered before on previous boards; ASUS WebStorage, a tool for file and folder distribution and synchronization within the ASUS cloud; and ASUS Vibe, a radio/game utility.
ASUS Suite II
As I have covered with the P8Z68-V Pro and Brendan has with the P8P67, the Suite II software covers a lot of the motherboard functionality in one easy to use package. Here is where the user can set an overclock, define fan profiles, adjust power saving settings, monitor onboard sensors, and update the BIOS.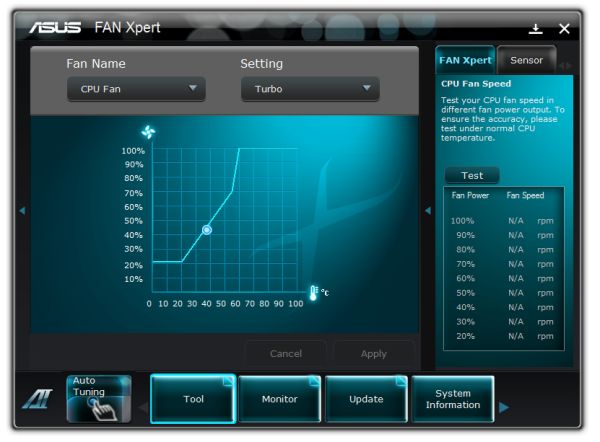 As we have covered the software before, I will briefly state that it all works from what I tested, including the fan settings which offers user manipulation of fan speed gradients. The only issue I have with it is that overclock settings are not saved between reboots – either in the form of BIOS changes, or reapplied when booting back into the operating system.
ASUS WebStorage
The new bit of software in the ASUS arsenal is WebStorage.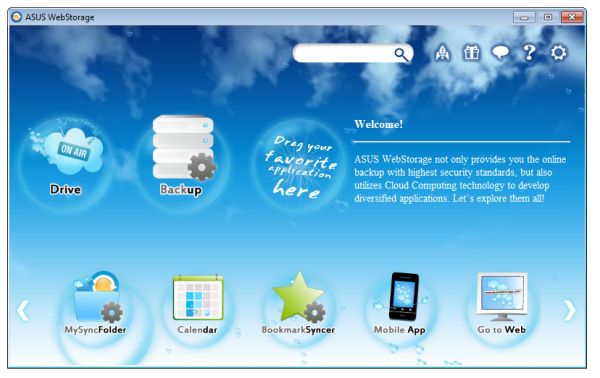 By creating an account online, the user gets a small amount of free storage (2GB) which they can use to synchronize folders to the cloud. Users can upgrade to unlimited storage for a monthly fee, and share links to files. Through the mobile app, users can sync music with the cloud as well. The full online site can be found at https://www.asuswebstorage.com/navigate/features/.
Ultimately, this service is offered with or without the purchase of the motherboard, but the software looks as if it is now coming with future products.
ASUS Vibe
I touched on ASUS Vibe previously in my look at the E35M1-I Deluxe – Vibe is a simple piece of software which provides one click access to music stations, radio stations and game demos. The radio stations are amazingly synced to your location - I got links to an array of BBC radio stations as I am in the UK. They are all run within the software window itself, but the games require downloading.