The real highlight of the new Nexus 7 is of course the much higher resolution display. At 1920x1200 the Nexus 7 is now the highest resolution 7-inch tablet. This new IPS panel is made by JDI (Japan Display Inc) and boasts better viewing angles, 30 percent more gamut than the previous one, and of course better dot pitch of 323 PPI. Alongside that the new Nexus 7 also doesn't have the always-on dynamic brightness and contrast (NVIDIA Prism / smartdimmer) that many including myself found frustrating with the original Nexus 7. On the new version the equivalent functions are enabled only during full screen video playback. This is a huge improvement since with the feature enabled on the previous Nexus 7 I always felt that greens were undersaturated and some dynamic range clipped.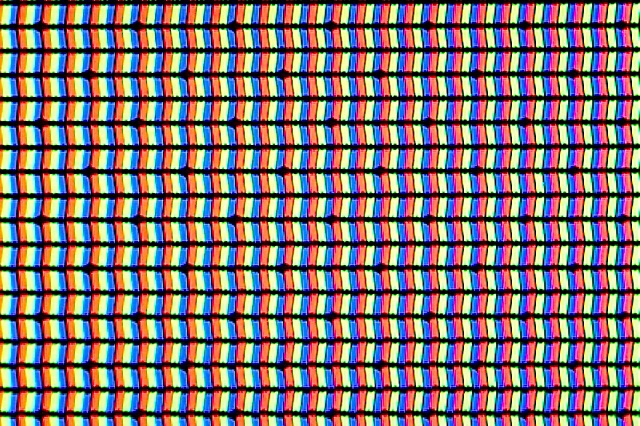 I did a lot of asking around about how Google calibrates its panels, and was told that in the case of the Nexus 7 there are two stages. The first is the calibration done by JDI on the panel at a high level, the second is an additional calibration at time of manufacture, per device. This sort of thing is relatively standard, but I've always been curious about what stages cost extra money – certainly it's a baseline expectation for the panel supplier to supply a close-enough LUT, but getting Delta E even lower I'm told requires additional expenditure.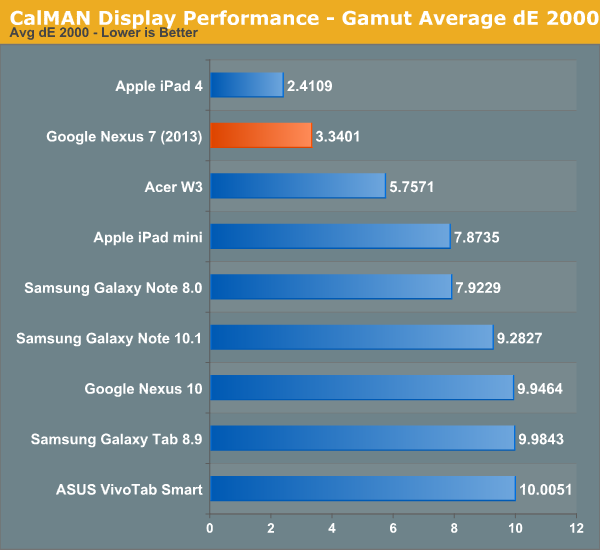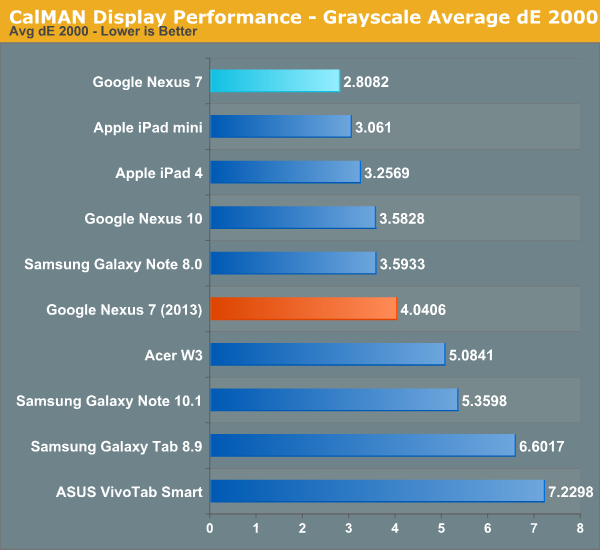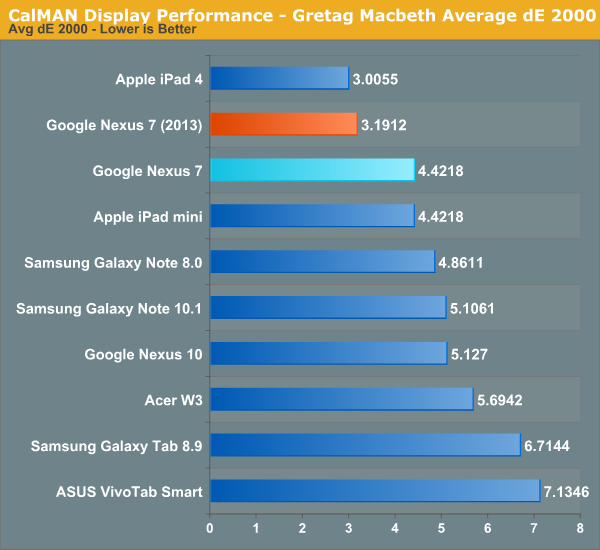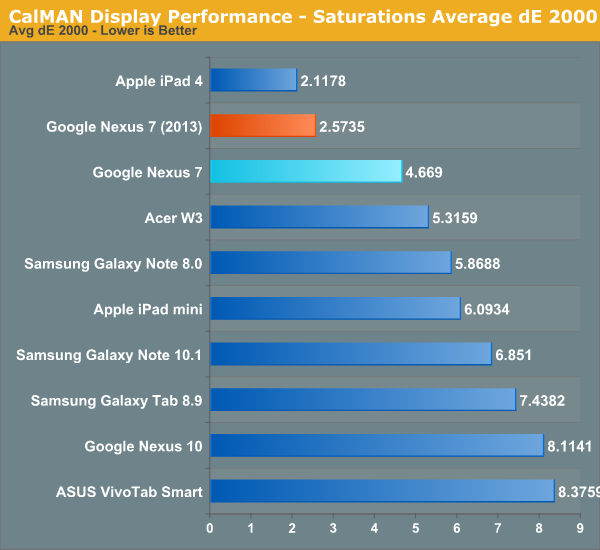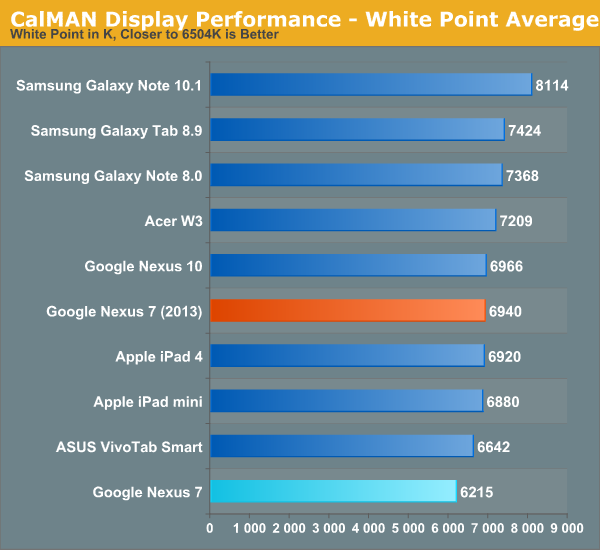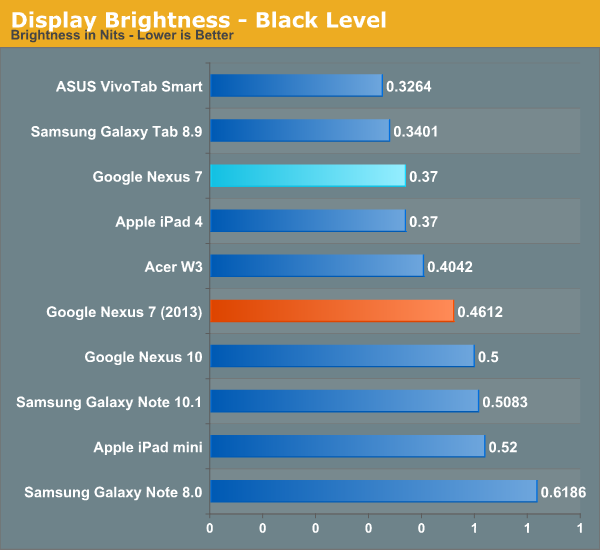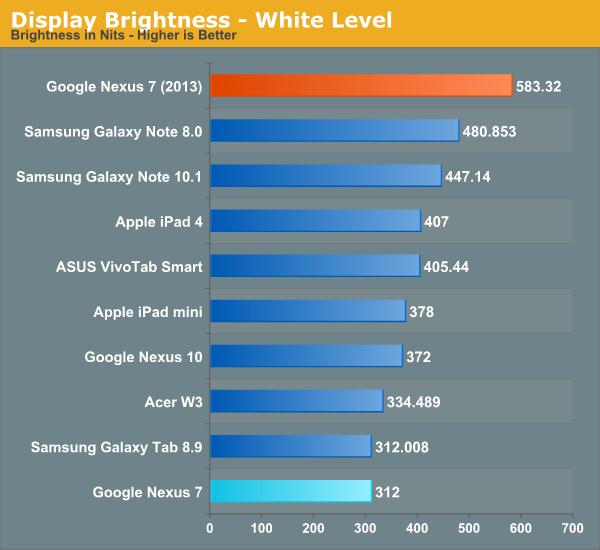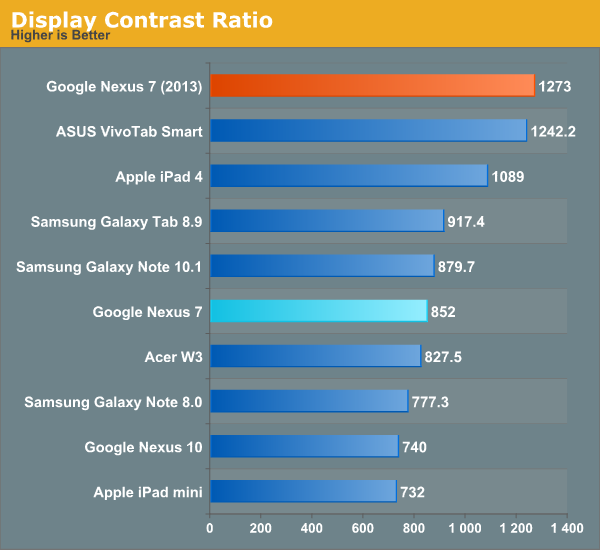 It turns out that the new Nexus 7 is actually very close to sRGB this time around, with overall gamut being just a bit bigger than the sRGB color space. In the GMB Delta-E and saturations Delta-E measures, arguably the two most relevant for color accuracy, the new Nexus 7 is second only to the iPad 4, and better than the iPad Mini in color accuracy, a significant step forwards from its predecessor.
The new Nexus 7 also goes very bright, up to 583 nits, with excellent contrast of 1273. This is again not achieved using any dynamic contrast cheating since those functions are thoughtfully disabled.
On the display side of things I'm very pleased with how far the Nexus 7 has come, and it's obvious that display quality was a big focus for the 2013 model.