Final Words
Despite no significant changes to the architecture or manufacturing process, AMD's 2014 updates to its entry level and low power silicon are substantial. We finally have AMD silicon, built around a non-Bulldozer architecture, that seem to have turbo capabilities comparable to Intel's. The result is a completely different performance profile. While AMD's Jaguar cores in Kabini and Temash were easily outperformed by Intel's Bay Trail, Puma+ pulls ahead. AMD continues to hold a substantial GPU performance advantage as well.
The gains in performance come while decreasing platform power. You can now have roughly the same performance as AMD offered last year in a 15W entry level notebook part, in a 4.5W TDP (2.8W SDP) tablet SKU. That's seriously impressive.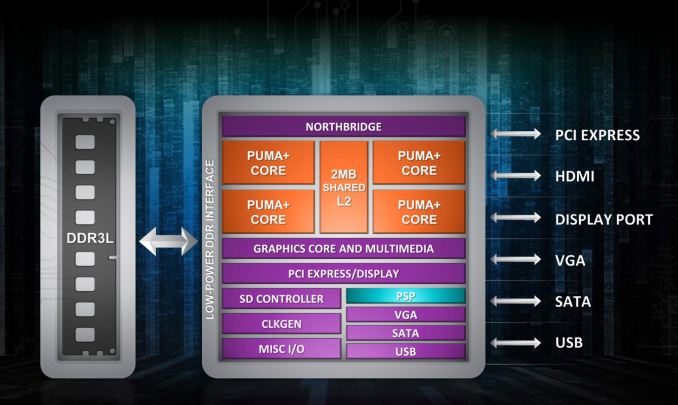 The progress AMD made in a year with Beema and Mullins shows just how time constrained the team(s) were with bringing Kabini and Temash to market in 2013. While both of those SoCs were quite successful for AMD, I expect that at some point AMD won't be allowed two years to fully polish a single design.
The big unknown is how these new SoCs stack up against Bay Trail when it comes to power consumption. From a performance standpoint at the very high end they are faster, but we'll have to wait until we can get our hands on shipping devices before we know the full story when it comes to battery life. AMD expects to see Beema and Mullins designs show up over the next 1 - 2 quarters, with some designs shipping in the coming weeks to specific regions.
The other thing we need to see is a real Android strategy from AMD. Mullins seems like a good fit for a high performance Android tablet, but today AMD's native OS strategy is exclusively Windows. I don't think it'll stay that way for long, but AMD has yet to give us any indication of when it'll change.
And if I'm asking for things I want to see from AMD, you can add a PoP package and idle power that's competitive with the likes of Apple and Qualcomm. AMD clearly came a long way over the past couple of years, but there's still more progress to be made.