Sequential Read Performance
The sequential read test requests blocks of 128kB and tests queue depths ranging from 1 to 32, with the queue depth doubled every three minutes for a total test duration of 18 minutes. The primary score we report is an average of the lower queue depths that are most common in client usage scenarios. We also graph how performance scales across queue depths.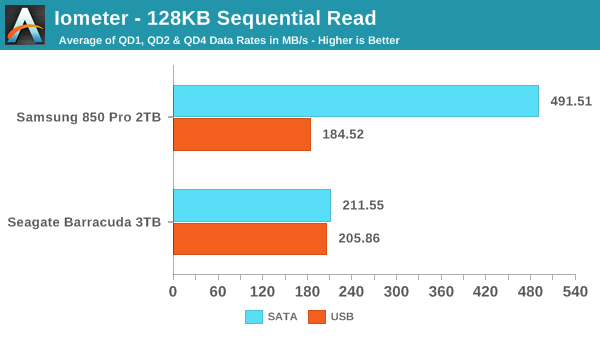 The hard drive's sequential read performance is slightly lower in the dock than when connected internally, but the SSDs is slowed down to below the hard drive's speed.
Both the SSD and hard drive show slightly lower QD1 performance in the dock than the very steady performance at all higher queue depths. This suggests there's a bit of command processing latency in the dock that can be masked by queuing up requests, but it's unclear why the SSDs sequential read performance ends up lower than the hard drive's.
Sequential Write Performance
The sequential write test follows the same timing and queue depth schedule as the sequential read test, and is scored the same.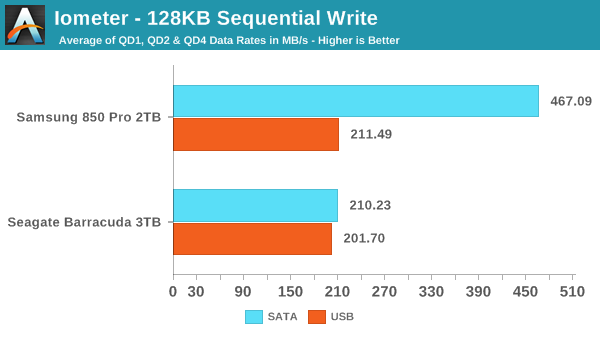 Sequential write performance is very similar to sequential read for the hard drive, with slight overhead due to the dock. The SSD manages to beat the hard drive when docked this time, but is still severely restricted by the slower interfaces.
Again QD1 performance is slightly lower for both drives in the dock and the dock is only able to keep pace with the mechanical drive, but there are no other surprises from it on this test.
Mixed Sequential Read/Write Performance
The mixed sequential access test covers the entire span of the drive and uses a queue depth of one. It starts with a pure read test and gradually increases the proprotion of writes, finishing with pure writes. Each subtest lasts for 3 minutes, for a total test duration of 18 minutes.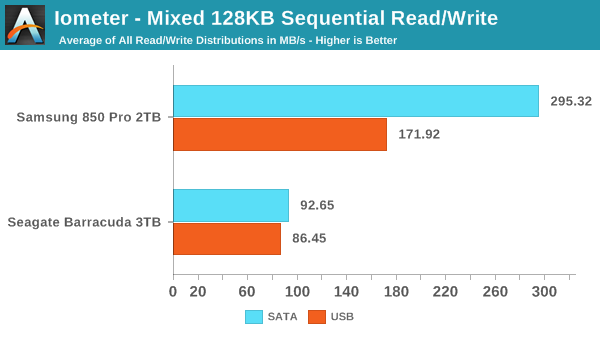 The mixed sequential test is the best showing from the dock. SSDs usually perform much worse on mixed sequential workloads than on pure read or write sequential access, so the dock's performance limits don't look as bad in this light. The hard drive's mixed sequential performance is also much worse than for pure reads or writes, and the dock's overhead is minor.
The dock limits the SSD to mostly-uniform performance across the mixed sequential test that is all well below what the drive can do with an internal 6Gbps SATA connection. For the hard drive, the only significant differences are moderate performance penalties on the pure-read and pure-write portions of the test.