Board Features
Having gone through and generated the following table for the M8E, I find it mildly amusing, especially as I've just put a $120 motherboard on the test bed here. By comparison, instead of most of the sections saying none/blank, when dealing with a $500 motherboard everything is filled up. More SATA ports, more features and more room to add things means that a halo motherboard has to be the Rambo of a PC build.
ASUS Maximus VIII Extreme
Warranty Period
3 Years
Product Page
Link
Price
Amazon US
Size
E-ATX
CPU Interface
LGA1151
Chipset
Intel Z170
Memory Slots (DDR4)
Four DDR4
Supporting 64GB
Dual Channel
Up to 3866 MHz
Memory Slots (DDR3L)
None
Video Outputs
HDMI to 4096x2160 @ 24 Hz
DisplayPort at 4096x2304 @ 60 Hz
Network Connectivity
Intel I219-V
3T3R 802.11ac Wi-Fi Go! Module
Onboard Audio
Realtek ALC1150 with ESS ES9023P DAC bypass
PCIe Slots for Graphics (from CPU)
3 x PCIe 3.0 (x16, x8/x8, x8/x4/x4)
PCIe Slots for Other (from PCH)
1 x PCIe 3.0 x4
2 x PCIe 3.0 x1
Onboard SATA
Six, RAID 0/1/5/10
Two from ASMedia ASM1061
Onboard SATA Express
Two, RAID
Onboard M.2
1 x PCIe 3.0 x4 or SATA, RAID 0/1, NVMe
Onboard U.2
1 x PCIe 3.0 x4 (switched with M.2)
Thunderbolt
TB3 via Type-C
USB 3.1
2 x Type-A from ASMedia ASM1142 Controller
1 x Type-A and 1 x Type-C from Intel Alpine Ridge
USB 3.0
4 x Rear Panel
4 via headers
USB 2.0
6 via headers
Power Connectors
1 x 24-pin ATX
1 x 8-pin CPU
1 x 4-pin CPU
Fan Headers
1 x CPU (4-pin)
1 x CPU_OPT (4-pin)
4 x CHA/SYS (4-pin)
IO Panel
1 x Combination PS/2
4 x USB 3.0
3 x USB 3.1 Type-A
1 x USB 3.1 Type-C
1 x Network RJ-45 (Intel I219-V)
HDMI
DisplayPort
Clear CMOS Button
USB BIOS Flashback Button
3T3R 802.11ac Wi-Fi Go! Module
Audio Jacks
Other Features
OC Panel Header
Thunderbolt Header
4-pin EZ-PLUG Header
Front Panel Header
5-pin Fan Extension Header
MemOK! Button
Slow Mode Switch
9 x Voltage measurement points
3 x Thermal Sensor Headers
1 x DRAM Channel Jumper
Power/Reset Buttons
BIOS Switch Button
SLI/CFX Switch
LN2 Mode Jumper
Safe Boot Button
ReTry Button
The big active features for ASUS come in at the 3T3R tri-stream WiFi, an ESS DAC, Thunderbolt 3 support via Intel's Alpine Ridge controller, a total of four USB 3.1 ports split between the Alpine Ridge and ASMedia's ASM1142 controller and then the sheer amount of switches and buttons onboard for power users to configure their experience. The OC Panel header for both power users and extreme overclockers comes in handy with the bundled OC Panel.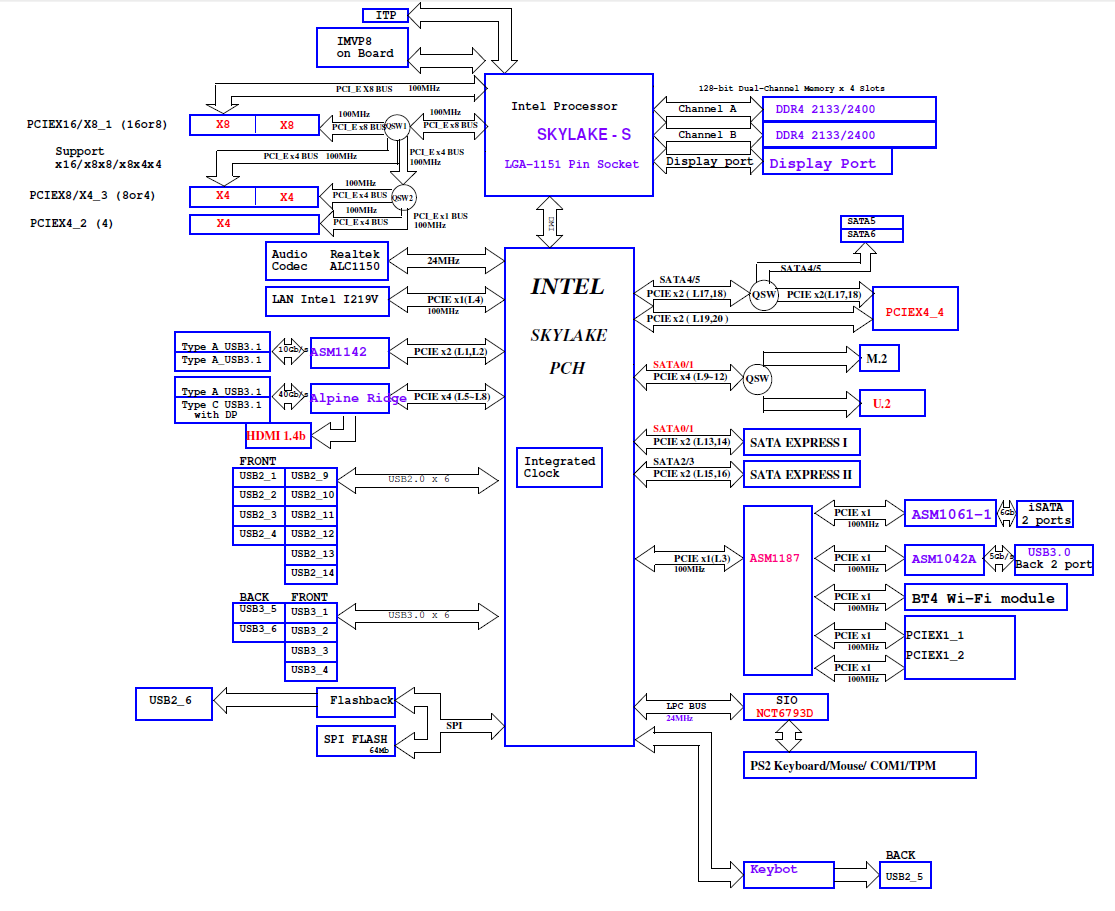 Using the chipset diagram, it shows a slightly more complex picture. Everything on the left side is what we would expect, including the complex way that x8/x4/x4 is implemented on the PCIe side, although it is worth noting that the HDMI 1.4b port is provided through the Alpine Ridge controller rather than the CPU. I would assume this is actually just a bypass to help with routing though it may suggest that the TB3 controller cannot use HDMI when the DisplayPort functionality is in use. I'll be synchronizing with ASUS on this.
On the right hand side we see that two of the SATA ports (4/5) share bandwidth with the PCIe x4 slot at the bottom of the board. When SATA devices are connected, the PCIe slot will reduce to x2 bandwidth. Also on the right hand side is an ASM1187 controller, which looks like a 6-port PCIe switch. Taking one PCIe lane in, it gives an output to five ports which include the two ASMedia SATA ports, two of the rear USB 3.0 ports, the Wi-Fi module and the two PCIe x1 slots. However, unless one of the PCIe x1 slots is using full bandwidth, I doubt it is much of an issue, and if anything it would be a latency issue. But it might also explain why we could not get proper USB 3.0 speed results through the ASMedia controller.
In The Box
We get the following:
User Manual
Driver DVD
Rear IO Shield
OC Panel plus 5.25-inch Bay
Fan Extension Board
Wi-Fi Antenna
Thermal Probes
CPU Installation tool
Eight SATA Cables
Q-Connectors
ASUS ROG Stickers
ASUS ROG Door Handle Sign
Flexi-CrossFire Connector
Flexi-SLI Connector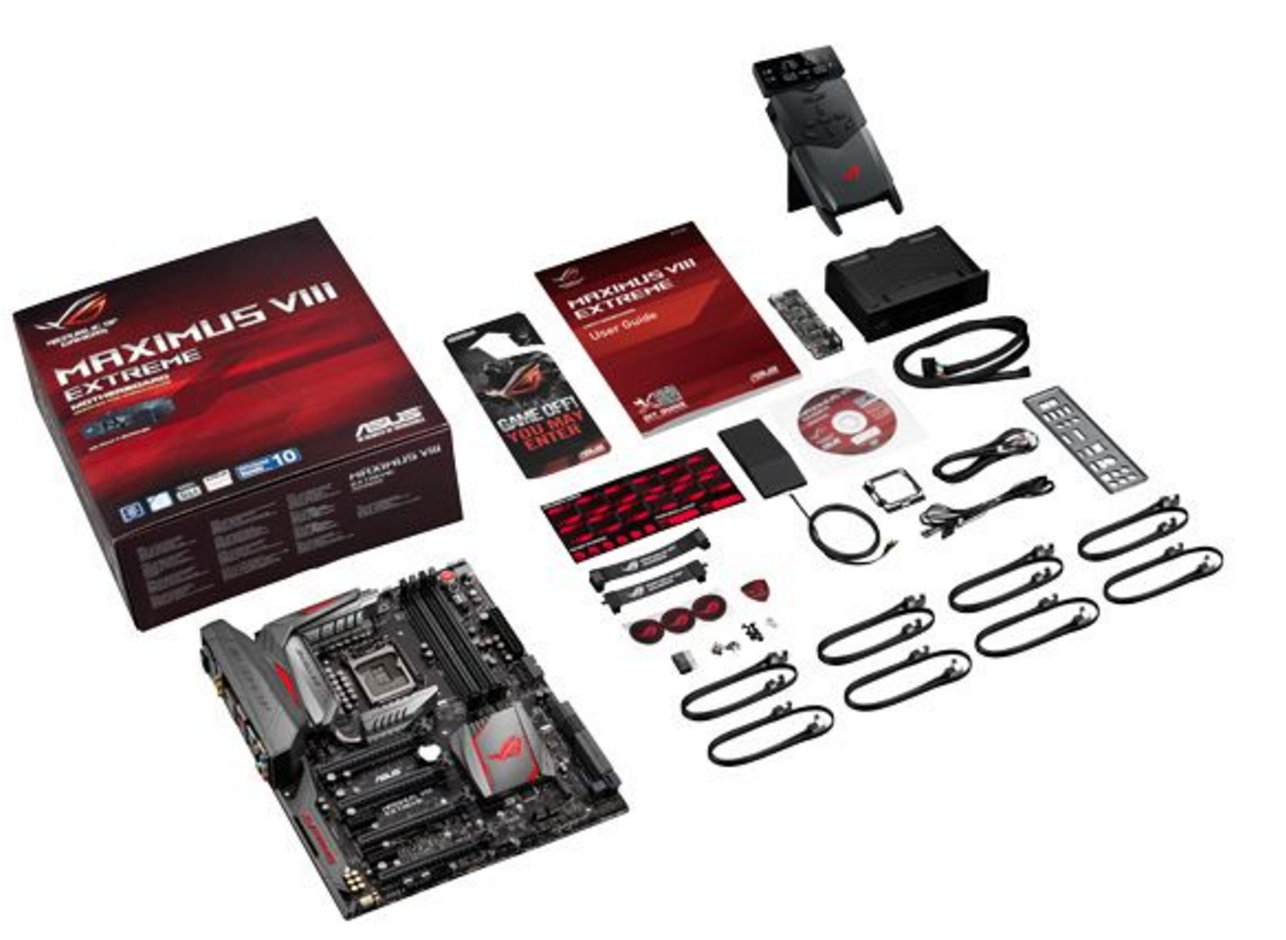 At $500 and being part of the ROG brand it means the in-box goodies should be plentiful. The star of the pack is the OC Panel, used by extreme overclockers to make adjustments on the fly or system builders to monitor fan speeds/temperatures with one-button overclocks.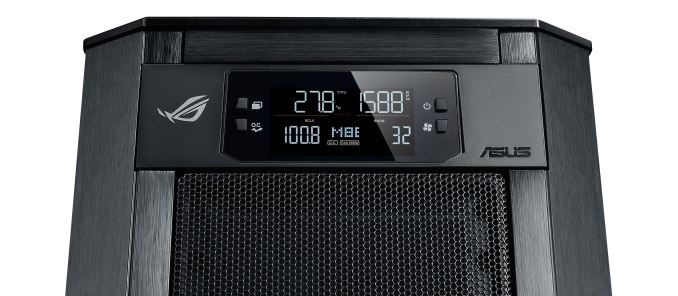 We've discussed the OC Panel at length before, and this is the third generation with the same model, featuring more fan headers, VGA Hotplug and extra switches for system control.
Also in the box are a set of thermal probes to use on the extra thermal probe headers on the motherboard, giving the ASUS software extra read points for temperature if the user wants to monitor specific zones in their build. The CPU installation tool is there to help new build users put the processor in the motherboard, although I didn't find much use for it (I've never dropped a CPU in a socket yet…). It is interesting to see so many SATA cables in the box though, however these are mostly likely bought in bulk and minimal cost to a board like this.
ASUS also sells the Maximus VIII Extreme/Assembly, which comes with a custom audio output dock as well as a Tahuti Networks based 10 gigabit Ethernet card using RJ-45.