Wacom's Graphire3
One might call Wacom a heavyweight in the field of computer drawing/writing tablets. They offer an extensive array of tablet choices to fit the needs of their consumers, from the entry level Graphire3 to the mid-range Intuos2 and the heavy duty Cintiq. For the purposes of this article, however, the humble Graphire3 suffices to show Wacom's capabilities as tablet makers.
The Graphire3 comes with a pen, a mouse, a tablet, and software, including the driver CD and a software bundle CD (which includes Adobe Photoshop Elements 1.0, procreate Painter Classic by Corel, and penPalette LE by nik multimedia). This software lineup is well-suited for artistic endeavors, although professionals will want to have their own copies of Photoshop or Illustrator to truly let the tablet shine. The tablet itself is 8 in. x 8 in., but the working space only covers 4 in. x 5 in.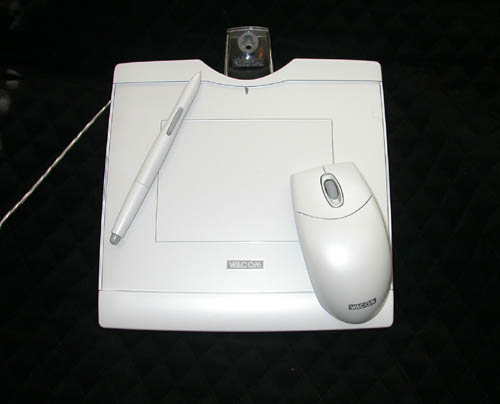 The mouse has no ball, rather the tablet tracks the motion of the mouse the same way it tracks the pen. Like many standard mice, this mouse comes with two buttons and a wheel. The pen looks and feels like a regular pen might, except for the button near the tip on the side. Neither the mouse nor the pen requires batteries (a major plus). The pen or mouse functions by receiving an electrostatic signal from the tablet. This power signal charges a small capacitor inside the pen or mouse. Once charged, it activates a transmitter that sends out a signal to indicate pen pressure level and/or button use from the pen or mouse. Very shortly after sending the power signal, the tablet changes to receiving mode. The tablet then acts as a receiver for the output supplied by the pen or mouse. It uses the data sent to verify pressure and/or button position and determines location by pin-pointing what part of the tablet is getting the strongest signal. Thus, no batteries required. For this bit of hardware, the damage is about $100. A larger Graphire3 tablet that has an 8 in. x 6 in. working space runs about $200.