Visual Inspection
With mini-ITX motherboards, there isn't a lot of room for aesthetics, so they tend to have a fairly basic black PCB. ASRock uses two heatsinks connected via heat pipes to cool part of the power delivery area as well as the PCH. The heatsinks are grey colored and have grooves running through them for the increased area as well as for the appearance. Outside of that, we are able to see the two DRAM slots, as well as the single PCIe slot which is reinforced to help with heavy video cards. The board includes six SATA ports all oriented vertically on the front while the single M.2 slot hides out on the rear.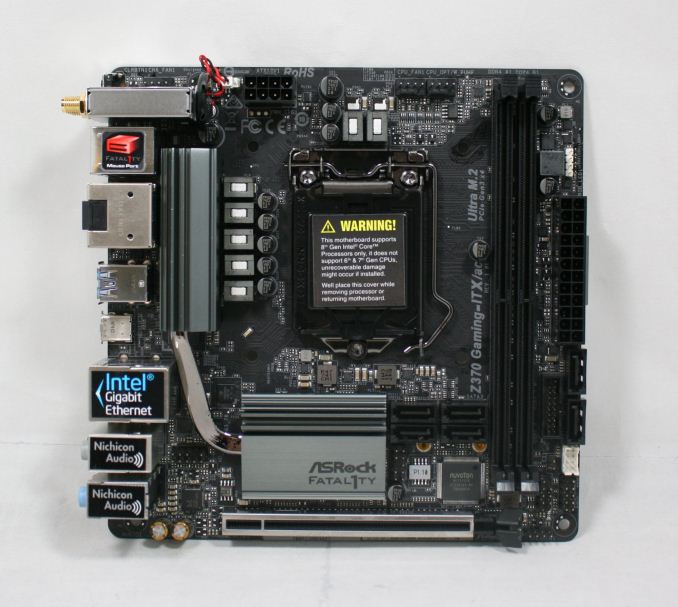 A total of three RGB LEDs line the back of the board under the PCIe slot which gives illuminates the board when on. An additional RGB LED header is located just above the 24-pin ATX connector and supports up to 12V/3A (36W) LED strip. Both the integrated LEDs and the attached are controlled by the ASRock RGB LED software.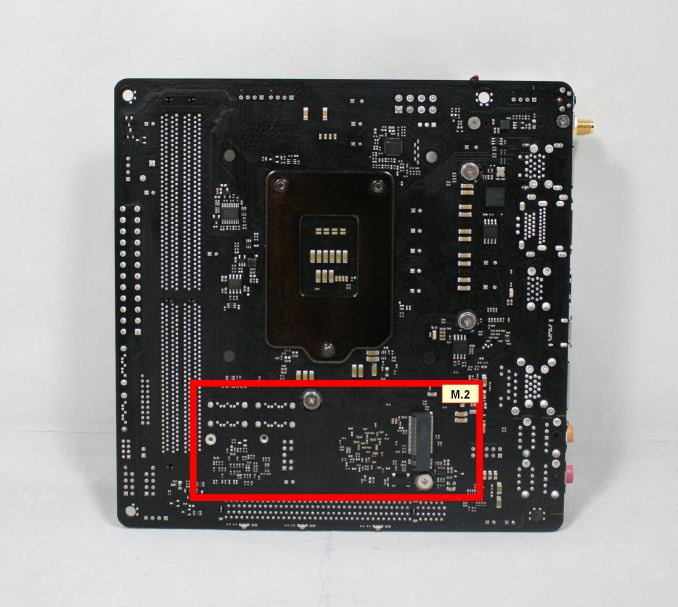 The ASRock Z370 Gaming ITX/ac has three 4-pin fan headers all located across the top. The chassis fan is located on the left by the Wi-Fi module while the CPU fan and CPU Opt/W Pump headers are to the right. The CPU fan connector supports a maximum of 1A (12W) while the Opt/W Pump header supports up to 1.5A (18W) and also auto-detects if it is a 3-pin or 4-pin device.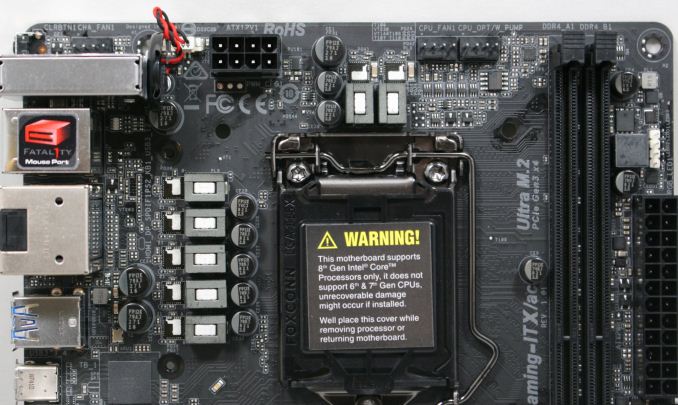 The Mini-ITX board uses a 7-phase power delivery area split up into a 5+2 configuration. Controlling the power is an Intersil ISL69138 digital multiphase controller that can be configured to operate up to seven channels. This unit sends power to the Intersil ISL99227 Smart Power Stage Modules supporting up to 60A. Power is fed to these devices by a single 8-pin EPS 12V connector just above the CPU socket. This solution shouldn't have any issues driving the Coffee Lake CPUs.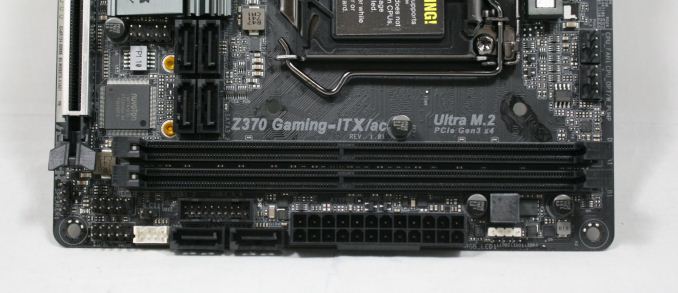 The right side of the board contains a lot of headers and ports with which to connect a plethora of peripherals. Starting on the bottom we are able to see a USB 2.0 header along with the front panel header just below it. To their right is a front panel USB 3.0 header as well as two (of six) SATA ports. The other four are located on the other side of the two DRAM slots. Of note on the SATA ports, when a SATA based M.2 module is used SATA 0 port will be disabled. The SATA ports support RAID 0, 1, 5, and 10. To their right is the 24-pin ATX connector as well as the single RGB LED header in white.

Audio duties are handled by the latest Realtek ALC1220 codec and use Nichicon audio caps to filter the sound. The board includes a Texas Instruments NE5532 OpAmp which auto-senses impedance and supports up to 600 Ohm headsets. The board separates the left and right channels in different PCB layers as well as other isolation methods to reduce EMI interference.
The single full-length and reinforced PCIe slot runs at x16 speeds and also supports bifurcation and is able to split to an x8/x8 configuration with a riser card.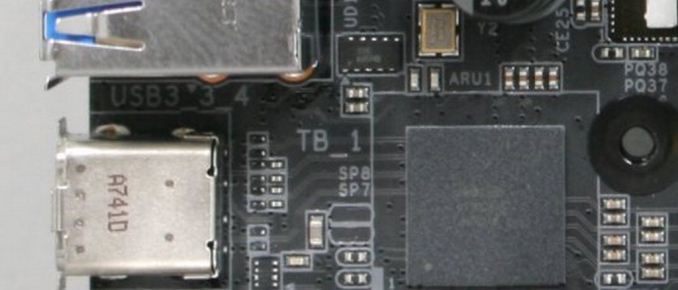 Here is the Thunderbolt 3 controller, Intel's JHL6240 "Alpine Ridge", which is a low-power PCIe x2-based controller. This comes out to a USB Type-C port on the rear panel, which can also be used as a USB 3.1 port and supports Power Delivery 2.0 up to 36 W (12V at 3A) for fast charging. The port also supports DisplayPort USB-C modes up to full 4K at 60 Hz.
The back panel IO (below) is relatively busy with multiple stacks covering USB, audio, network, and video outputs. A complete list is found below ordered from left to right.

Clear CMOS button
Wi-Fi module (802.11ac)
PS/2 Mouse/Keyboard port
2 x USB 3.0
SPDIF Output
HDMI 2.0
DisplayPort (1.2)
2 x USB 3.0
1 x Thunderbolt 3 (also USB 3.1, DP, PD)
2 x USB 3.0
6-plug audio stack
In The Box
ASRock Includes the following: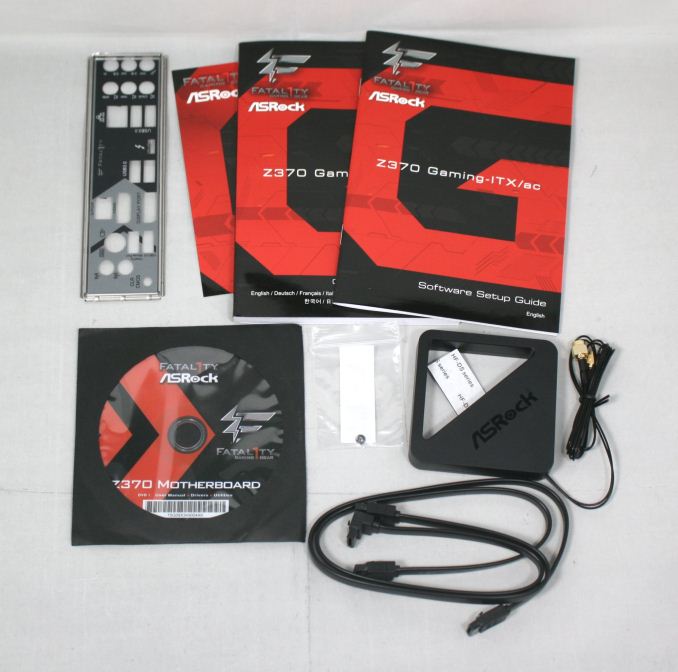 Quick Installation Guide, Software Setup Guide
I/O Shield
Driver Disk
2 x SATA cables
1 x ASRock Wi-Fi Antenna
1 x Screw for M.2 socket
For a gaming motherboard, this is pretty barebones, most likely to keep the price down.