BIOS
ASRock's BIOSes start out in EZ Mode by default and is themed a bit different than the advanced mode due to its Fatal1ty heritage. The EZ Mode has a black background with blue/green accent colors on screen. Once in advanced mode, it turns into a black and red themed matching their Fatal1ty and Gaming theme.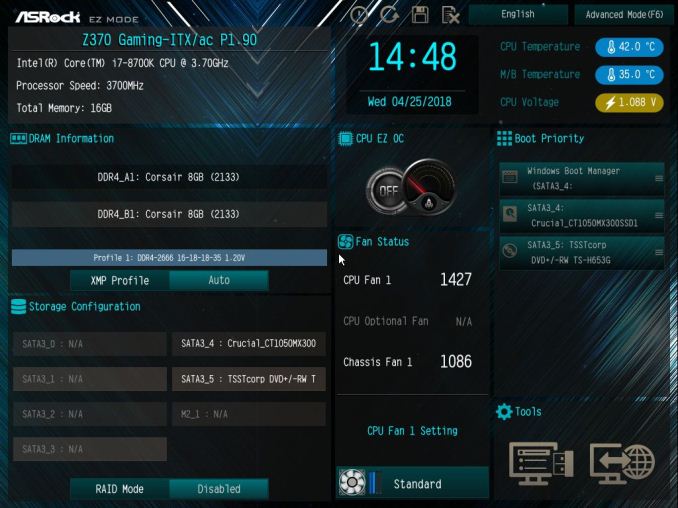 The EZ Mode screen displays to users an informative dashboard relaying high-level system information such as the installed CPU, its speeds and temperatures, RAM totals, attached drives, as well as fan status. Users are able to enable XMP profiles on memory and enable CPU EZ OC from this screen. Access to the fan settings can be found here as well as the ability to set boot priority.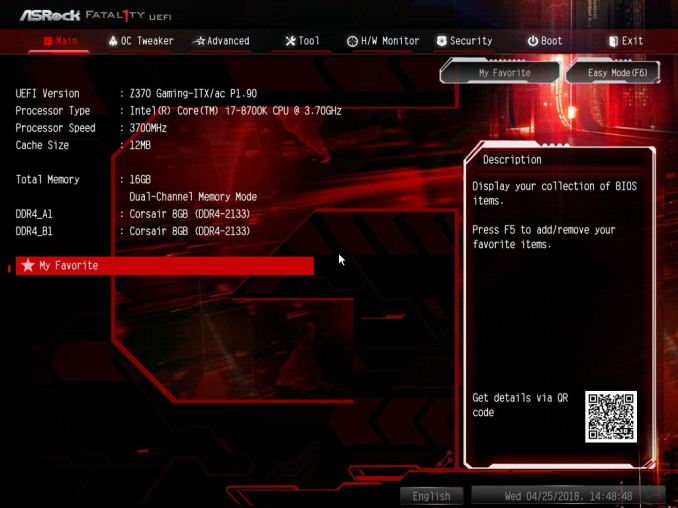 When first jumping into the advanced section of the BIOS we are greeted by the more familiar black and red theme along with headings listed across the top. The first screen presented is the Main screen where BIOS version, processor type/speed, as well as information about the memory can be found. Also located here is the My Favorite section which houses frequently used options on one screen and can be edited to fit each user's needs.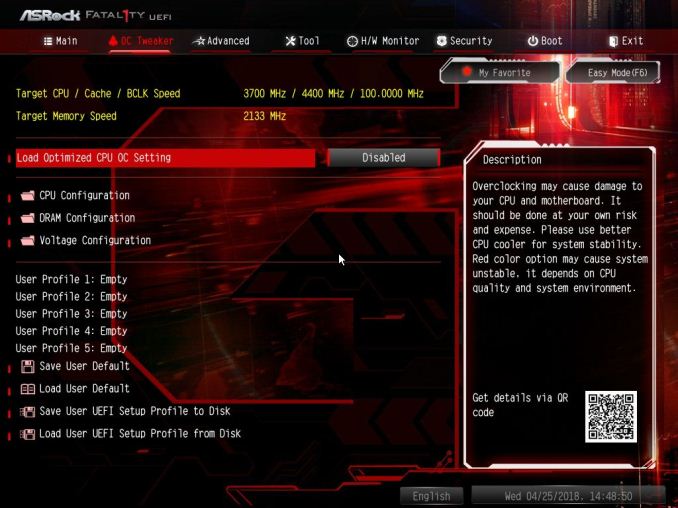 Next is the OC Tweaker section. Within here, users are able to adjust any CPU, DRAM, and Voltage configurations as well as access to other pre-defined overclocking selections. The CPU configuration section has options to adjust core and cache ratios, BCLK as well being able to set AVX offsets (among many other options). The DRAM configuration section contains options to adjust speeds, XMP profiles and memory sub-timings. The voltage section is where users will find the major voltage domains such as CPU Core/Cache, DRAM, VCCSA, and VCCIO among others.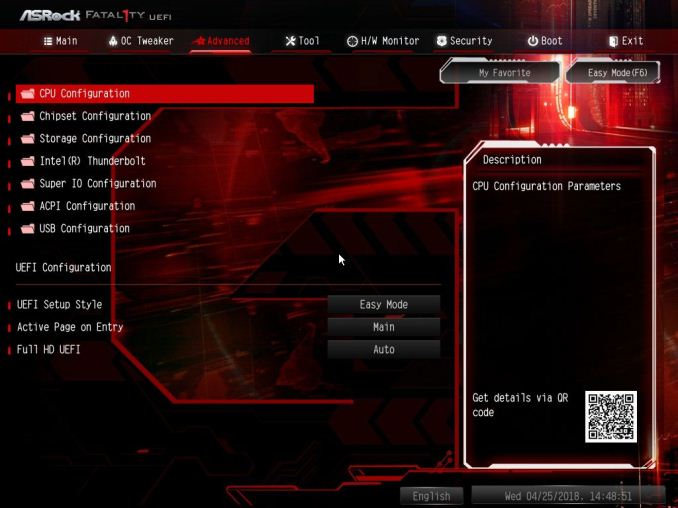 The Advanced section of the UEFI displays several sub-headings from CPU configuration (C-states, enable/disable cores/HT, etc), Chipset and Storage configuration, as well as Super IO and USB configuration sections. This section also covers UEFI configuration parameters such as the default screen as well as the landing page upon entering the BIOS.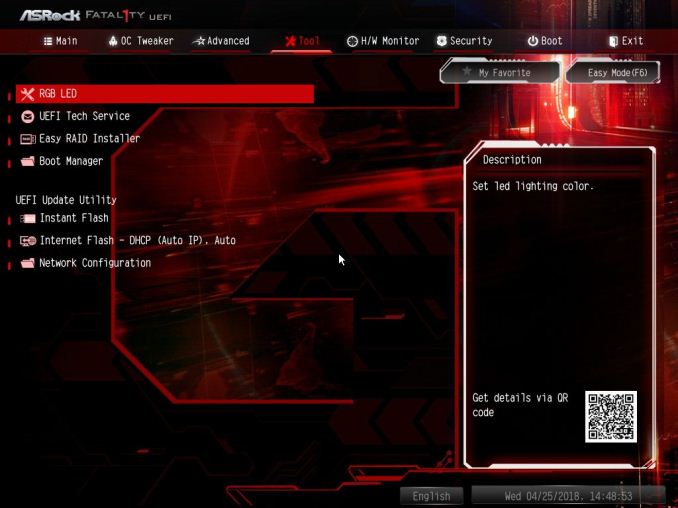 The Tool section has several options underneath from a UEFI version of the RGB LED software, a RAID installer, and even a boot manager. Also found here are UEFI update utility options such as instant flash (from USB), to an internet flash that will go to the ASRock website and check for the latest BIOS versions.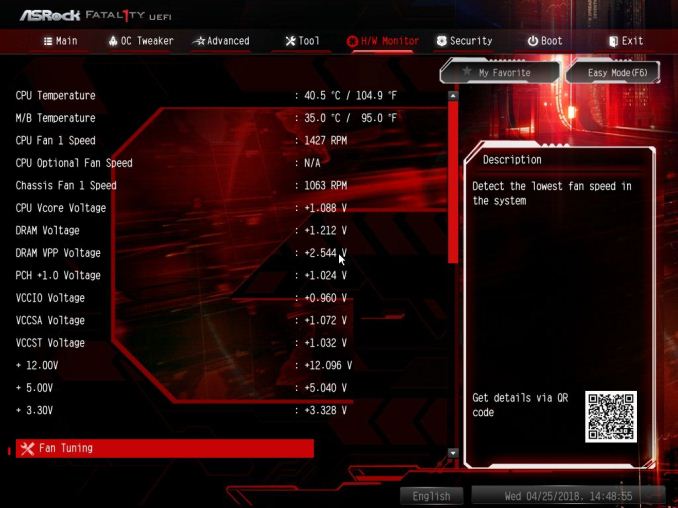 The H/W Monitor heading is where users are able to see a state of the union of their board with CPU and motherboard temperatures as well as fan speeds and voltages for both the CPU and from the power supply. Also found in this section is Fan-Tuning. Here users are able to control the attached fans and create custom fan curves for cool and quiet operations.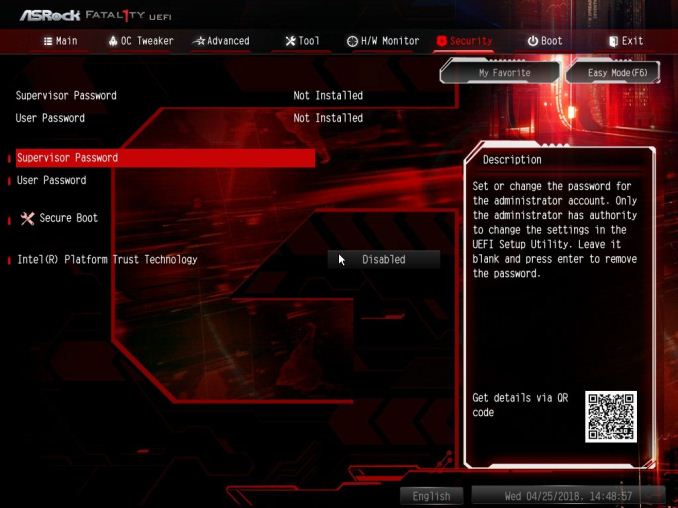 The Security section is where users can create a BIOS password to get into the system as well as edit Secure Boot options.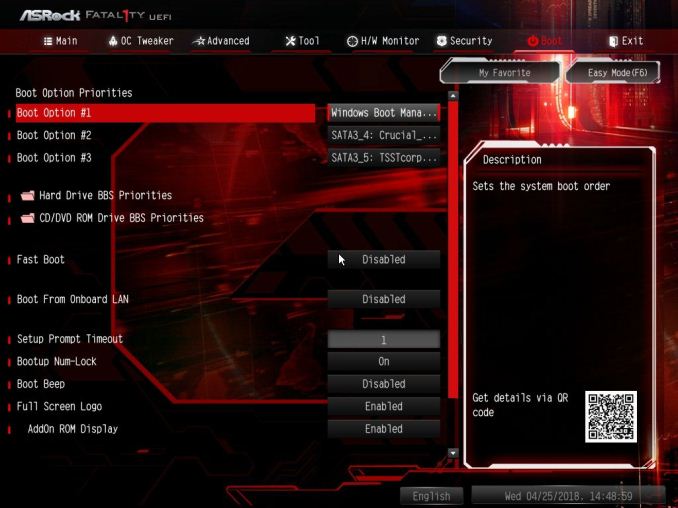 The boot section holds the vast majority of options associated with booting the PC from boot options and priorities to fast boot and num-lock options among others. Anything boot related will be located here.
Software
Moving on to software, like all board partners, ASRock includes drivers to get started as well as several 'value add' type applications with the board. These can be found either online at the motherboard's webpage, or through the driver disk and Live Update/App Shop application.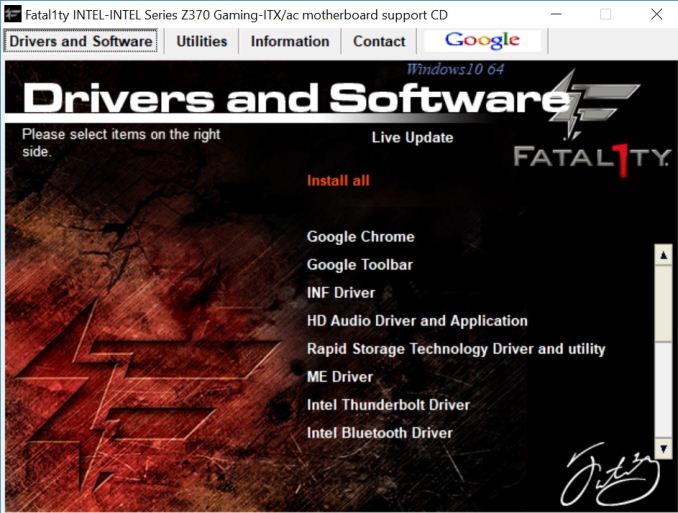 We hit the drivers and software section where basic drivers such as chipset, audio, and other drivers can be installed from. The Utilities section has ASRock RGB LED, Sound Blaster Cinema 3, and Restart to UEFI applications.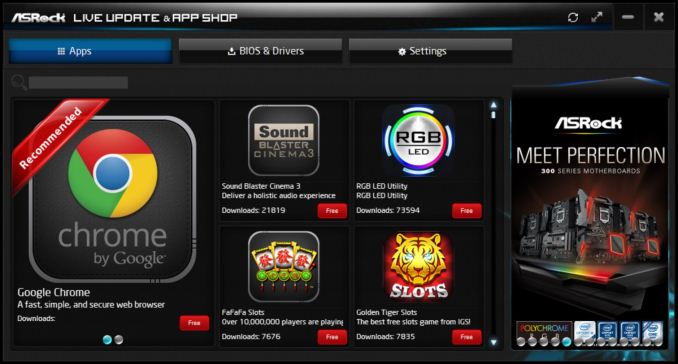 ASRock's Live Update & App Shop is a source for both keeping your ASRock applications up to date, as well as the BIOS and drivers. The application runs in the tray by default. The application will phone home to the ASRock website, compare installed versions with the latest version available, and alert users something needs to be updated.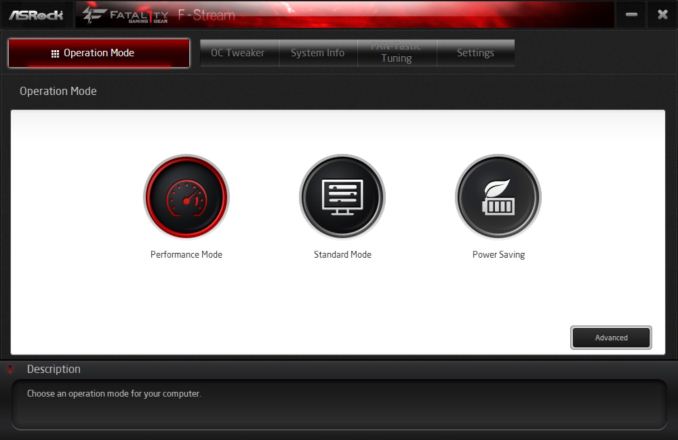 ASRock also includes an application called F-Stream. The F-Stream utility is designed to be both a monitoring tool as well as a Windows-based overclocking tool. It allows users to monitor system health in the System Info section, overclock in the OC Tweaker section, and allow for fan adjustment and custom fan curves in the Fan-Tastic Tuning section. Its a one-stop shop for system control within Windows. About the only thing that is missing is Memory timing manipulation, but, most will tell users to do that from the BIOS in the first place so I highly doubt many are missing such options.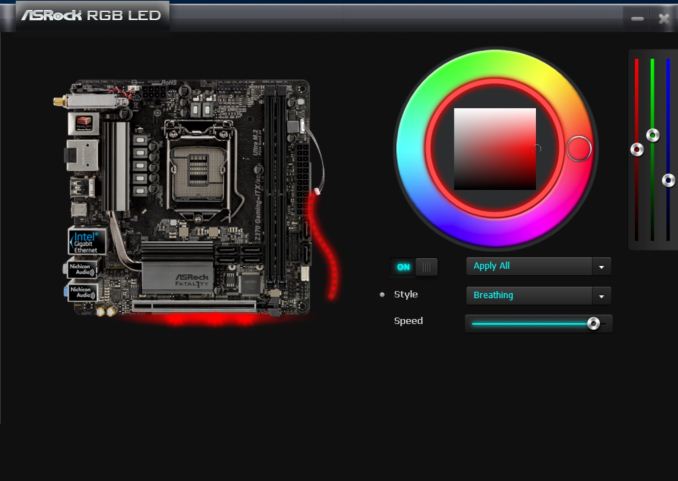 In order to control the integrated RGB LEDs on board as well as any attached to the onboard header, ASRock usees their RGB LED software. It includes several different styles as well as speed and color adjustments. Changes can also be made through the BIOS which also includes a version of this software.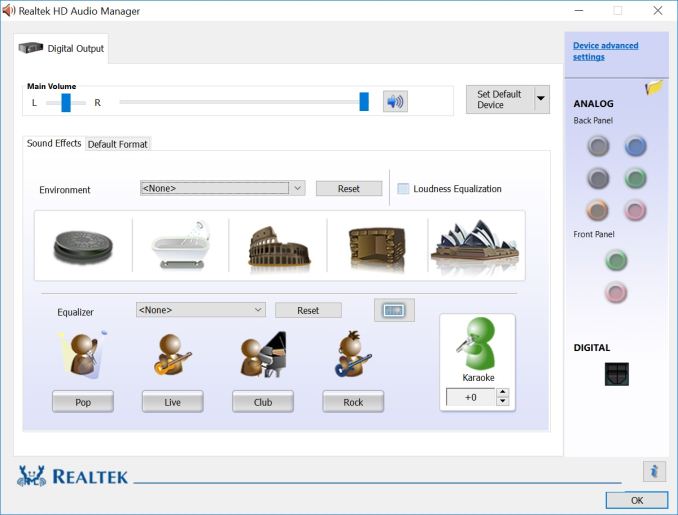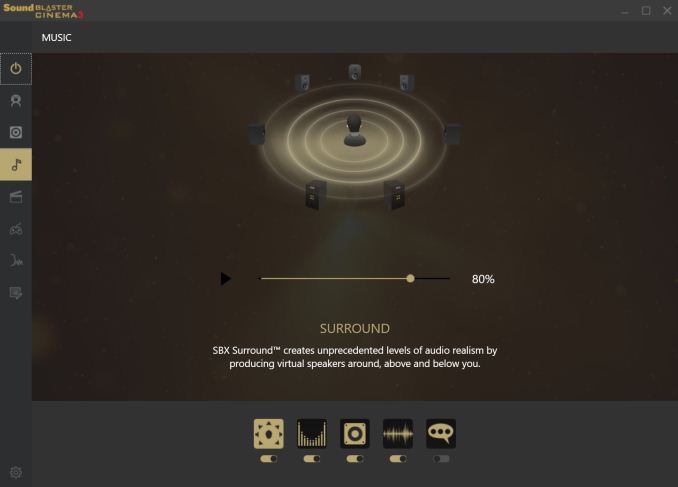 ASRock uses the Realtek ALC1220 codecs for the Z370 Gaming ITX/ac which includes the Realtek software for changing the sound to your liking. On top of that, ASRock also includes the Sound Blaster Cinema 3 software on top of it to further manipulate the sound. The software is able to have distinct setups for music, games, movies, and more.