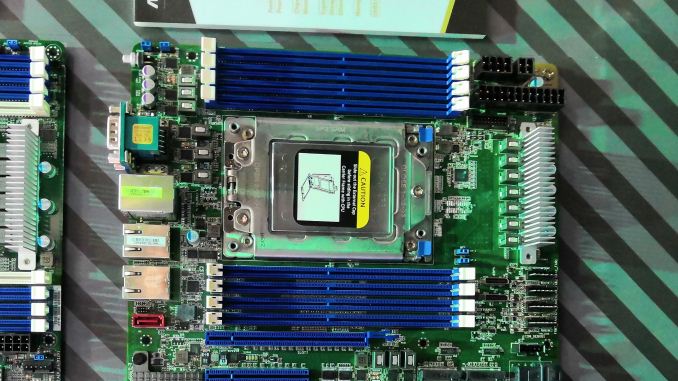 One of the lesser known companies to play in the server space is ASRock Rack, a subsidiary of the consumer focused ASRock. Much like other smaller server platform providers, ASRock Rack typically provides systems based on customer specific requirements but also offers motherboards, chassis, and various designs to distributors and end users. Up until this year, ASRock Rack was purely about Intel, with options for Xeon Scalable, Xeon D-1500, Xeon D-2100, and also the Atom C2000 Avoton and C3000 Denverton ranges. At Computex, the company showed its first AMD EPYC offering.
The EPYCD8 motherboard implements a very typical 1P workstation design, with the socket on its side in order to assist forced airflow through the heatsink and memory. In the sorts of chassis that this motherboard will go into, high-powered fans will push air from the traditional 'right' side of the motherboard to the left, hence the reason for this orientation.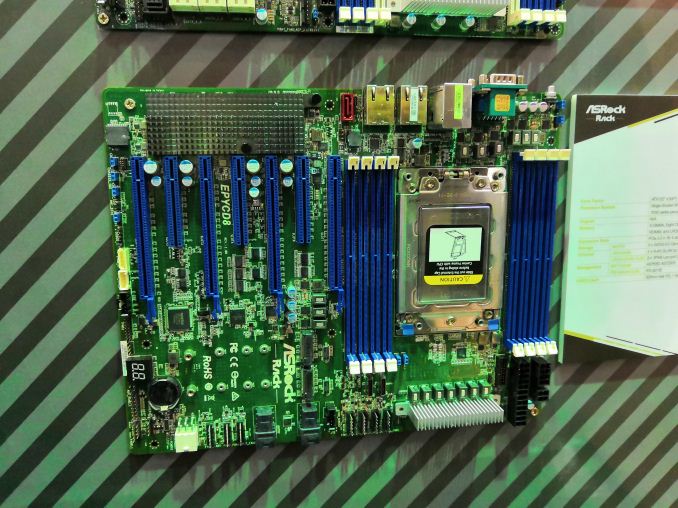 The PCIe slot allocation looks numerous, and this arrangement also comes with dual M.2 slots and dual mini-SAS ports, taking full advantage of the EPYC platform's PCIe lanes. As with other server-grade motherboards of this kind, the system also uses a BMC interface chip to allow the system to be managed remotely, even when the power is switched off. The Aspeed AST2500 chip and corresponding memory is found under the heatsink by the PCIe slots – it looks like a very odd heatsink, and when we asked the product manager he said that the design was not yet finalized.
Another thing to note here is the abundance of fan headers where the SATA ports usually are on a motherboard. ASRock Rack installs this motherboard into server chassis as well, so these fan headers allow the system to have all the smaller 1U high-speed fans attached with direct monitoring/control support through the motherboard and BMC.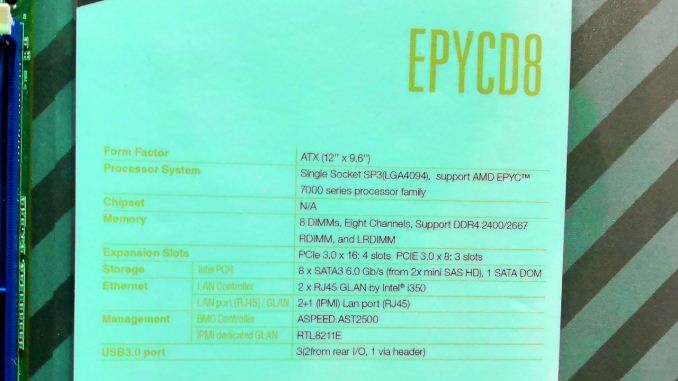 Other standard features include dual Intel network ports (i350), support for DDR4-2400/2666 RDIMM and LRDIMM, eight SATA ports from two mini-SAS connectors, and three USB 3.0 ports. As per usual, interested customers should get in contact with their local ASRock Rack representative for more info.
We should expect to see more ASRock Rack EPYC platforms as the market becomes more used to EPYC being available.
Want to keep up to date with all of our Computex 2018 Coverage?

Laptops

Hardware

Chips
Follow AnandTech's breaking news here!