BIOS
The Supermicro X11SCA-W motherboard has a clean UEFI BIOS which takes more precedence on function over those with fancier and flashy GUIs. Instead the X11SCA-W benefits from a nicely contrasting simple black and grey gradient background.
This motherboard uses a solitary BIOS version (v1.0a) and drops the pizazz of a flashy BIOS utility to update the BIOS: the Supermicro X11SCA-W uses the DOS command structure which is an older way of flashing.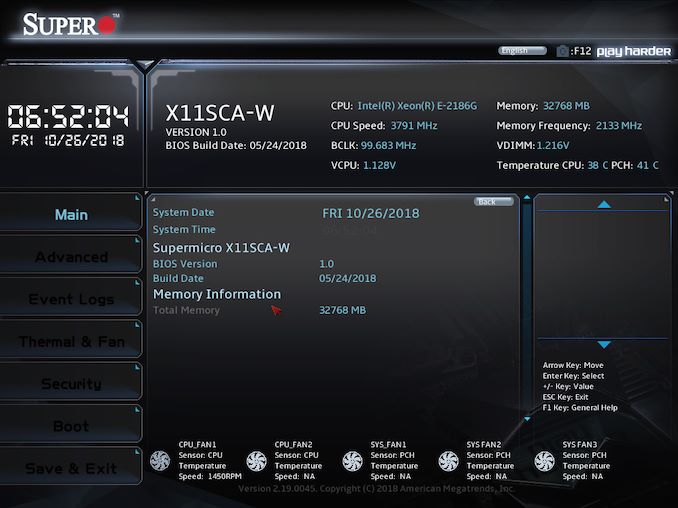 The layout is consistent throughout the menu options. Each screen consists of four main panels with one for the current time and date, a list of main menus including advanced, thermal and fan, security and boot. The other panels include a central information screen pertinent to the selected setting and an informative help panel to the right-hand side of the screen. Along the top is a list of information in regards to the installed processor such as model number, real-time CPU speed and BCLK frequencies, as well as CPU VCore and information relating to the memory. The motherboards model number is located on the left-hand side and this also includes the firmware's build date and version number.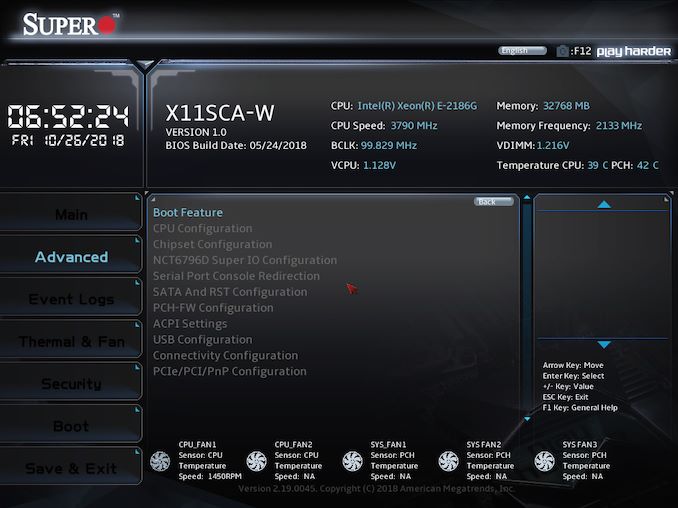 Moving down to the menu opens up the advanced section which has a total of eleven sub-sections. In these submenus are plenty of options you would find from a more conventional desktop focused motherboards such as CPU configuration, SATA and RST configuration and ACPI settings. Much of what's available is more catered towards the commercial segmentation of motherboards and that makes a lot of sense as the X11SCA-W is primarily for the consumer-level server market.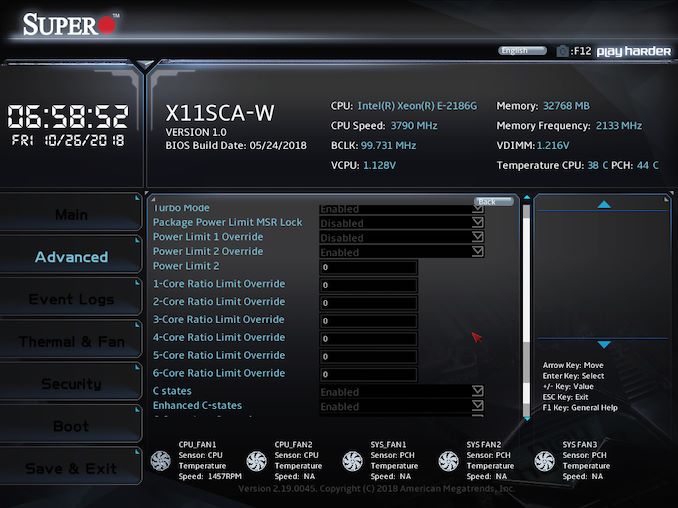 As expected from a motherboard with a basic power delivery and heatsinks with such little mass to them, the Supermicro X11SCA-W doesn't support overclocking the same was as their desktop range of motherboards. The X11SCA-W allows users to alter the core ratio limits of their processors on an individual basis, with each core option being limited to an override as opposed to a set value running consistently. There are no voltage control options for CPU VCore and the board runs a VCore based on the CPU installed, with memory getting the same treatment with no sub timing control and memory voltage is locked down at 1.2 V; memory frequency is limited to a maximum of DDR4-2666. Other options for enhanced power states such as C-states, power package limits and enabling or disabling hyperthreading, Intel SpeedStep and Intel's VMX virtualization technology can all be done in this section.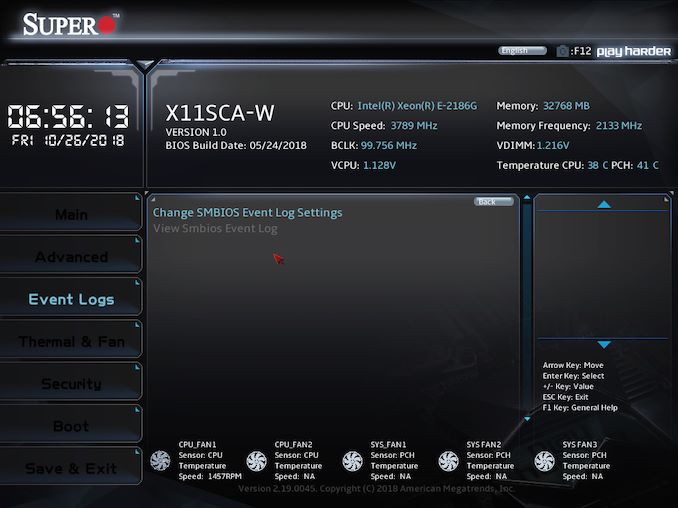 The event logs section allows users to change and edit the SMBIOS event log settings. In this section, users can also view the event log which is useful for troubleshooting potential hardware issues.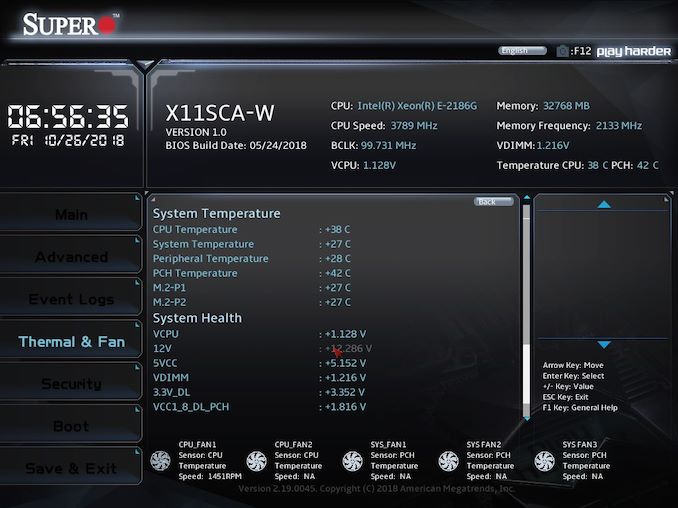 Further down the list is the Thermal and Fan section which provides users with a real-time list of temperatures from six different sensors including the CPU, system, peripheral, PCH and individual sensors on each of the two PCIe 3.0 x4/SATA M.2 slots. Unfortunately there is no easy-to-use fan control GUI. Also listed are various voltages including current CPU Vcore voltage, 12 V, 5 V and 3.3 V and memory voltage (VDIMM).
The Supermicro X11SCA-W isn't particular designed for regular desktop systems; this is very clear within what's on offer in the BIOS. That being said all of the focus is on commecial grade functionality.
Software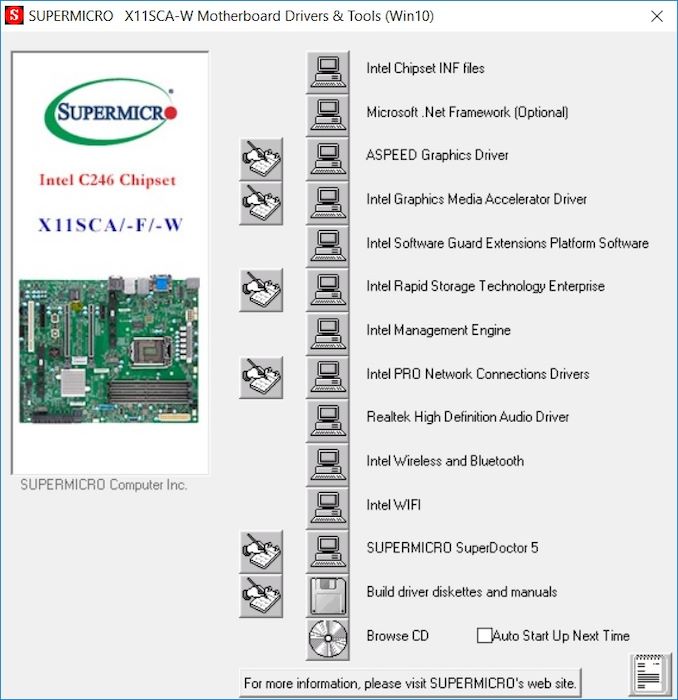 While there is no physical disc bundled with the Supermicro X11SCA-W, users can download an official copy directly from the Supermicro website in .ISO form. This can be burned to a disc using a DVD burner or mounted with Windows. The GUI from the downloaded driver install disc is somewhat old, and lists the available drivers from top to bottom, with a desktop computer icon which when clicked, allows a user to install that specific driver.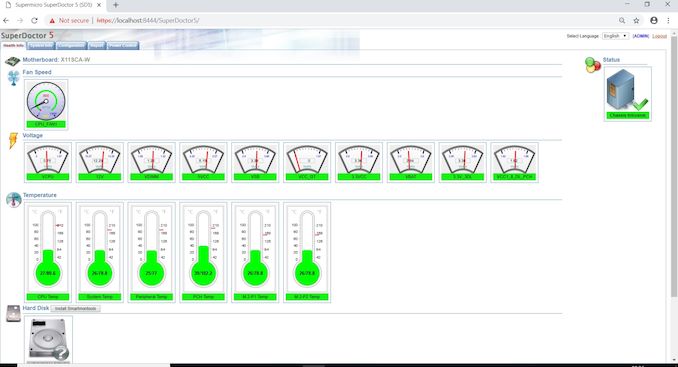 As expected from a motherboard aimed at server and workstation use, the Supermicro X11SCA-W has a very limited bundle as far as software goes. What does come bundled with the X11SCA-W is two functional and configurable pieces of software. The first of these is the Supermicro SuperDoctor 5 utility which allows users to monitor the hardware from various aspects including temperature, fan speed control and storage devices. The Supermicro SuperDoctor 5 software is browser-based and offers network management options such as the ability to set alerts, provide information on installed hardware and offers access to the event log.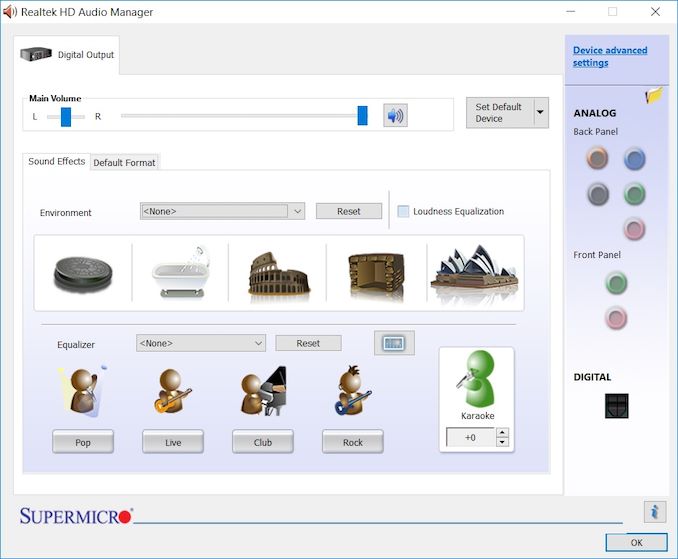 As the Supermicro X11SCA-W uses a Realtek ALC888S HD audio codec, a basic version of the Realtek HD Audio Manager allows users to control audio. This includes adding environmental and location-based sound effects, select between different audio profiles such as pop, club and rock. Users can also enable or disable loudness equalization. The GUI has a basic skin which has been designed for Supermicro, but keeps its Realtek OEM properties without making any other changes than adding a Supermicro logo to the bottom.