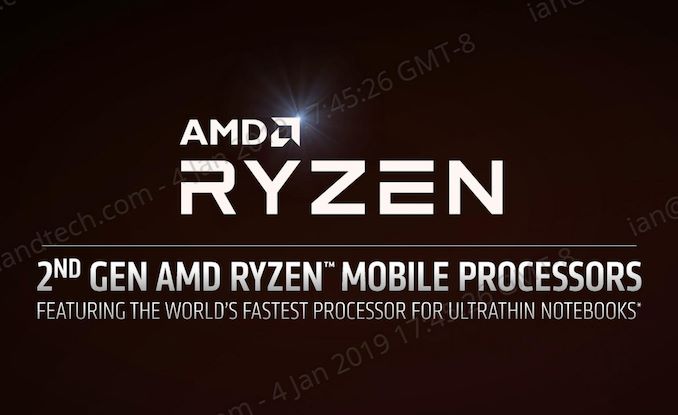 This year at CES, we have a series of announcements from AMD before the company's keynote presentation. Addressing the company's mobile offerings, AMD is launching the first parts of the Ryzen 3000-series of processors, focused around the Ryzen Mobile 2nd Gen family for both the general 15W market as well as the high-performance 35W market. On top of this, AMD is also making an announcement regarding how it will address graphics drivers for these platforms, and then some icing on the cake comes from AMD's venture into Chromebooks.
Ryzen 3000-Series, Starting with 2nd Generation Ryzen Mobile
Everyone is keen for AMD to announce its next-generation processors, based on the 7nm Zen 2 architecture, which are expected to carry the 3000-series branding. However we're still going to have to wait for those announcements; instead AMD is announcing its 12nm Zen+ Mobile processors today, with these processors going under the 3000-series branding.
These parts are upgraded versions of the first generation of Ryzen Mobile parts, the Ryzen 3 2300U and the Ryzen 5 2500U (codename: Raven Ridge), which found their way into a number of premium designs. These new second generation parts will take advantage of the upgraded microarchitecture going from Zen to Zen+, as well as the additional frequency headroom and lower power offered by GlobalFoundries' 12nm process. The new processors will also expand the range of power envelopes that Ryzen Mobile is available under, from the top of the stack 35W Ryzen 7 3750H processor down to the 15W Athlon 300W for entry-level devices.
AMD's reasoning for expanding its offerings, the company says, is in part due to the shape of the notebook market. Based on data from analysts at IDC, the notebook market sells around 87-90 million units per year, but the sales distribution between the various market segments has changed from 2017 to 2018: there are fewer 'mainstream' products, more Chromebooks, more premium devices, and more gaming devices. By increasing the number of processors on offer, as well as the power/performance at both the high-end and the budget and value segments, AMD hopes to address most of the possible market in order to get a bigger slice of the pie. Usually the discussion here is about TAM, or 'Total Addressable Market', measured in billions of dollars – the more market you can address, the higher the TAM.
Also on AMD's lips was the rationale behind some of its performance comparisons for the new processors. Much like Intel, AMD is quoting a MIcrosoft research report that states that the average time between notebook upgrades for an typical user is around five years. Because of this, AMD is sometimes comparing the performance of the new 2nd Generation Ryzen Mobile parts against a Broadwell (2014/2015 era) notebook. Other comparisons were against the latest Intel Coffee Lake-Refresh and Whiskey Lake processors.
The new 2nd Generation Ryzen Mobile processor stack looks like this:
AMD 2nd Gen Ryzen Mobile
Cores
(Threads)
TDP
Base
Freq
Turbo
Freq
Vega
IGP
IGP
Freq
Ryzen 7 3750H
4 (8)
35 W
2.3 GHz
4.0 GHz
Vega 10
1400 MHz
Ryzen 7 3700U
4 (8)
15 W
2.3 GHz
4.0 GHz
Vega 10
1400 MHz
Ryzen 5 3550H
4 (8)
35 W
2.1 GHz
3.7 GHz
Vega 8
1200 MHz
Ryzen 5 3500U
4 (8)
15 W
2.1 GHz
3.7 GHz
Vega 8
1200 MHz
Ryzen 3 3300U
4 (4)
15 W
2.1 GHz
3.5 GHz
Vega 6
1200 MHz
Ryzen 3 3200U
2 (4)
15 W
2.6 GHz
3.5 GHz
Vega 3
1200 MHz
Athlon 300U
2 (4)
15 W
2.4 GHz
3.3 GHz
Vega 3
1000 MHz
At the top is the new AMD mobile king, the Ryzen 7 3750H, a quad-core 35W processor with simultaneous mutli-threading, a 2.3 GHz base clock, a 4.0 GHz turbo frequency, 10 Vega compute units (640 SPs), a peak GPU frequency of 1400 MHz, and support for four displays. This is going to be aimed at the high-end and gaming notebook market, typically with devices that have discrete GPUs.
The Ryzen 7 3700U is the update to the Ryzen 7 2700U, offering more frequency due to the enhanced 12nm process and Zen+ microarchitecture. The thing is, aside from being rated at 15W rather than 35W like the 3750H, the specifications for this processor are exactly the same as the 3750H. So what we're looking at is a much better voltage/power binned chip, or the TDP means something different on the system: either peak power, or the 35W part can hold its turbo frequency for longer. These processors have Precison Boost 2, allowing the frequency to adjust accordance with the load and the thermal capabilities of the system they are in.
A little bit down the stack, the Ryzen 5 3550H and 3500U are also identical to each other except from the TDP. Both processors are quad-core with eight threads, a 2.1 GHz base frequency, a 3.7 GHz turbo frequency, eight Vega compute units (512 SPs), a maximum GPU frequency of 1200 MHz, and again support for four displays.
The final three processors are more aimed at the mainstream and budget markets. The Ryzen 3 3300U is a quad-core 15W part at 2.1/3.5 GHz with six CUs, so expect this to be a common processor for mid-range notebooks. The Ryzen 3 3200U cuts back on the cores (two with simultaneous multi-threading), and the Vega compute units (three = 192 SPs), and has slightly less L3 cache. The Athlon 300U is the first Ryzen Mobile Athlon processor, but is actually using Zen cores on 14nm. This is likely to be the same die as the desktop Ryzen APUs, but binned down at 15W.
AMD has said to expect systems based on these processors to be announced during CES, and to hit the market during the first quarter (January to March) of this year.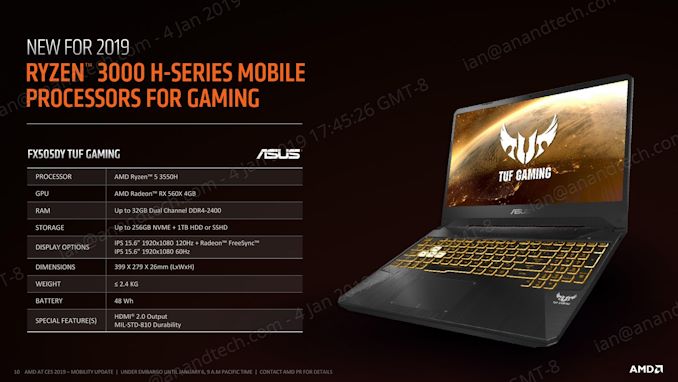 One of the first systems with the new 35W processors was disclosed directly by AMD. The ASUS FX505DY will be part of ASUS' TUF Gaming range, and will be a 15.6-inch gaming laptop with either a Ryzen 7 3750H or Ryzen 5 3550H, and paired with an AMD Radeon RX 560X graphics card. The device will come with the option of a standard 1080p60 display or a FreeSync-enabled 1080p120 display. Memory will go up to 32GB of DDR4-2400, and various storage options exist. Being part of the TUF Gaming line, and a gaming laptop, means we should expect to see an RGB keyboard too by the images.
For performance, AMD provided some interesting numbers for the new 15W processors. These are from AMD direct, not us, so as always, they should be taken with a grain of salt.
Against a system that a typical user might be upgrading from, such as a 15W Broadwell system, AMD said that they've seen their new 15W parts score an average of +60% over the older system due to the CPU and extra cores (four cores for AMD vs two in Broadwell). For multimedia applications, especially now that a good number can use the integrated Vega graphics, AMD is reporting a 10-22% speedup on web workloads (as measured by PCMark10's web sub-test), 50% faster on general workloads (as measured by PCMark10 Standard), and a full 15-16x performance increase when using Adobe Photoshop CC image filters.
For the new second generation parts, AMD stated that laptops with them should aim for a set of modern standards that include 12hrs or more battery life, 10 hours of video playback (which they call the 'LA to Tokyo Test'), have voice wake, support 4K streaming video, gaming, and modern standby. With that said, we're all very curious to see how the battery life claims in particular play out; all of the first-generation Ryzen mobile laptops we've reviewed have demonstrated problematically high idle power consumption. So this is AMD's chance to fix the Ryzen mobile platform for the next generation of devices.
As for comparisons against modern systems, again at 15W, AMD promoted that a Ryzen 5 3500U against a Core i5-8250U scores +14% on web workloads (PCMark 10 Web), +27% on Photoshop filters, and ties on office scripting. For gaming, pitting a Ryzen 7 3700U against a Whiskey Lake-U Core i7-8565U gave AMD a 20-40% advantage in average frame rates on popular games (Rocket League, DOTA2, Fortnite) at 720p Low settings.
Radeon Drivers and Software
Part of AMD's announcement also touched on a policy change in its Windows driver line-up. Starting in Q1, any laptop with a Ryzen Mobile CPU that uses integrated graphics will be supported direct from AMD with a single driver package to cover all devices. This will, according to AMD, enable them with Day 0 driver support for the latest game titles and updates, as well as simplify the process between AMD, OEMs, and end users. This proved to be an especially rough point of friction with gamers and other power users on the first-generation parts, so it's a significant improvement in how AMD is going about driver support.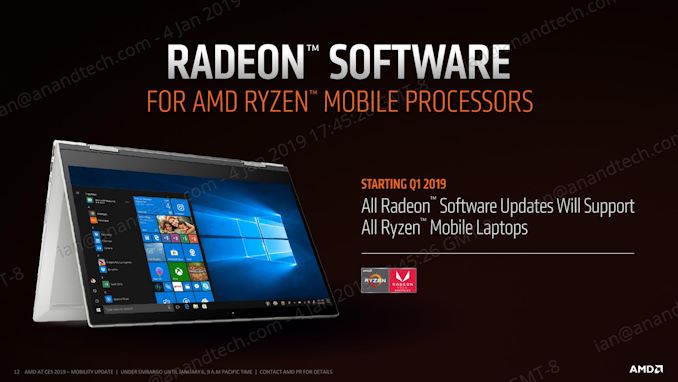 The updated driver stack and driver package will cover all Ryzen Mobile CPUs, both first generation and second generation (and Athlons), which also makes it easier for users who already have a Ryzen APU device to update. AMD promises that this driver set will be getting frequent updates, much like its driver set for desktop discrete graphics cards,
Going for Chromebooks Too
One part of the market that AMD hasn't played in yet is the Chromebook market. The processors that typically go into Chromebooks are lower grade Celerons and Pentiums, which AMD doesn't particularly compete against. In 2019, AMD is going to pursue this market, with they feel is 'an underserved but growing market'. AMD quoted that the Chromebook market is currently growing with an 8% CAGR (compound annual growth rate) with increasing average selling prices, so now is the right time to enter for them. To this end, AMD is launching two Excavator-based A-Series processors with a 6W TDP.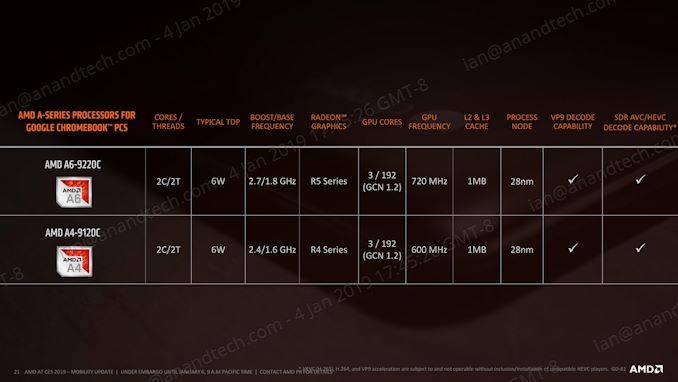 These processors use the Excavator microarchitecture, the last vestige of AMD's run of Bulldozer-based cores, but the best example of the family. (We reviewed the predecessor Carrizo in detail, and it wasn't that bad). These small CPUs built on 28nm will have one core/module, two threads, and sit at 6W TDP. The graphics inside is AMD's GCN 1.2 family, which AMD says will beat the Atom parts currently in these devices.
The A6-9220C is the best processor of the pair, with a 1.8 GHz base frequency and a 2.7 GHz turbo frequency, with 192 SPs running at 720 MHz and support for VP9/H.264/H.265 decode. This processor, according to AMD, beats Intel's Celeron N3350 and Pentium N4200, with the following metrics:
Up to 23% faster in web browsing (Speedometer 2.0)
Up to 13% faster in web applications (WebXPRT 3)
Up to 2.5x faster in email (PCMark for Android, Writing sub-test)
Up to 62% higher productivity (PCMark for Android, Work test)
Up to 33% faster in photo editing (PCMark for Android, Photo Editing sub-test)
Up to 34% faster in web gaming (Bullet Force on WebGL)
Given that Chromebooks are often used in this way (mostly office style work, perhaps some web-based gaming), AMD is confident they have a part that works for them. The other processor on the list is the A4-9120C, which is slightly slower on the CPU and GPU. All of the AMD-based Chromebooks are expected to get 10hrs+ of battery life, which AMD says is a base requirement for Chromebooks, and AMD also states they easily get that. These two processors might also be found on entry-level Windows-based notebooks as well.
Some of the first AMD Chromebooks will be from HP and Acer.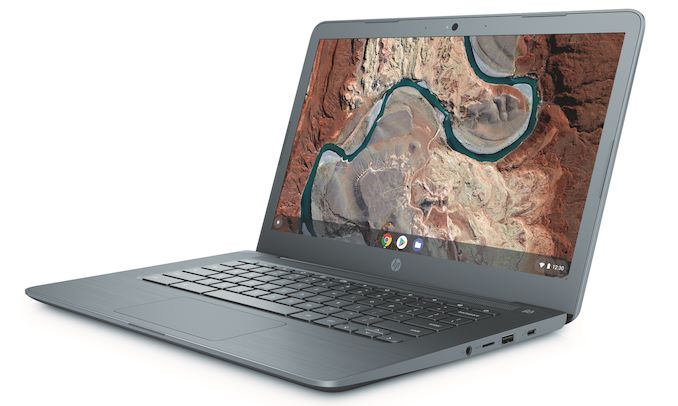 The HP Chromebook 14 is based on AMD's A4-9120 SoC and features a 14-inch display with a 1366x768 resolution. With 4 GB of DDR4 RAM, 32 GB of local eMMC storage, and an essential minimum of I/O capabilities, the Chromebook 14 shouldn't cost too much. It comes in a fine-looking chassis with a textured finish and a 1.8 cm (0.92-inch) z-height. What is interesting is that HP claims that its Chromebook 14 works for 9 hours and 15 minutes on a single charge using a 47.36 Wh battery.
Keep an Eye on the AMD Keynote
AMD's Keynote presentation, led by CEO Dr. Lisa Su, is on Wednesday morning. Alongside these announcements, which are being released before the presentation, we're sure to hear a few more things that AMD is up to. Stay tuned, as we'll be live-blogging that too.