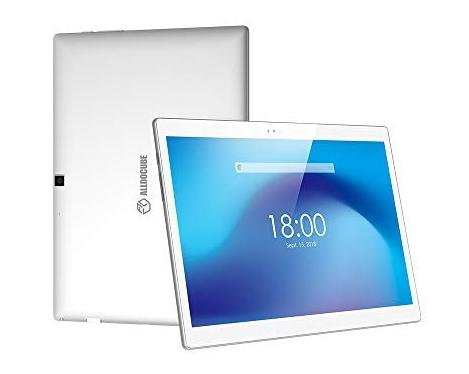 Back in August we first talked about the Alldocube X tablet, launching with Android 8.1. The company sent us one to check out, so I've run some tests on it to kick the tires a bit. This isn't going to be a full review, but some first impressions along with some performance levels. The Android tablet market hasn't really worked out the way Google likely expected, and we don't really see a lot of high-end tablets launching with Android, and even Google has launched their latest tablet with Chrome OS. Still, there's definitely a market for Android tablets, and one area where Alldocube should do well here is as a media playback device.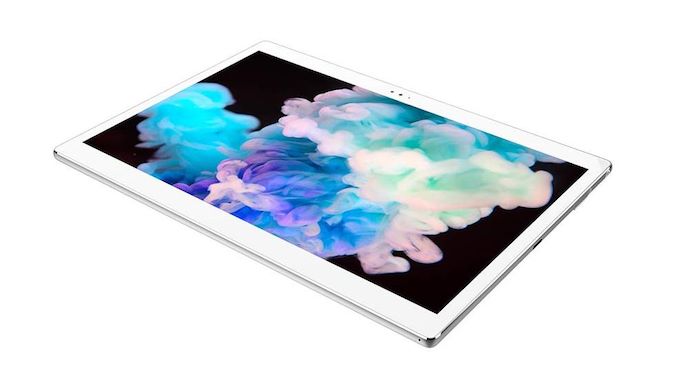 Alldocube's X tablet features the same Samsung 10.5-inch Super AMOLED display as found on Samsung's tablets. This display features a 2560x1600 resolution, meaning a 16:10 aspect ratio and 287 pixels-per-inch, and being OLED, the vibrant colors and amazing contrast rations that make OLED such a crowd pleaser. Alldocube fits this into a tablet with reasonable bezels as well, especially on the sides.
The Alldocube even offers a fingerprint reader built into the side of the device. It works well, but only if you are holding the tablet in landscape. In portrait mode, the fingerprint reader finds itself on the bottom where it's difficult to access.
The build quality of the X is quite impressive, with a fully CNC aluminum chassis that is one you'd expect to see in a much higher cost device. The device weighs in at just 500 grams, which isn't class-leading, but still light enough to make it very portable. It's 6.4 mm thick, which also helps with the portability.
Alldocube X Tablet
Component
X Tablet
Display
10.5" 2560x1600 Samsung AMOLED
100% P3 D65 coverage with HDR
SoC
MediaTek MT8176
2 x Cortex A72 @ 2.1 GHz
4 x Cortex A53 @ 1.6 GHz
RAM
4 GB LPDDR3
Storage
64 GB / 128 GB eMMC
Operating System
Android 8.1 Oreo
WiFi
802.11ac w/Bluetooth 4.2
Cameras
Front: 8MP
Rear: 8MP
Misc
Headset Jack
Fingerprint Reader
microSD Slot
Battery
30 Wh - USB-C Charging
Dimensions
257 x 179 x 6.4 mm
10.1 x 7.0 x 0.25 inches
Weight
500 grams
1.1 pounds
Starting Price
$265.99 USD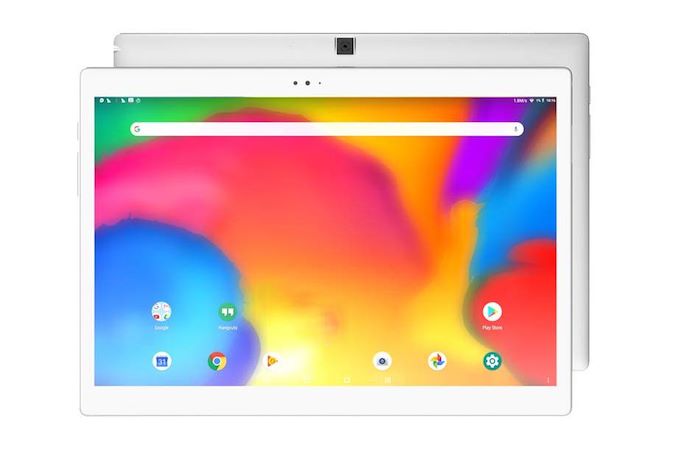 Alldocube has tapped an older SoC to power the X tablet with the MediaTek MT8176, which offers two Cortex A72 cores and four Cortex A53 cores, along with an IMG PowerVR GX6250 GPU. This is an older 28 nm processor, so it's pretty far from the cutting edge we're seeing launched these days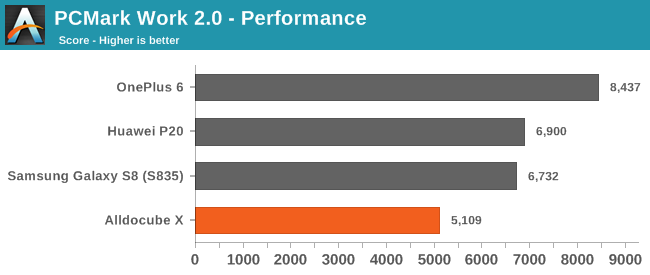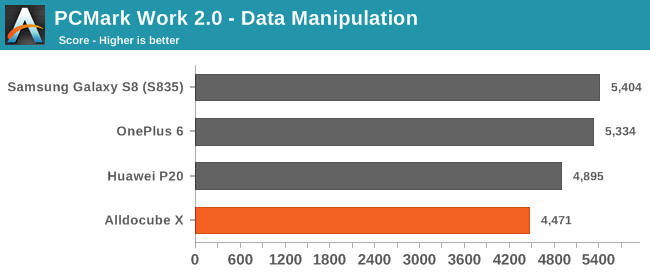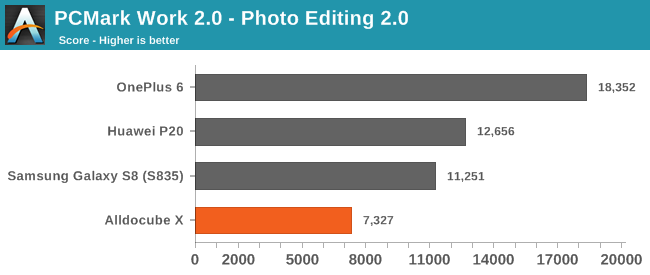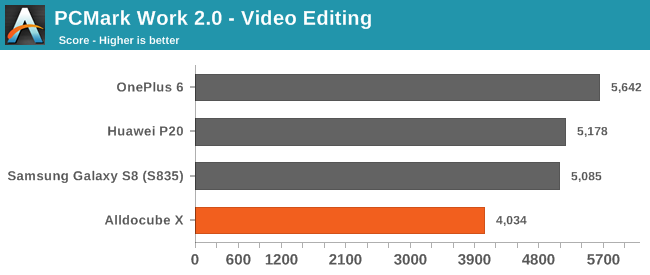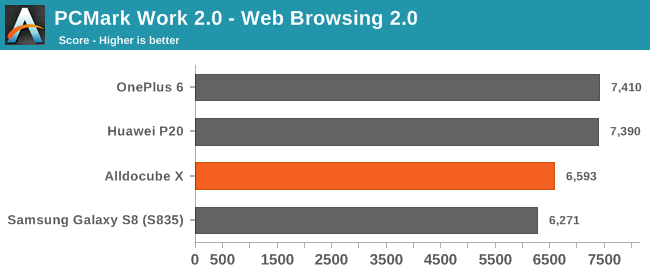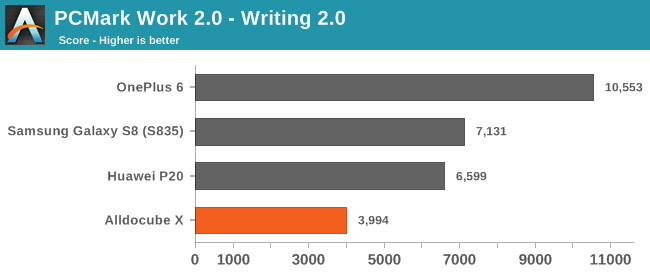 On the CPU side, the CPU does a fair job against some newer, faster SoCs. The A72 was a good CPU core for performance, but the 28 nm process really limits the maximum frequency on this, and at 2.1 GHz it is well behind the latest chips, plus there are only two high-performance cores.
On to the GPU: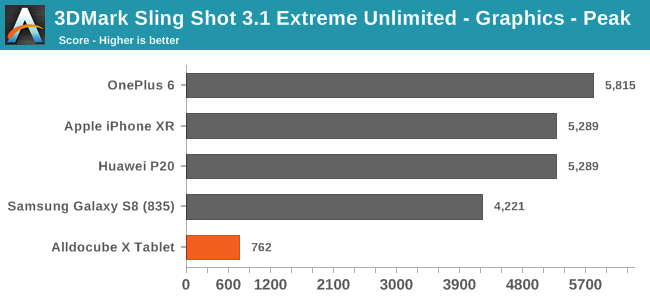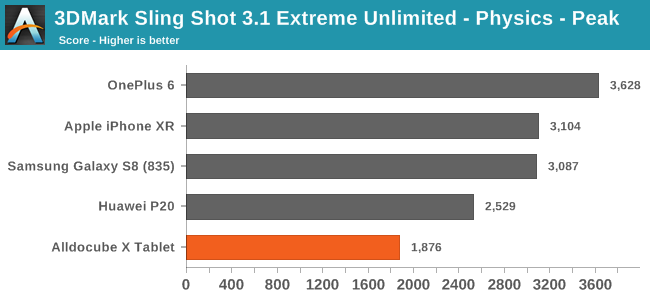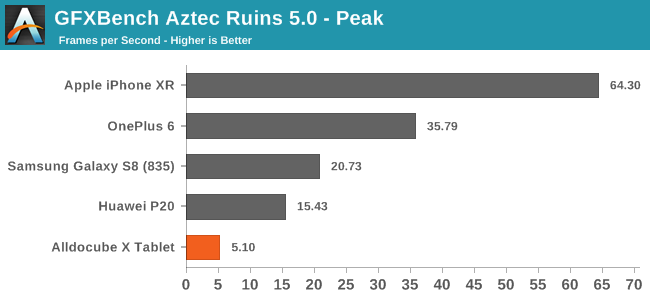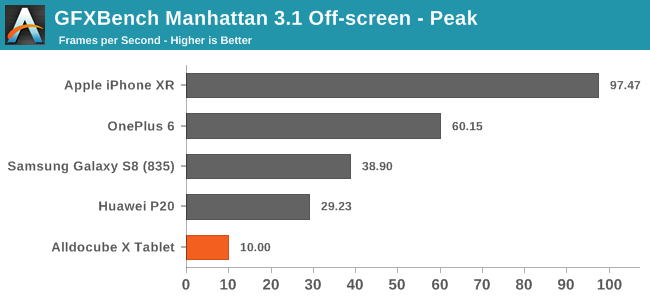 The PowerVR GX6250 offers just two GPU clusters of the same vintage as Apple's iPad Air 2 with its A8X, but Apple offers 8 clusters on 20 nm, so the MediaTek is at a severe disadvantage to even a four-year-old tablet. As such, GPU performance is a particularly sore spot on the tablet, and it can run into stuttering issues even with the notification shade.
As for battery life, that again is a sore spot. The Alldocube has a 30 Wh battery, which should be sufficient for a device like this, but it appears to lack any sort of sophisticated power management, and when coupled with the OLED display which is definitely more power-hungry displaying the typical white background of a website or application, it runs into trouble. I calibrated the display to 200 nits and ran it through PCMark's battery life test to see how it performed under load.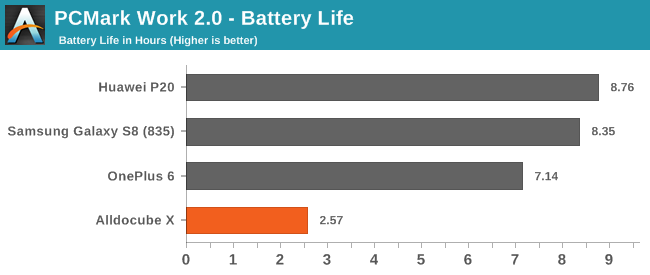 As you can see, it's not pretty. The company rates the tablet for up to 8 hours, which will be likely ideal conditions such as dim movie viewing, but for web browsing and any sort of task that leverages the CPU, the power usage is very high.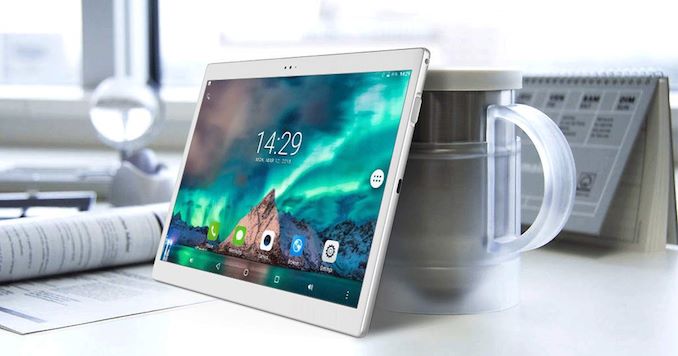 Still, the Alldocube does offer a very nice design, coupled with the AMOLED display, so if the Samsung tablets offering this same display have been a bit out of the budget, this is an option. It just comes with some serious compromises to get to the price point it is sometimes at. For instance, there was a flash sale recently which had a 128 GB model of this tablet for $287 USD, which makes it pretty appealing despite the older SoC and battery issues, but on Amazon right now it's almost $370 USD which puts it too close to the Samsung tablets to make it a recommendation. With a new brand, you'll likely need to shop around to find a good price.