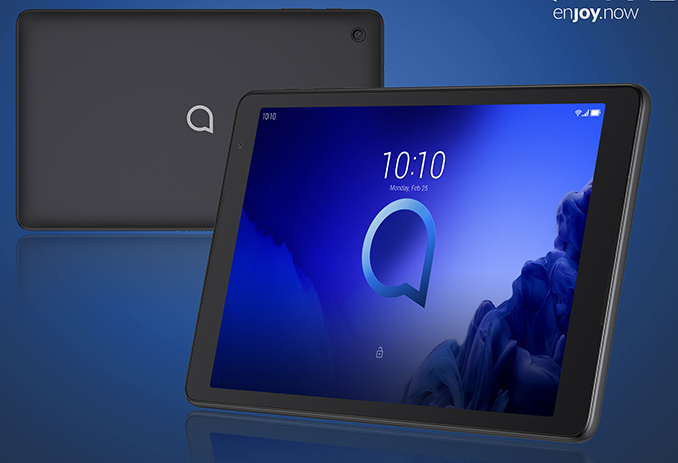 Entry-level Android-based tablets are a relatively minor market, which is why companies offering such products tend to aim them at a specific geographical markets in a bid to avoid head-to-head competition with other makers. These devices tend to address very specific needs without trying to make a one-size-fits-all kind of device. This is exactly what the Alcatel 3T 10 tablet is all about.
Equipped with a 10-inch IPS display featuring a 1280x800 resolution, an as-yet unknown SoC, 3 GB of RAM, 32 GB of NAND flash storage, and basic imaging capabilities, the Alcatel 3T 10 looks aims to be a low-cost Android tablet. Meanwhile, it has four key selling points (at least as far as hardware is concerned): far-field microphones, pre-installed Google Assistant, an integrated CAT4 4G/LTE modem (150Mbit/s DL, 50Mbit/s UL), and compatibility with Alcatel's Audio Station designed specifically for the 3T 10.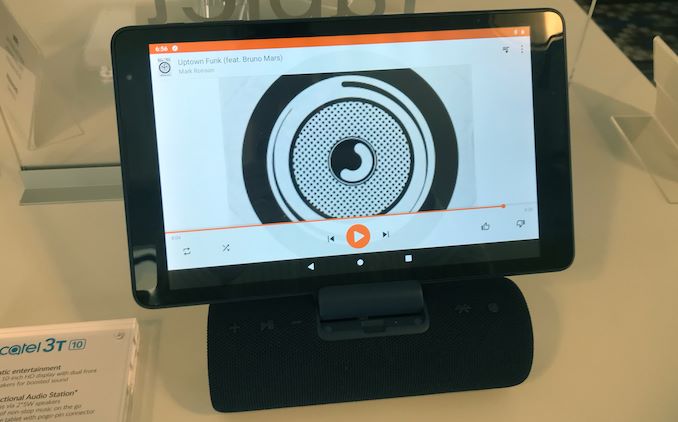 The pre-installed Google Assistant along with far-field mics enable the device to be controlled remotely using voice to make calls, ask questions, play music/movies, and do all the things that the GA allows to do. Since the device has a modem, it can be used almost anywhere. Meanwhile, to make the music sound better, Alcatel equipped the 3T 10 tablet with two front speakers featuring 'bass enhancement units.'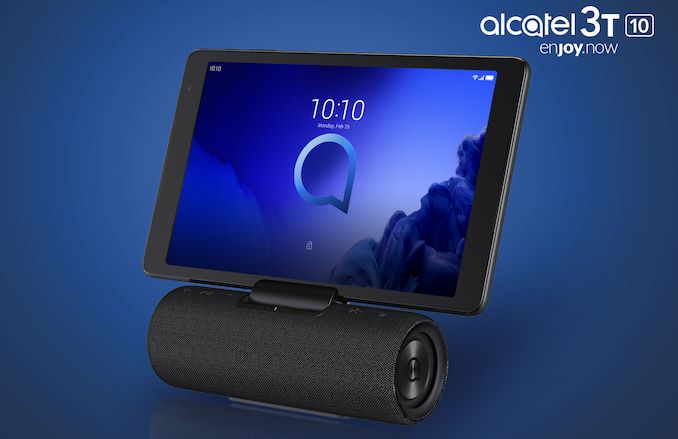 But just in case the built-in speakers are not good enough, Alcatel offers an Audio Station as a bundle - a bluetooth speaker outfitted with two 40-mm 5 W speakers. The device uses Bluetooth 4.2 to connect to the tablet, yet it also has a 3.5-mm audio jack and is compatible with any source featuring an appropriate connector. The Audio Station also serves like a stand for the Alcatel 3T 10 and can charge it using POGO pins. Meanwhile, the speaker itself charges using a micro-USB port and can playback music for 7 hours at one charge.

The Alcatel 3T 10 with its Audio Station weigh just about 830 grams, they are easy to carry around and used both inside andoutside. Essentially, Alcatel positions its tablet as Google Assistant-enabled media player with 4G/LTE Internet access.
The Alcatel 3T 10 Tablet with Audio Station
The Alcatel 3T 10
Display
IPS
1289x800
16M Colors
SoC
?
RAM
3 GB
Storage
32 NAND flash, microSD slot
Local Connectivity
Wi-Fi
802.11n Wi-Fi
Bluetooth
Bluetooth 4.2
Data/Charging
Micro-USB, POGO 8-pin
Audio
?
NFC
?
WWAN
2G: 850/900/1800/1900
3G Bands: 1/2/5/8
4G LTE Bands: B1/3/5/7/8/28/38/40
2G data: GPRS/EDGE
3G data: HSPA+ (42 Mbit/s DL, 11 Mbit/s UL)
4G data: Cat 4 (150 Mbit/s DL, 50 Mbit/s UL)
Navigation
?
Rear Camera
2MP, SP250A,
sensor size: 1/5,
sensor pixel size: 1.65μm,
lens aperture size: f2.8,
FOV: 61.4°,
#elements: 2P, EIS
Video capture: 720p@30fps
Front Camera
2MP, SP250A,
sensor size: 1/5,
sensor pixel size: 1.65μm,
lens aperture size: f2.8,
FOV: 61.4°,
#elements: 2P, EIS
Video capture: 720p@30fps
Battery
Capacity
4080 mAh
8 hours media playback
Expected Life
?
SIM Size
Nano SIM
Sensors
?
Dimensions
Height
260 mm
Width
156.6 mm
Thickness
8.95 mm
Weight
440 grams
Colors
Prime Black, Midnight Blue
Protection
Drop
?
OS
Google Android
Launch Countries
EMEA
Price
€179
The Alcatel Audio Station
Output Power
2 x 5 W
Speakers
2 x 40 mm drivers
Connectivity
Bluetooth 4.2
Micro USB
3.5 mm jack
POGO 8-pin
Battery
2000 mAh
7 hours
Price
€229 with the tablet
Alcatel plans to start sales of its Alcatel 3T 10 sometime later this year. The tablet itself will start at €179, whereas the tablet bundled with the Audio Station will be available at €229. Obviously, such a price is a bit high for a media player, but since it can also act like a tablet, it may appeal at least to some people.
Related Reading
Source: Alcatel