The high-tech industry loves milestones that are round numbers, be it frequency, number of cores, transistor count or something else. It is not that extra 100 MHz – 200 MHz or a couple of additional CPU cores radically improve performance or user experience these days, but because milestones symbolize an achievement, a new height from where we will go and hit the next ones. Today, the industry has reached a milestone as Corsair introduced the industry's first commercial DDR4-5000 memory modules. We saw numerous companies 'promote' DDR4-5000 earlier this year at Computex, but none were seriously considering bringing them to retail. Corsair is the first.
Corsair's dual-channel Vengeance LPX DDR4-5000 (CMK16GX4M2Z5000C18) memory kit comprises two 8 GB unbuffered modules featuring a CL18 26-26-46 latency and a 1.5V voltage. The memory modules use Micron's cherry-picked memory ICs and use a custom 8-layer PCB from Corsair. The enthusiast grade modules are equipped with aluminum heat spreaders, and are compatible with Corsair's Vengeance Airflow fan to maximize their cooling.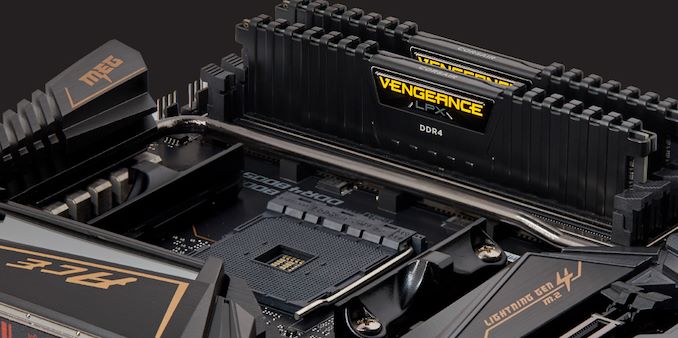 Corsair says that its Vengeance LPX DDR4-5000 (CMK16GX4M2Z5000C18) memory kit was tuned to hit the desired data transfer rate on high-end platforms based on AMD's Ryzen 3000 processor and X570 chipset. To be more precise the modules were developed and validated on MSI's X570 Godlike, MEG X570 Ace, MEG X570 Unify, and Prestige X570 Creation motherboards.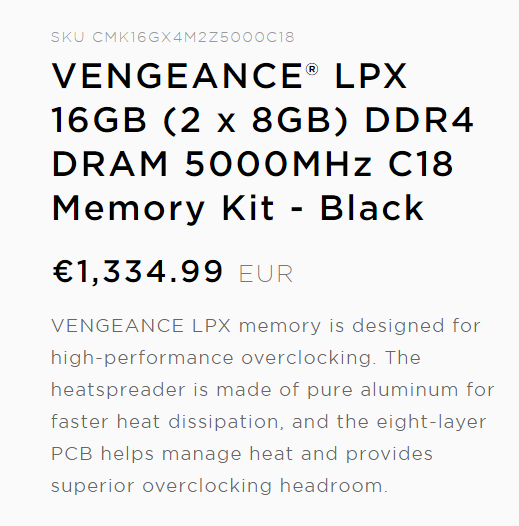 It is unclear how well the modules will work in DDR4-5000 mode when used with other platforms. In any case, keep in mind that modules require 1.5 Volts, which is a whopping 25% increase over standard DDR4 voltage, so they have to be installed in an enthusiast-grade mainboard with a quality and clean memory power supply. In order to reach the DDR4-5000 mode requires some user intervention beyond just setting the XMP profile: to set up the right settings Corsair recommends to check out its Ryzen 3000 memory overclocking guide.
Designed for die-hard performance enthusiasts, overclockers, and benchmarkers, Corsair's dual-channel 16GB Vengeance LPX DDR4-5000 memory kit is certainly not cheap at all. The company sells it for a sizeable $1,224.99 in the USA ($76.56/GB) and for €1,334.99 in Europe.
Corsair says that there are limited review samples available - if we get one in to test, what would you like to see?
Related Reading
Source: Corsair