Visual Inspection
The ASRock X570S PG Riptide uses a more neutral color scheme with black and silver throughout, including the rear panel cover, the M.2 heatsink, and the chipset heatsink. Built into the passively cooled chipset heatsink is an illuminated PG (Phantom Gaming) logo, which can be customized via the ASRock Polychrome RGB software. Users looking to add extra RGB can do so via two addressable RGB and two regular RGB headers.
For cooling, ASRock includes seven 4-pin headers in total, with one designated as a CPU fan, one for an optional CPU fan and water pump, and five for chassis fans and water pumps. Other notable headers include a 5-pin Thunderbolt AIC card header, a front panel USB 3.2 G2 Type-C header, two USB 2.0 headers (four ports), and two USB 3.2 G1 Type-A headers (four ports).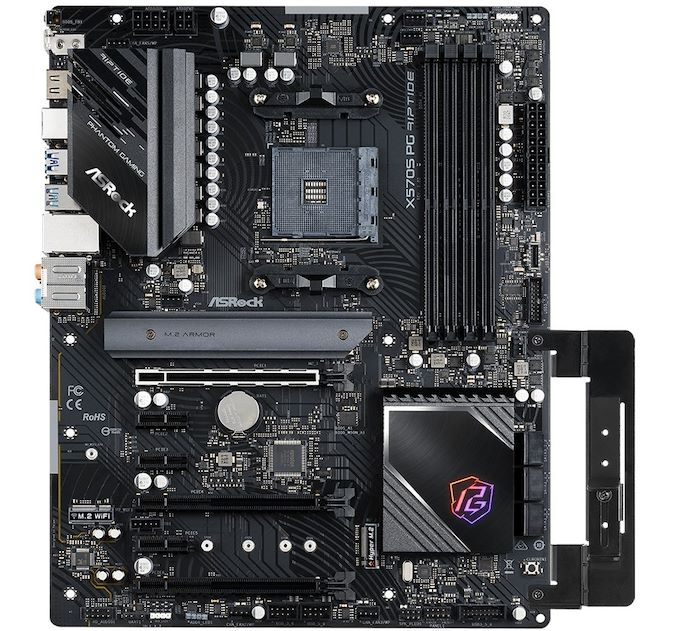 Dominating the lower section of the board is plenty of PCIe real estate for a budget board. This includes three full-length PCIe 4.0 slots that can operate at x16/x4/x2, with three smaller PCIe 4.0 x1 slots. For storage, ASRock has one PCIe 4.0 x4 M.2 slot, one PCIe 4.0 x4 with SATA support, and six SATA ports with support for AMD RAID 0, 1, and 10 arrays. The top-mounted PCIe 4.0 x4 slot includes an M.2 heatsink, while the second slot does not. ASRock also has its patent-pending graphics cardholder, which helps reduce sag from heavy graphics cards.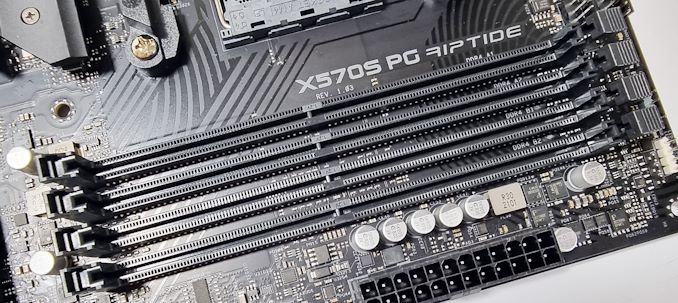 In the top right-hand corner of the board are four memory slots with support for up to 128 GB. In terms of speed, the PG Riptide supports memory with speeds of up to DDR4-5000 out of the box when used with a Ryzen 5000 series processor.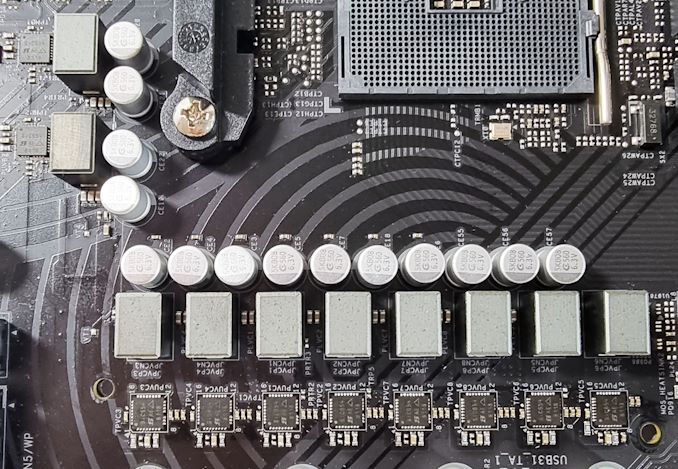 Looking at the power delivery on the X570S PG Riptide, ASRock is advertising a 10-phase design. Dissecting it, the power delivery is controlled by a UPI UP9595S PWM controller operating in a 4+2 configuration. ASRock includes eight Vishay SIC654 50 A power stages with dual UPI UP1911R smart PWM doublers for the CPU section, making it a doubled 4-phase design from a technical standpoint. On the SoC section, ASRock is using two independently operated Vishay SiC654 50 A power stages. It's not as over-engineered as some power deliveries, but for the price point, it's more than enough to operate Ryzen 5000 without issues.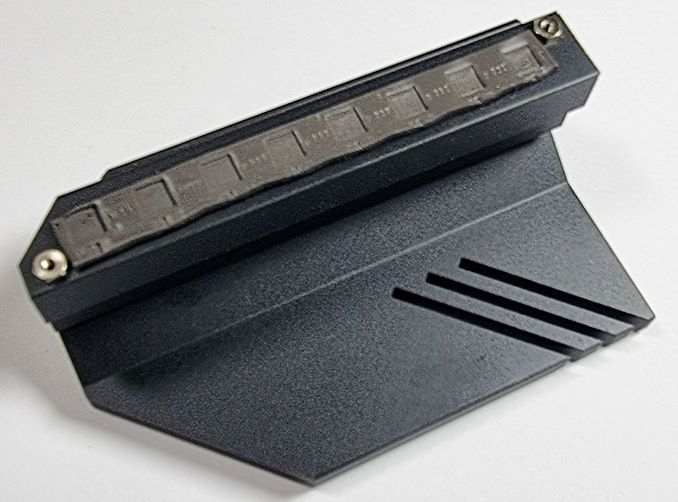 ASRock is using a simple power delivery heatsink which doubles up as the board's rear panel cover. The design is more about catching passive airflow over high levels of mass, which means it should handle an overclocked processor as this is the only section of the VRM the heatsink covers. The SoC section of the power delivery is solely reliant on passive airflow directly over the bare power stages.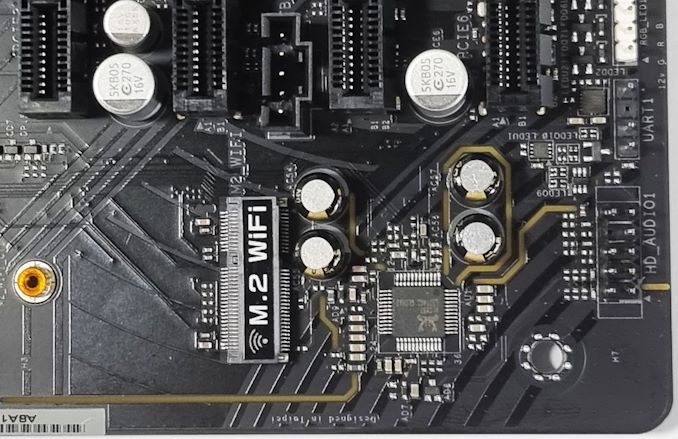 Focusing on the audio section of the board's components, ASRock uses a Realtek ALC897 HD audio codec, which is aging, yet still entirely acceptable for an entry-level model today. Assisting the HD audio codec are four Japanese gold Nichicon audio capacitors, with a front panel header available for users to use. There is also a small line of separation between the audio PCB and the rest of the board.

The rear panel of the ASRock X570S PG Riptide is one USB 3.2 G2 Type-C, one USB 3.2 G2 Type-A, four USB 3.2 G1 Type-A, and two USB 2.0 ports. Also present is a PS/2 combo port for legacy peripherals, five 3.5 mm audio jacks, and S/PDIF optical output powered by a Realtek ALC897 HD audio codec, as well as a single HDMI 2.1 video output for users looking to utilize AMD's Ryzen APUs. ASRock includes a blanking plate for the installation of an M.2 Key E Wi-Fi adapter, while a small BIOS Flashback button finishes off a modest rear panel.
What's in The Box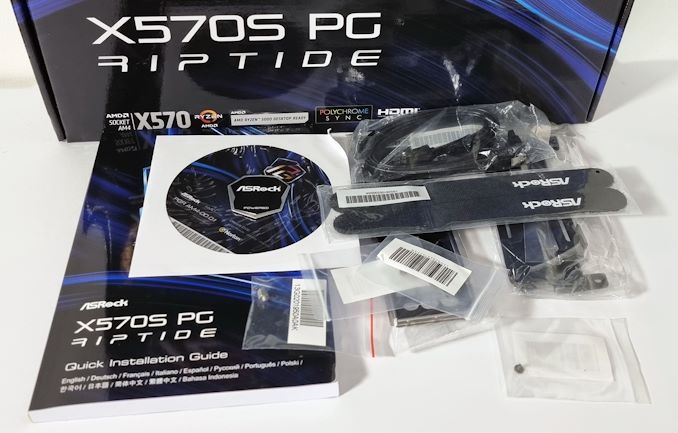 The main bulk of the accessories within the ASRock X570S PG Riptide box include a pair of SATA cables, ASRock's graphics card holder, three M.2 screws, and one M.2 standoff. There is also a quick installation guide, a software and drivers installation disc, and a rear I/O shield.
Quick installation guide
Software/Driver installation disc
2 x SATA cables
3 x M.2 installation screws
1 x M.2 standoff
ASRock Graphics Card Holder
2 x Velcro cable ties
Rear I/O shield
ASRock case badge