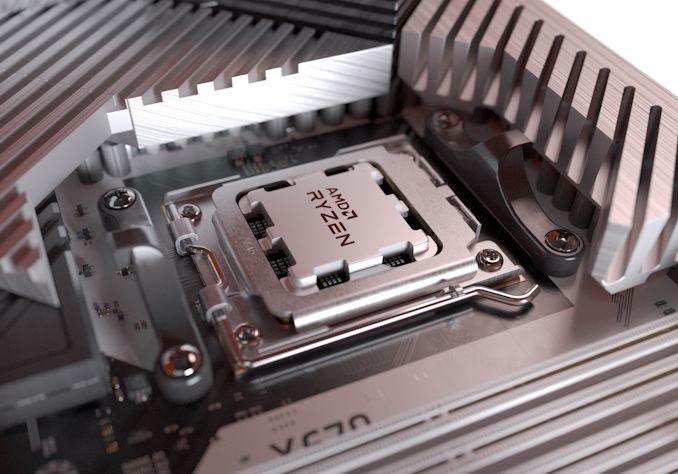 During its keynote at CES 2023, Dr. Lisa Su, AMD's CEO, announced three new desktop processors based on its Zen 4 microarchitecture, the Ryzen 9 7900, Ryzen 7 7700, and Ryzen 5 7600. Each of these new processors includes a base TDP of 65 W with a reduction of all-core base frequency compared to the X-series SKUs. Designed to be a more affordable and cost-effective option for its latest AM5 platform, the new 65 W-based Ryzen 7000 SKUs come bundled with one of AMD's Wraith coolers, with prices starting at $229 for the Ryzen 5 7600.
With the ever-pressing desire for high-performance levels in the desktop space, but with even higher levels of performance per watt, AMD's unleashed three new derivatives of its existing Ryzen 7000 desktop CPUs. Still, with a base TDP of just 65 W, there is more to the story than bare TDP figures. AMD also uses Package Power Tracking (PPT) as a metric which typically sits higher; this is effectively the power levels given from the AM5 socket itself, coupled with Precision Boost Overdrive (PBO), which can yield increased levels of performance for at the cost of heat and power.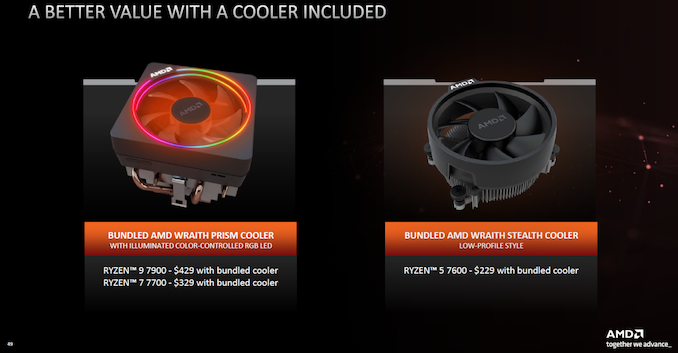 Some of the primary benefits of AMD's 65 W Ryzen 7000 processors include better power efficiency directly compared to the previous Ryzen 5000 series CPUs and keeping the multiplier unlocked so that users can manually overclock their processor at the cost of power. On top of this, AMD's Ryzen 7000 65 W processor comes with a lower MSRP, which adds extra value to the AM5 platform, but to add even more, AMD is bundling its Wraith Prism cooler with the Ryzen 9 7900 and Ryzen 7 7700, while it includes a Wraith Stealth cooler with the Ryzen 5 7600 processor.
AMD Ryzen 7000 at 65 W: Three New SKUs, Adding Value to the Line-Up
Starting with the top SKU of the three, the Ryzen 9 7900 slots into the stack between the Ryzen 9 7900X and Ryzen 7 7700X processors. In terms of specifications, the Ryzen 9 7900X shares the same core fundamental specs, including 12-cores and 24-threads, as well as support for DDR5-5200 memory and 64 MB of L3 cache. The key differences come in frequency and TDP, with the Ryzen 9 7900 coming with a 65 W TDP versus the 170 W TDP of the X variant, as well as having an inherently lower core turbo clock speed of 5.4 GHz, which is only a 200 MHz drop at boost speeds.
The all-core base frequency is the main caveat where AMD has saved much of the power to make things run at 65 W. The Ryzen 9 7900X has a base frequency of 3.6 GHz, which drops around 23% compared to the 4.7 GHz base frequency on the Ryzen 9 7900X. While this is a fair trade-off when you consider the TDP variance between both chips is around 61%, it all boils down to the Zen 4 microarchitecture on TSMC's 5 nm process; Zen 4 is a much more efficient design than TSMC's 7 nm node, which allows AMD to be more forthcoming with its lower-powered variants without sacrificing enormous levels of performance; we've seen the efficiency ourselves when using AMD's Eco mode in our Ryzen 9 7950X and Ryzen 5 7600X processor reviews.
AMD Ryzen 7000 Series Desktop Line-Up
AnandTech
Cores
Threads
Base
Freq
Turbo
Freq
Memory
Support
L3
Cache
TDP
MSRP
Ryzen 9 7950X
16C / 32T
4.5 GHz
5.7 GHz
DDR5-5200
64 MB
170 W
$699
Ryzen 9 7900X
12C / 24T
4.7 GHz
5.6 GHz

DDR5-5200

64 MB
170 W
$549
Ryzen 9 7900
12C / 24T
3.6 GHz
5.4 GHz

DDR5-5200

64 MB
65 W
$429
Ryzen 7 7700X
8C / 16T
4.5 GHz
5.4 GHz

DDR5-5200

32 MB
105 W
$399
Ryzen 7 7700
8C / 16T
3.6 GHz
5.3 GHz

DDR5-5200

32 MB
65 W
$329
Ryzen 5 7600X
6C / 12T
4.7 GHz
5.3 GHz

DDR5-5200

32 MB
105 W
$299
Ryzen 5 7600
6C / 12T
3.8 GHz
5.1 GHz

DDR5-5200

32 MB
65 W
$229
Moving down the stack, the Ryzen 7 7700 comes with a base frequency of 3.6 GHz with a turbo frequency of 5.3 GHz; this is only 100 MHz lower on boost figures, but it's also a significant 900 MHz drop in base frequency than the Ryzen 7 7700X. It still comes with the same 32 MB of L3 cache and DDR5-5200 memory support, but it does come with a cheaper MSRP of $329 versus the $399 of the Ryzen 7 7700X, although the 7700X is currently $345 on Amazon due to a wave of price drops so the saving isn't as much as it could be.
Representing the entry-level is the Ryzen 5 7600, which has six Zen 4 cores with twelve threads, and benefits from a boost core clock speed of up to 5.3 GHz and 32 MB of L3 cache. As we've seen across the new 65 W line-up, the biggest hit comes through the base core frequency, and the Ryzen 5 7600 has an all-core base of 3.8 GHz.
The Ryzen 5 7600X is selling on Amazon for $240, while AMD's set an MSRP of $229 on the Ryzen 5 7600 65 W SKU, which given what the faster 105 W TDP chip is selling for, doesn't squeeze much in the way of extra value out of AM5 and the entire platform.
Ryzen 7000 at 65 W: Overclocking Enable, Efficiency Attained
One of the key benefits AMD has with its 65 W processors is that they are unlocked, meaning that users can overclock them by adjusting the multiplier ratio and base clock generator (BCLK). How much extra performance can be achieved through overclocking is questionable, given that the purpose of these particular processors is to be a lower-powered alternative to the X-series offerings.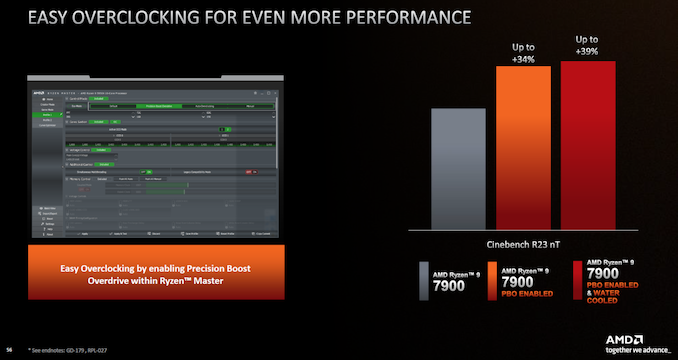 Users can overclock the Ryzen 7000 series processors, including the X-series SKUs such as the Ryzen 9 7900X and the Ryzen 9 7900, through the motherboards firmware or using AMD's inclusive Ryzen Master overclocking utility. AMD's Ryzen Master software can be downloaded directly from the AMD website here.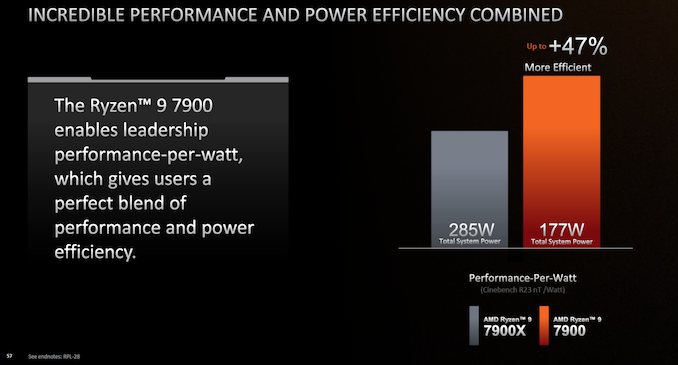 AMD has also provided some claims surrounding the levels of efficiency on offer. AMD claims that the Ryzen 9 7900 is up to 47% more efficient than the Ryzen 9 7900X at 65 W compared to 170 W. This is a bold claim regarding performance-per-watt efficiency. Still, this is undoubtedly something AMD feels is achievable, at least in contrast to its in-house testing. It's clear from our testing of AMD's Ryzen 9 7950X with its Eco Mode that Zen 4 has incredible efficiency compared to previous generations; even so, we found the Ryzen 9 7950X at 65 W performed better in CineBench R23's multi-threaded test than the Ryzen 9 5950X.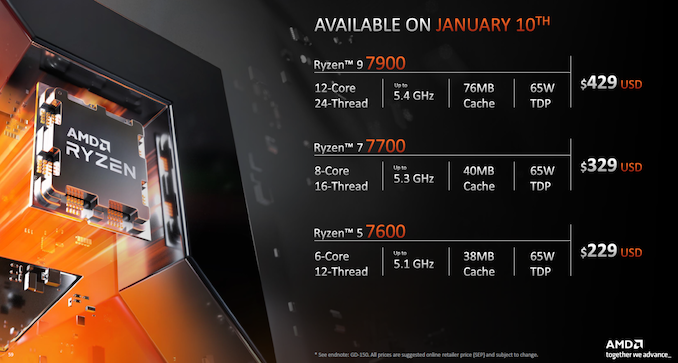 The Ryzen 7000 65 W series launch is set for January 10th, with the Ryzen 9 7900 set to cost $429, the Ryzen 7 7700 at $329, and the Ryzen 5 7600 for just $229.