Final Words
The new signal strength visualization in iOS 4.0.1 is simply going to be more honest with iPhone users. Whether that's going to result in customers confused about why their phone performs "worse" after the update or simply get really mad at AT&T remains to be seen. In the area of Raleigh, NC that I live in, it's tough to get better than -90 dBm on AT&T without driving a few miles away. Even then you're only at -80 dBm at best. I literally have to drive for about 10 minutes to see a fifth bar on the iPhone 4 now in my area.
Not everyone will like the new bars but you can't fault Apple for being more honest with its users. We'd still prefer if Apple allowed all users to see a numeric readout of their signal strength if they desired, but this is a step in the right direction for transparency at least. Unfortunately, that's only part of the problem.
Yesterday Microsoft's COO referred to the iPhone 4 as Apple's Vista. I'd actually take that one step further and call this whole situation Apple's first Microsoft moment. And I don't mean that in a bad way towards Microsoft, but rather that as a result of Apple's own great success, it is now susceptible to the sort of fire that Microsoft has been for years.
When Apple had issues with battery life in Snow Leopard, CPU utilization while playing MP3s in Mac Pros, or even SSDs in 2nd gen unibody MacBook Pros the backlash just wasn't there. While Mac users care about having problem-free hardware, there simply aren't enough users to really create the angry mob that has happened in iOS land. Well there are a ton of iPhone users out there. This isn't going to be the last time that Apple feels the heat.
A large part of it is Apple's fault. At any company that regularly introduces new products there's this concept of regression testing. It's particularly prevalent in technology companies that have to deal with things like driver updates. The idea behind regression testing is to make sure that anything new you introduce doesn't break anything that previously worked fine. While the iPhone 4's antenna tradeoff is largely acceptable if you live in an area with good reception, if you don't then it quickly becomes a problem. This combined with some of the other Apple follies I mentioned above leads me to believe that Apple simply needs to test more. This is something I've asked for in previous Mac articles.
And Apple honestly should have been more willing to discuss the issue publicly than it has been. There's no reason Apple couldn't have come public with its own testing showing the same results we showed in our iPhone 4 review.
The phone itself delivers better battery life than anything else in its class, has good performance and a wonderful screen. Whether or not the antenna design manifests itself as an issue really depends on AT&T's coverage where you're using the phone. As a result, AT&T can also share in the blame here. As I mentioned in our EVO 4G review, Sprint and Verizon appear to have slower data rates but more consistent coverage wherever I use them. In comparison, AT&T generally offers higher peak transfer rates but reception that varies more wildly.
Criticism that isn't constructive is rarely useful, and as we've just shown there are things that Apple can do to address the issue today. Using a bumper the iPhone 4 behaves no differently than the 3GS. Hold the phone as tightly as you want with a bumper and it'll lose as much signal as a 3GS or Nexus One. Put some sort of insulating coating on the stainless steel band and you'll significantly reduce, but not eliminate the issue.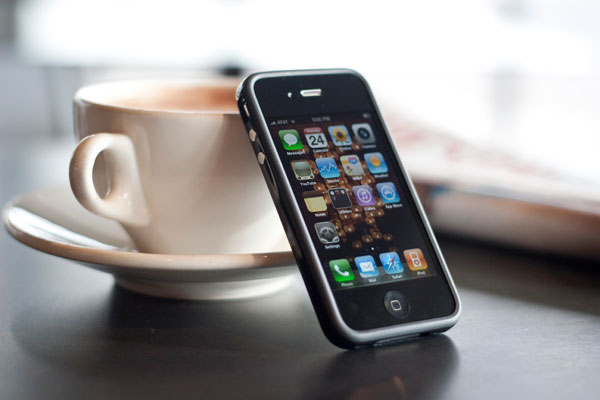 Apple iPhone 4 with Bumper Case. Image Courtesy of Sarah Trainor.
The third option would be a redesign of the phone's internals, potentially even taking a step back to something more reminiscent of the 3GS' antenna design. I'm not sure this is necessary because of the options on the table today.
Our original assessment still stands: Apple should provide free bumpers to iPhone 4 customers. Nickel and diming is never the way to maintain a loyal customer base. Introducing a non-conductive antenna band and replacing existing phones in the market also makes a lot of sense, assuming Apple has found a way to do that. Apple planned a press conference for tomorrow to talk about the iPhone 4 and presumably these issues. In a little over 24 hours we'll find out how Apple views the situation and what it plans to do about it.