Despite what you could buy many years ago for more than a thousand dollars, you can now get the same performance in a motherboard/CPU combo for under $200. But at present, with your dual core 1.6 GHz chip, there's WiFi, SATA 6 Gbps, somewhat capable onboard graphics, DDR3 support and potentially USB 3.0. Today, we're entering the realm of Hudson-M1: the Fusion E-350 domain. For this review we look at three very different mini-ITX Fusion E-350 boards on the market, from the expensive but completely passive ASUS E35M1-I Deluxe, the cheaper but still jam packed ECS HDC-I, and the SO-DIMM equipped Zotac FUSION350-A-E.
The Hudson-M1/A50M sits in the market like a half-way house: no serious grunt in terms of modern CPUs, but comes with all the modern bells and whistles the consumer expects in a low power format. This is why we're seeing a significant number of HTPCs entering the market based on the platform - I saw several at Computex this year being demonstrated. However, the big question is - do people want it, and what board should I suggest?
As I've mentioned before, I love performance. Seeing that number go higher and higher gives me a buzz, even at the expense of power, temperature and cost. So I apologise off the bat if anything sounds skewed in this article - but I'm rating these boards on the qualities I think every motherboard should have - it should be in the upper echelons of performance, lots of extras that are well deserved rather than just fluff, good software support (if any), aggressively priced, and a sufficient warranty. After looking at these boards, I can certainly see where some are achieving, and some are falling down.
In terms of where Hudson-M1 sits in the grand scheme of things, let's go through a table of important points against its bigger brother, the Hudson-D3, and Pine Trail (Atom + NM10):
| | | | |
| --- | --- | --- | --- |
| | Hudson-M1 | Hudson-D3 | Pine Trail |
| Processors | Ontario/Zacate | Llano | Atom |
| SATA 6 Gbps + 3 Gbps | 6 + 0 | 6 + 0 | 0 + 2 |
| USB 3.0 + 2.0 + 1.1 | 0 + 14 + 2 | 4 + 10 + 2 | 0 + 8 + 0 |
| Ethernet | 10/100 | 10/100/1000 | 10/100 |
| RAID | No | 0, 1, 10 | No |
| PCIe | 4 x PCIe 2.0 | 16 x PCIe 2.0 | 4 x PCIe 1.1 |
| PCI | No | Up to 3 | Up to 2 |
| Chipset TDP | 4.7 W | 7.8 W | 2.1 W |
| Processor TDP | 9 - 18 W | 35 - 100 W | 8.5 - 13 W |
| Memory Support | DDR3-1066 | DDR3-1866 | DDR3-800 |
| Audio | 7.1 | 7.1 | 7.1 |
Obviously it looks like Hudson-M1 sits somewhere in the middle - not small enough for the ultra-extreme in terms of power draw, yet not a fully fledged desktop platform. You might be thinking in terms of NAS, but there's no RAID support. There's possibly the HTPC route, assuming it conquers all the tasks consumers want to throw at it, but we've only got gigabit Ethernet and USB 3.0 via a third party controller. We have the option for discrete graphics, but at only 4 lanes PCIe 2.0, I've got results show that even attaching a GTX 580 merely results in a crippled discrete graphics option which takes up more volume than the motherboard.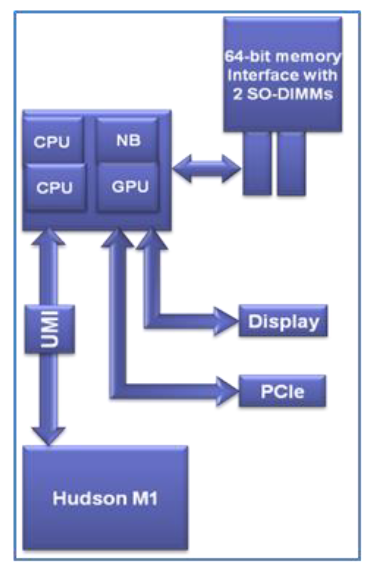 AMD are also trying to go down the green route, as my search on information regarding their own take on their products led to a 10-page analysis of the Fusion topology carbon footprint versus the 'Nile' platform (Athlon Neo Dual Core + SB820 + RS880M + HD5430). You can read the whole story here, and it's worth an insight, even if it is AMD spouting AMD potential.
In terms of what is on the market, there's quite a range a user can select from at a wide range of prices - $100 to $175 for the motherboard + CPU combos, $220-$250 for barebones systems, or $320 for a nettop PC with 2 GB of memory and a 320 GB hard drive. Today, I'm testing three of the motherboard + CPU combos:
At the high end of this review, we have the ASUS E35M1-I Deluxe which comes in at $175 and has won plenty of awards for having all the bells and whistles. Sitting in the middle is the Zotac FUSION350-A-E, which was initially at $160 but at time of writing is $145 or $125 with a rebate, which like the ASUS is a completely passive solution, but Zotac are known for filling a mini-ITX board with everything, so that should be exciting. Also at hand is the ECS HDC-I at $125, which while not passive, has a few tricks up its sleeve worth mentioning. Let the games begin!