Battery Life
Acer's Aspire S5 just doesn't have enough space inside for Acer to load up on battery capacity the way HP did with their Folio 13. Acer only rates it for 6.5 hours of running time. That being said, it performed remarkably well given its battery capacity: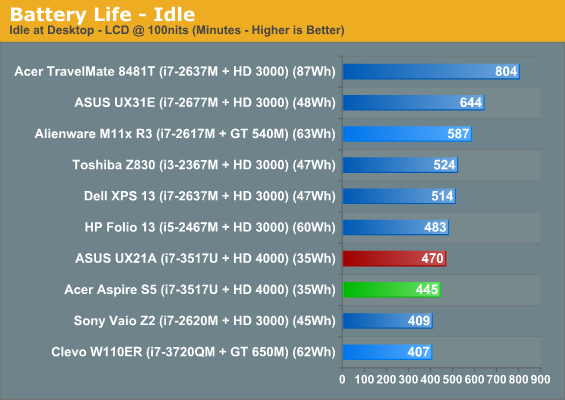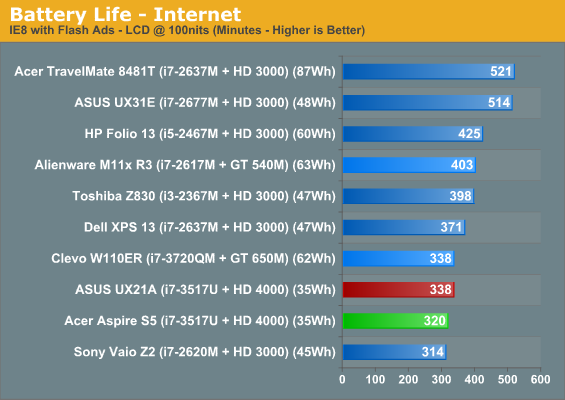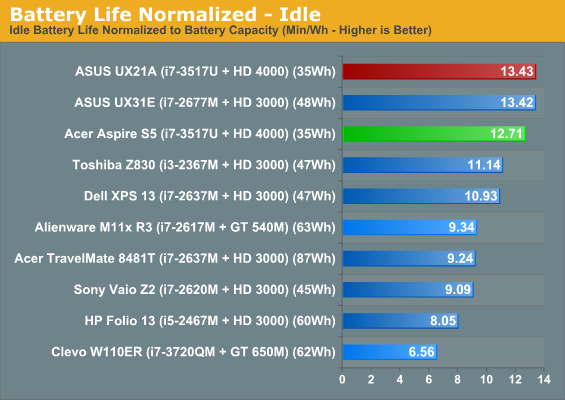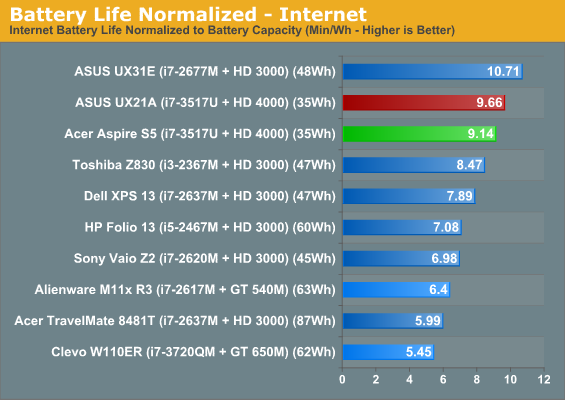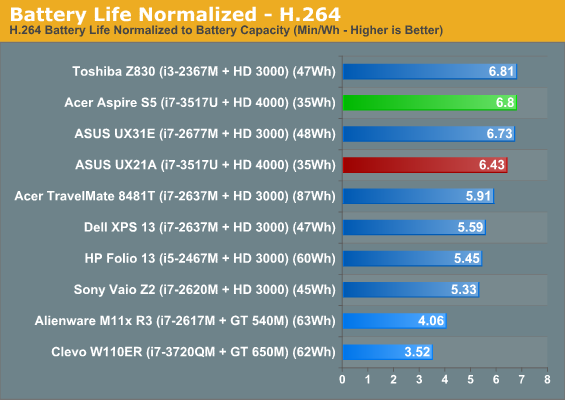 As it turns out, Acer's battery life estimate is mostly on the money and in fact can even be beaten in the right circumstances. Despite having a relatively small capacity, the Aspire S5 is still able to run for more than six useful hours. It's worth noting that overall, Ivy Bridge does seem to be able to produce better battery life efficiency as a whole than Sandy Bridge, and that's the kind of progress we can all appreciate.
Noise and Heat
Like most ultrabooks, the Acer Aspire S5 can get a bit noisy at load. What's important to note, though, is that at idle and low load, the fan is basically silent. The pitch of the fan noise is also relatively low; there's definitely the sound of air moving, but the noise is relatively tolerable compared to how high pitched these small fans can often get.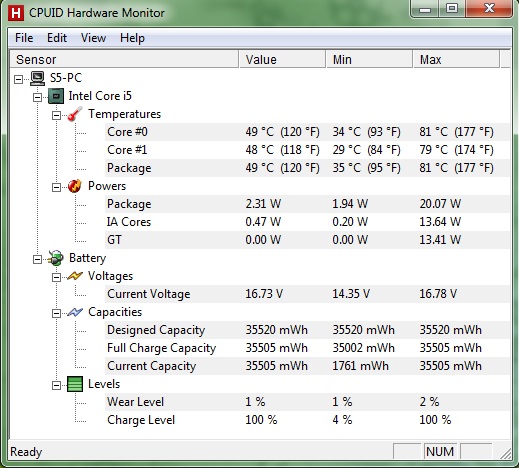 These thermals might look a little toasty, but they're actually among the best I've yet seen in an ultrabook. Acer has successfully implemented a remarkably efficient cooling system, and best of all, they've been able to do so without introducing any ventilation to the bottom of the notebook. Well done.
Screen Quality
Unfortunately, while the Aspire S5 is so far a pretty solid proposition from Acer, it falls flat on its face when it comes to display quality. The glossy finish on the S5 isn't as aggressive as I'm used to seeing, but that's about the nicest thing I can say about it. It's extremely disappointing that Acer isn't willing to bring the display up to par with the rest of the notebook.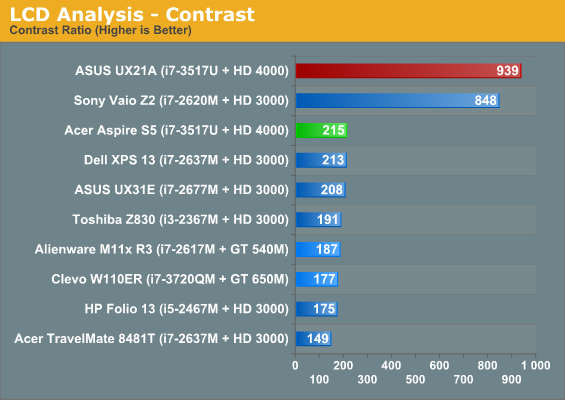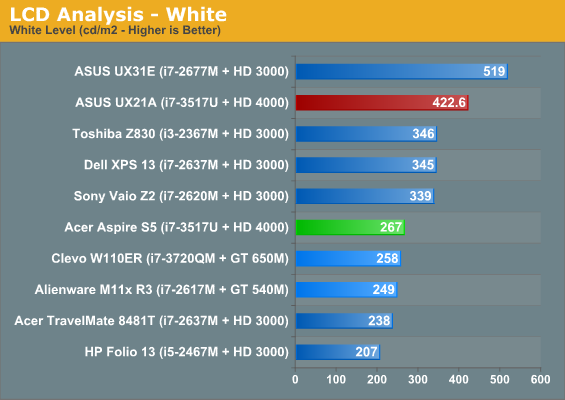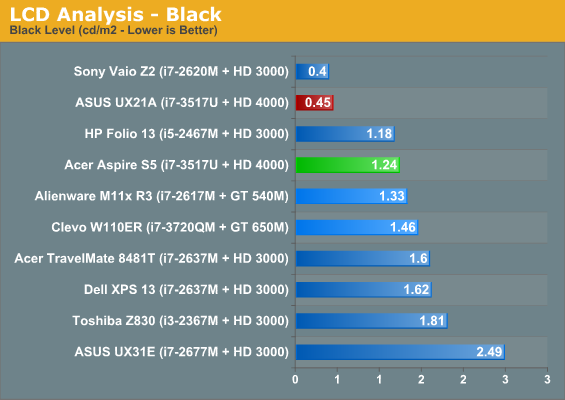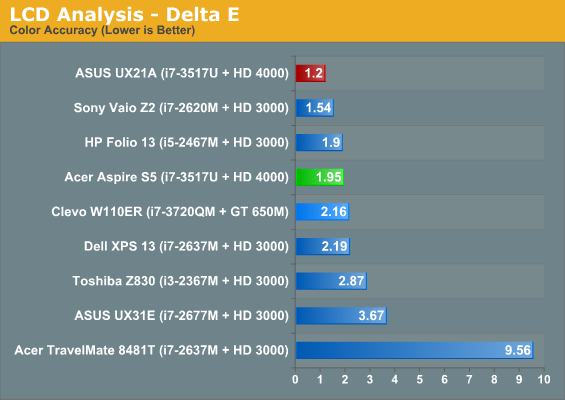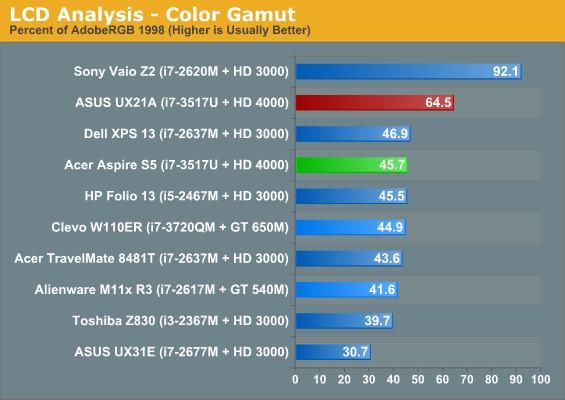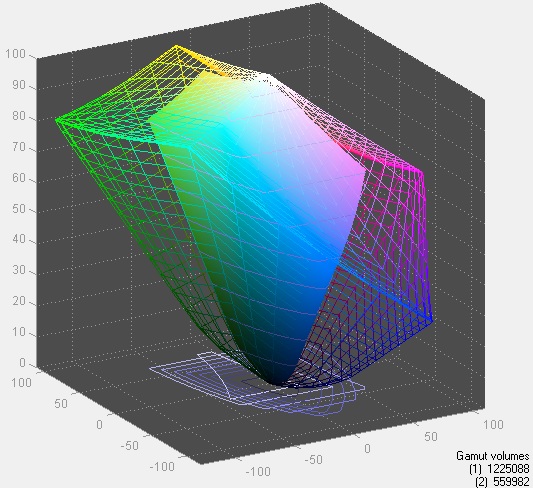 Display quality on most of these ultrabooks is just absolutely dire. If you look at the results of the ASUS Zenbook Prime UX21A, you can get a good idea of where the future lies, and it's not with shoddy panels like this one. Charging $1,399 for an ultrabook with this low quality of a panel is embarassing.