Introducing the Alienware M17x R4
Alienware recently updated their Bronze Editor's Choice award-winning M17x R4 gaming notebook to include Intel's Ivy Bridge processors and optional AMD Radeon HD 7900M series graphics or NVIDIA's new top end GK104-based GeForce GTX 680M GPU. With the move we also get mSATA support inside the chassis. The big draw with our review unit is the NVIDIA GeForce GTX 680M, which promises a substantial performance improvement over last generation's top end GTX 580M/675M, the kind of generational jump we haven't seen on the mobile side in some time.
At the same time, Alienware's M17x R4 remains largely unchanged while Clevo, MSI, and ASUS have all continued to incrementally update their gaming notebook designs. I've also had the privilege of owning my own M17x R3 over the past year and have new insights to offer on what it's like to live with this chassis design after an extended period of time. Is Alienware smart not to mess with what looks like a winning formula, or is the world passing them by?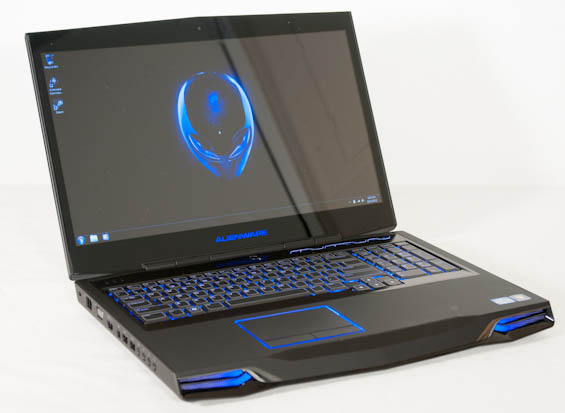 With the M17x R4 I'm going to be a little lazy and refer you back to my review of the M17x R3. Why? Simply put, I can't find any changes between the two chassis designs...at all. Internally Alienware has definitely updated the M17x, but externally this is the exact same notebook and while I was in love with this design before, time hasn't been as kind to it as I'd like.
Alienware M17x R4 Gaming Notebook
Processor
Intel Core i7-3720QM
(4x2.6GHz + HTT, 3.6GHz Turbo, 22nm, 6MB L3, 45W)
Chipset
Intel HM77
Memory
2x4GB Samsung DDR3-1600 (Max 4x8GB)
Graphics
NVIDIA GeForce GTX 680M 2GB GDDR5
(1344 CUDA cores, 719MHz/3.6GHz core/memory clocks, 256-bit memory bus)
Display
17.3" LED Glossy 16:9 1080p (1920x1080)
LG Philips LGD 02DA
Hard Drive(s)
Hitachi Travelstar 7K750 500GB 7200RPM SATA 3Gbps HDD

Samsung PM830 32GB mSATA 6Gbps SSD (Intel SRT)
Optical Drive
Slot-loading Blu-ray/DVDRW Combo (HL-DT-ST CA30N)
Networking
Atheros AR8151 PCIe Gigabit Ethernet
Intel Centrino Wireless-N 2230 b/g/n
Bluetooth 4.0
Audio
SoundBlaster Recon3Di (CA0132) HD Audio
Stereo speakers
S/PDIF, mic, and two headphone jacks
Battery
9-Cell, 11.1V, 90Wh
Front Side
N/A (Speaker grilles)
Right Side
MMC/SD/MS Flash reader
Slot-loading optical drive
2x USB 3.0
eSATA/USB 2.0 combo port
HDMI in
Left Side
Kensington lock
VGA
HDMI
Mini-DisplayPort
2x USB 3.0
S/PDIF, mic, and two headphone jacks
Back Side
AC jack
2x exhaust vents
Operating System
Windows 7 Home Premium 64-bit
Dimensions
16.14" x 11.96" x 1.75-1.77"
410mm x 304.3mm x 44.5mm
Weight
~9.39 lbs (4.26kg)
Extras
3MP Webcam
Backlit keyboard with 10-key
Flash reader (MMC, SD/Mini SD, MS/Duo/Pro/Pro Duo)
USB 3.0
mSATA SSD cache
SoundBlaster Recon3Di with THX TruStudio Pro
Configurable lighting
Warranty
1-year standard warranty
2-year, 3-year, and 4-year extended warranties available
Pricing
Starting at $1,499
Price as configured: $2,599
Typically we get Ivy Bridge systems with the entry-level Intel Core i7-3610QM, but our Alienware systems tend to be a bit better equipped and that's true here. The i7-3720QM is a healthy step up from last generation's i7-2720QM, able to turbo up to an impressive 3.4GHz on all four cores or 3.8GHz on a single core. It also brings with it Intel's HD 4000 integrated graphics, and NVIDIA leverages them with their Optimus technology.
Speaking of NVIDIA technology, the big draw with the M17x R4 is the GeForce GTX 680M. Unlike last generation's GF1x4 derivative GPU, the GTX 680M is based on NVIDIA's current top end silicon. The GK104 in the GTX 680M is the same chip that powers the GTX 680, although here the 1536 CUDA cores have been cut down to 1344. That's about the only cut made, meaning this is basically the same silicon in the very impressive GTX 670, just run at substantially reduced clocks. The core clock now runs at only 719MHz with a boost clock of 758MHz, but the most painful cut is the GDDR5 clock. Where NVIDIA was able to hit a staggering 6GHz on the desktop (and their memory controller allows you to pretty much push the GDDR5 chips to their limits; my GTX 680 is at 6.7GHz on the memory), the GDDR5 on the GTX 680M is running at a paltry 3.6GHz. That means that while generationally shader and texturing power have increased tremendously, the memory bandwidth increase has been much more modest, and that's on a chip that's already throttled largely by memory bandwidth. Interestingly, the GTX 680M in the M17x R4 sports 2GB of GDDR5 while the GTX 680Ms offered by other vendors have 4GB, but this shouldn't be counted against it as even desktop GTX 680s with 4GB of GDDR5 haven't proven to need the extra video memory.
Of course, Alienware offers alternatives to the GTX 680M, which is a hefty $550 upgrade. The default GTX 660M is a glorified desktop GTX 650, built on the Kepler architecture and sporting 384 CUDA cores, a healthy 835MHz core clock, and 4GHz on the GDDR5. That chip really is a fine starting point for gamers, but leave it to AMD to offer what's probably going to wind up being the best price/performance option (just as they tended to last year), the Radeon HD 7970M. That's $200 for an upgrade to a fully enabled Pitcairn GPU that offers a notable improvement in performance over the $250 GTX 675M upgrade, which is just a rebranded GeForce GTX 580M. We have a review of the 7970M in the works right now, but there's really no reason to shell out an extra $50 for worse performance with the GTX 675M unless you absolutely have to stay in NVIDIA's ecosystem and don't want to spend up on the GTX 680M.
Outside of these components, the other gains are largely incremental. Most of the parts are actually identical to the M17x R3 (including the display), while memory speed has gotten a bump to DDR3-1600 and an mSATA port has been added along with Intel's SRT (Smart Response Technology) caching. We get a boost to Bluetooth 4.0 and the audio software/hardware has been bumped to SoundBlaster's Recon3Di. Nothing too exciting here.