Introducing the SilverStone Sugo SG09
You've seen it here: small cases are getting big. Mini-ITX boards are becoming both more common and less expensive, and there's been a bit of a renaissance for small case designs. This is a space SilverStone has served reasonably well for some time now with their Sugo line of enclosures, but a healthy amount of thunder was recently stolen by BitFenix's Prodigy case. It's true the Prodigy is an excellent design, but admittedly it's unusually large for a Mini-ITX enclosure and there are some things BitFenix could improve upon.
Meanwhile, SilverStone is content to let their Sugo line to continue serving the Mini-ITX market and serving it well, but today they have an option that's intended to appeal to users looking for a small form factor machine without compromising. The Sugo SG09 is aimed at cramming as much powerful hardware and a Micro-ATX motherboard (instead of Mini-ITX) into a space typically reserved for already cramped Mini-ITX hardware. Does it succeed? As it turns out, it does, and then some.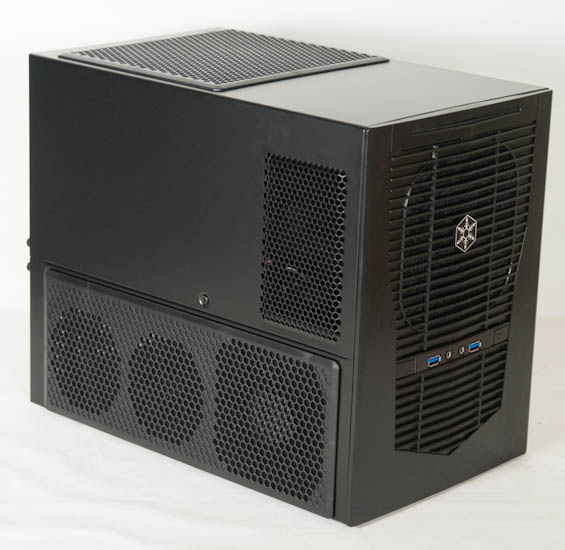 SilverStone includes in the reviewer's guide for the SG09 measurements of popular Mini-ITX cases by volume, and outside of a couple of Lian Li cases, the SG09 is actually smaller than the others. It's also noticeably smaller than the BitFenix Prodigy despite being able to hold a Micro-ATX motherboard instead. It's true they had to make quite a few sacrifices to get the SG09's size down to where it is, but you're going to see it's actually performance competitive with standard Micro-ATX and even full ATX cases.
SilverStone Sugo SG09 Specifications
Motherboard Form Factor
Micro-ATX, Mini-ITX
Drive Bays
External
1x slot-loading 12.7mm optical drive
Internal
4x 2.5", 2x 3.5"
Cooling
Front
-
Rear
1x 120mm exhaust fan
Top
1x 180mm intake fan
Side
1x 120mm intake fan, 2x 92/80mm fan mounts, 1x 80mm fan mount (opposite side)
Bottom
-
Expansion Slots
4
I/O Port
2x USB 3.0, 1x Headphone, 1x Mic
Power Supply Size
ATX
Clearances
HSF
165mm
PSU
180mm (160mm strongly recommended)
GPU
13.3" / 337mm
Dimensions
8.7" x 11.6" x 13.9"
220mm x 295mm x 354mm
Weight
11.7 lbs / 5.3 kg
Special Features
Removable fan filters in front of all fan grates
Price
$99
The main sacrifices SilverStone made with the Sugo SG09 are understandable ones barring one unusual decision. I understand their preference for slot-loading slimline optical drives from an aesthetic perspective, but it increases build cost for the end user and reduces options substantially. You pretty much have to go to eBay to find a blu-ray reader or writer that will fit in this drive bay without paying through the nose, and SilverStone only sells a slimline DVD writer on their site.
Speaking of selling accessories to go with their cases, SilverStone has done a fairly good job of cornering this particular market. It's true you can probably install power supplies from other vendors, but it's also clear that SilverStone designed the SG09 to go with their Strider modular power supplies, as they also sell a collection of short modular cables to use with their own power supplies that are supposed to make assembly cleaner and easier. That may not be such a bad idea, and either way, I strongly recommend against using a non-modular power supply for building with this case.