The Thermaltake Level 10 M in Practice
When I mentioned in the introduction that mouse comfort is a tricky thing, I very much meant it. Back when I reviewed the Logitech G600 MMO gaming mouse, I pointed out that while the mouse was too big for my dainty little hands, it would undoubtedly find fans elsewhere. I was right, too; a good friend of mine absolutely adores it, and another friend elected to pick one up after trying it out. So it's painfully clear that comfort is a very subjective thing.
With that said, I found the Level 10 M to be frankly unpleasant to use. Being able to adjust the height and rotation of the palm rest should alleviate some of the usability problems, but in practice I found myself having a couple of major issues with it.
The first issue is where Thermaltake's engineers placed the actuation points under the primary mouse buttons. When I use any mouse, I tend to use not my fingertips but the joint to click the buttons. On the Logitech and Corsair mice I've tested, this hasn't been an issue. Yet the Level 10 M is the first mouse I've used where I've had a real problem consistently clicking due to how I grip the mouse. The bottoms of the mouse buttons are slightly raised, and they're hinged to depress at the middle and top of the buttons. I may be a completely bizarre user, but I found this very uncomfortable.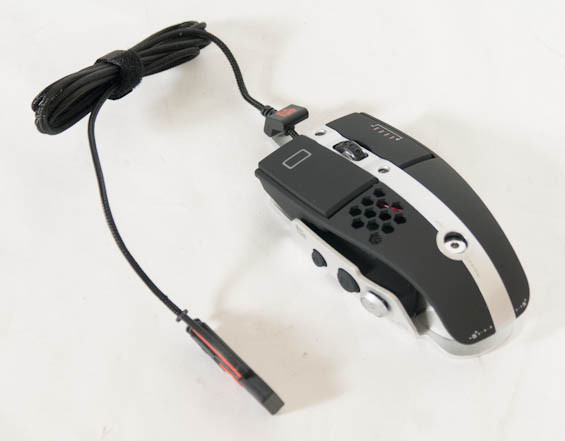 The second issue is the placement of the side buttons. While the ones on the left side are easy enough to press with my thumb, the ones on the right side have too much resistance to reliably click them with my pinky. You have to push them in dead center for them to actuate; pushing them from any angle means they just stay in place. Southpaws will undoubtedly have the same problem if they switch the mouse orientation.
And then you get into missing features. On-the-fly DPI switching is grand, but the "DPI shift" functionality of some of Logitech's gaming mice and both of Corsair's is desperately missed. My G500 doesn't have it and I live without because the thing was designed before the concept even existed, but it's here now, and its absence in a brand new premium product is notable. Any game involving some kind of zoom or sniper scope (ranged weapons in MechWarrior Online like the ER PPC or Gauss Rifle, sniper rifles in Far Cry 3) benefits from that functionality.
Ultimately I just found the Level 10 M to be overengineered and awkward to grip. I use the Logitech G500 on my home machine and the Corsair M60 when I'm away, and they both fit me almost perfectly from the word "go."