Brightness and Contrast
The Acer T232HL uses an IPS panel with LED lighting, so my main curiosity on it was if the touch layer would have a negative impact on brightness and contrast ratios. We've seen phones and tablets that maintain very good contrast ratios, but they utilize much smaller screens. With a 23" display I expect to have a good amount of light output, and here the Acer only managed to produce 219 nits with the backlight at maximum. This comes in a bit behind other 23" monitors that I've reviewed recently and well behind all the 27" displays that I've seen. With the backlight at minimum I managed to get 32 nits out, so you can reduce the light output as much as you would likely want to be able to.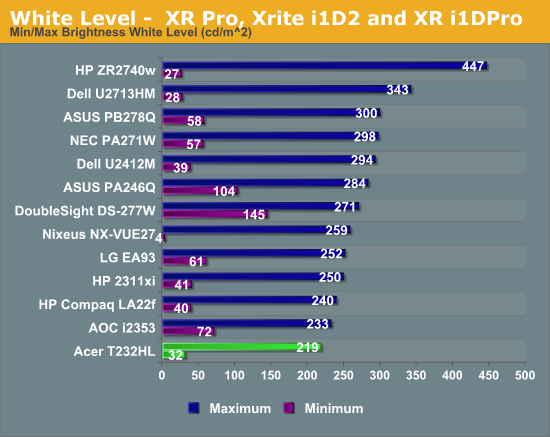 Black level is 0.212 nits with the backlight at maximum and down to 0.032 nits with the backlight at its minimum value. These wind up being really good for a smaller IPS panel, as they typically are a good amount higher. Going back to the touch layer, I've no way to test it but if that layer is absorbing 0.1 nits of light, that would lead to almost no change at the white level, but a huge change in the black level.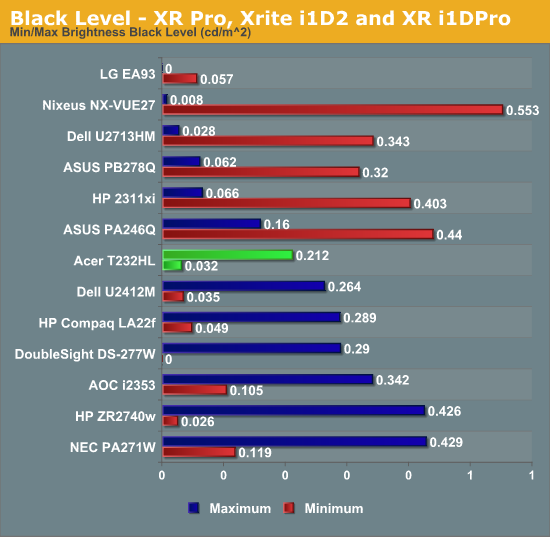 This small change would make a large change in the contrast levels, and that might account for the contrast levels that I saw in the Acer. Maximum backlight had a contrast of 1033 and minimum had a level of 1004. These are really nice levels and lead to an image with a lot of dynamic punch. The glass front helps to accentuate this a bit as well in comparison to a matte finish, making the Acer really stand out.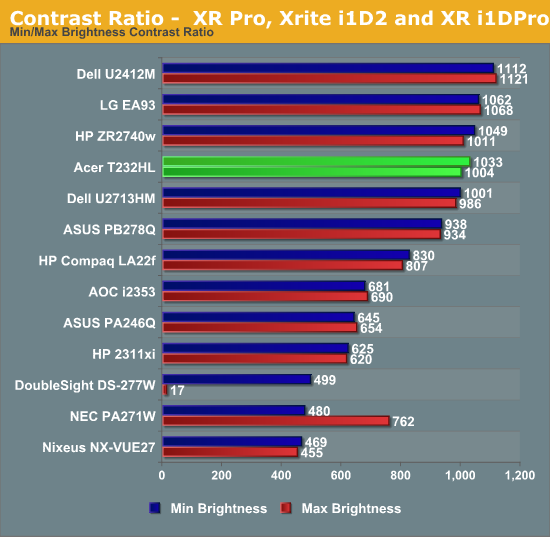 I wish the peak brightness on the Acer was better, as 250-300 nits should be the minimum that a monitor can deliver in my opinion. The reflective nature of the glass makes this even more important to me since if you are getting reflections from your lighting, you'll want to crank the panel backlight up to compensate. If you don't have glare issues, then the Acer produces contrast numbers that are really nice to see.