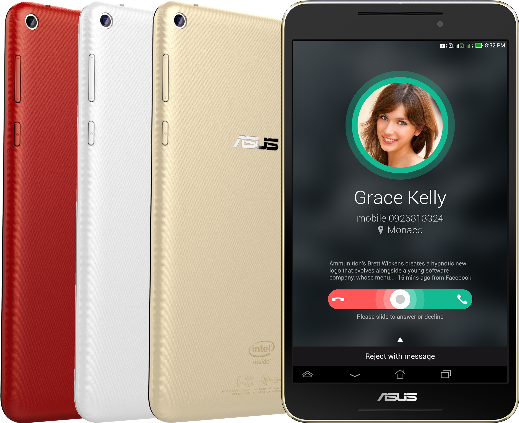 Alongside the smartphone element inside the Transformer Book V announced today, it would seem that the Silvermont-based Intel Atom series is pushing more in to the mass market via ASUS, with ASUS' new announcements today for the Fonepad 8 and the MeMO Pad 7/8 as well.
The Fonepad 8 (FE380CG) is the next iterative design on the previous model, essentially a tablet-as-a-phone, this time with an 8-inch 3G connected device sporting a 5.06mm bezel for a 72.2% screen-to-body ratio. The display comes in at 1280x800 IPS, with the CPU quoted as a quad-core Intel Atom Z3580 (1.8 GHz) as well as dual-SIM functionality. My own experience with large phones makes them perfectly fine for calling, but as long as the device can be answered with one hand effectively rather than two, for example when carrying a cup of coffee from the office.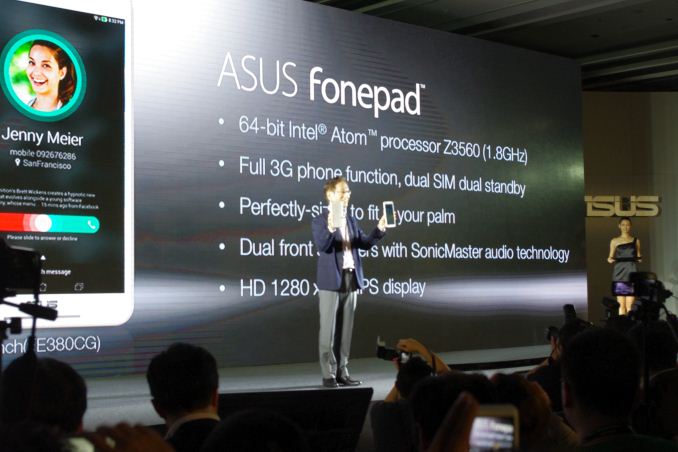 ASUS showcased two new MeMO Pad devices, again both using Intel Atom as the processor. The MeMO Pad 7 (ME176C) is a 64-bit Atom Z3745 quad core device with support for Miracast and NFC. The 1280x800 display in the Pad 7 is an IPS panel, with the dual PixelMaster cameras at 5MP and 2MP. The MeMO Pad 7 will go on sale in Taiwan on June 6th, with other regions being considered.
The MeMO Pad 8 (ME481CL) is a big upgrade over the Pad 7, featuring LTE support, 802.11ac and a quad core Intel Atom Z3580 (2.3 GHz) at the helm. The display is upgraded to 1920x1080, covered with Corning Gorilla Glass 3. The design weighs 299g, is only 7.45mm thick and features a multi-layer coating with non-conductive vacuum metallization technology. Judging by the name of this coating, I would assume that it is a deposition under vacuum that instigates a metal effect, though in order to be non-conductive it would be without metal, unless the deposition of the film is over a metal body.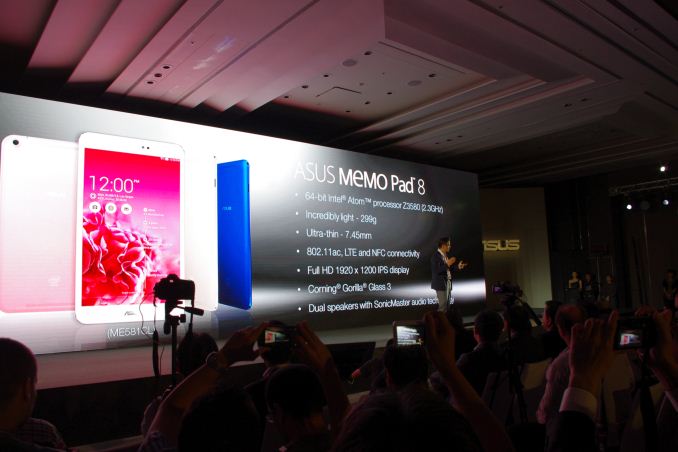 Both the new FonePad and MeMO Pad will ship with ASUS' ZenUI, which should feature over 1000 new enhancements. No word on pricing or release outside Taiwan yet, however we will be visiting by the ASUS booth later in the week and I will try and find some more information.