It's Just Another Smartphone Manufacturer™
However, part of the tour of the main Shenzhen campus stood out to me (Ian) personally. Whenever we speak about Huawei, the focus is always on the smartphone market, because that is what most people can relate to as that is what our readers can actually hold something made by Huawei in their hand. But interestingly enough, consumer smartphones only account for 30% of the company's revenue. Huawei puts a lot of resources into backbone networking and infrastructure, which accounts for 40% of the revenue.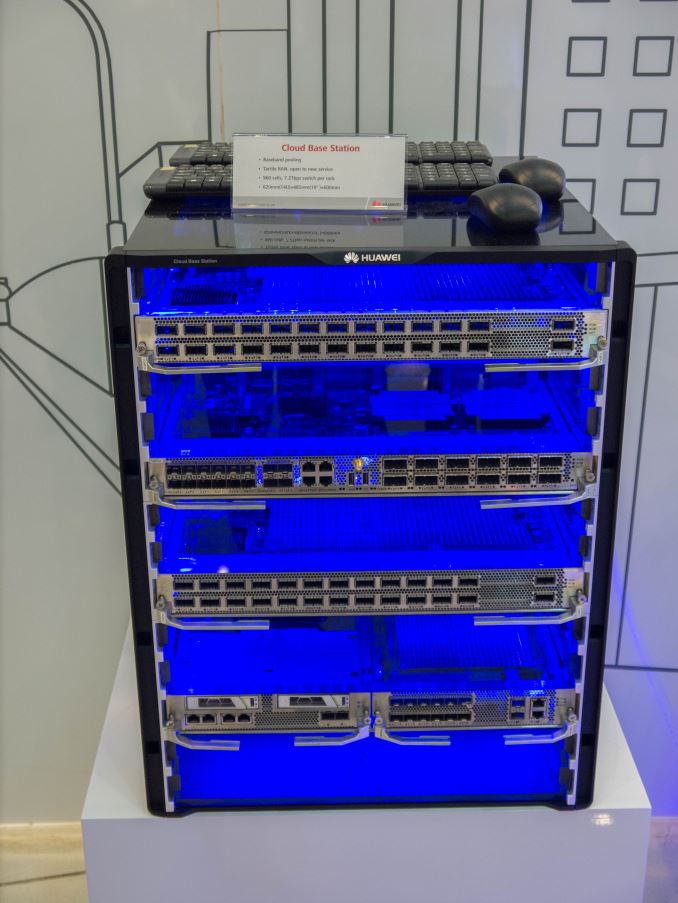 A Huawei Cloud Base Station with many network ports and custom silicon inside
Arguably, if we were trying to cover the important markets for some of these companies (such as MediaTek as well), then networking and infrastructure would be as important as smartphones, if not more so. So we were told about Huawei's march to 4G/4.5G/5G, as well as MIMO antennas, base stations, but also data analytics management and services to mobile carriers and other markets.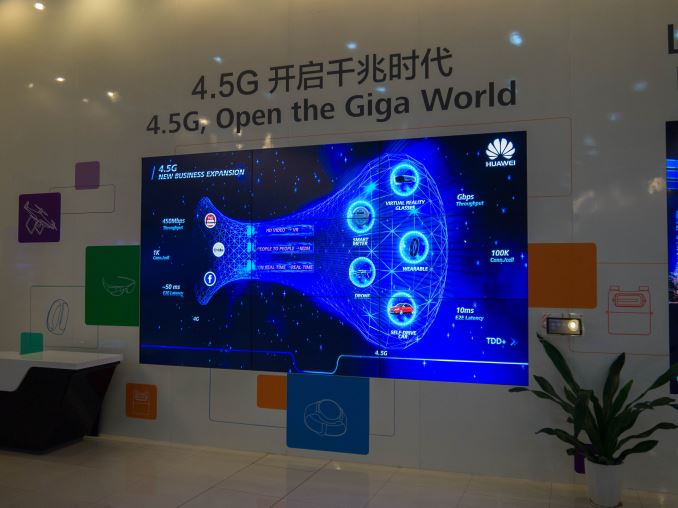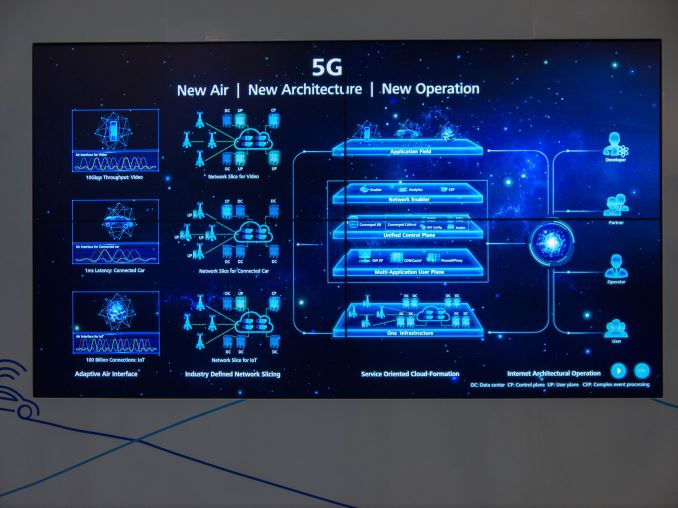 One element remained consistent within this: Huawei hardware was in the machines that powered them, which included a large array of HiSilicon ICs and heatsinks covering almost everything. There were quite clearly a number of devices attached to lots of Nanya memory (up to eight dies on one example board shown), as well as a series of what looked like HiSilicon PCIe-like switches.
HiSilicon was founded in 2004 as a subsidiary of Huawei, but the company has roots further back into the 90's when it was still known as Huawei's ASIC Design Center. Ever since, the subsidiary has diversified in a lot of market segments such as mobile, networking, video surveillance, DVB or IPTV. The company was proud to proclaim that it was the first to offer silicon based on ARM's Cortex A57 - these are server SoCs with up to 16 or 32 cores and 32MB of L3 cache. The DVB and TV market is also one of the rarely talked about markets in which companies such as MediaTek and Samsung offer a wide range of custom solutions, and it seems HiSilicon also has a range of products for the segment such as an A17-based SoC that we hadn't heard of earlier.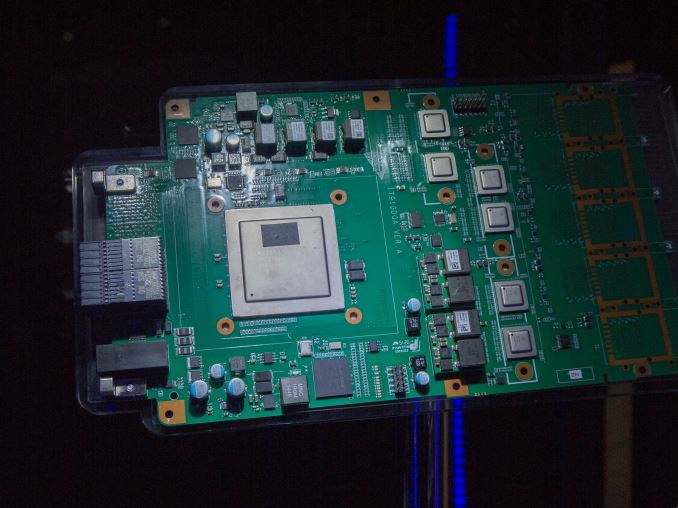 Custom Huawei SoC, relating to networking
In many of the devices on display in Huawei's showroom, there was a number of copper and fiber connections in almost everything, to the point where even the mini small-cell implementations had 10GBase-T and seemed to be powered by PoE (power over Ethernet).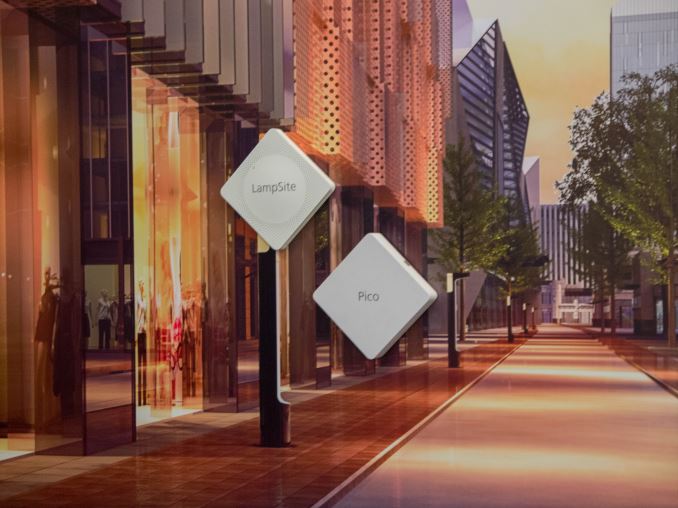 We asked about Huawei's application in this space, and the answer was from origin to end user – from the data center to device. Within this, the data analytics part was interesting. Carriers that use Huawei backbone implementations, either by direct purchase or lease, have access to their monitoring software and can analyze what sorts of data their users are processing – either pure data, certain web servers, streaming video and so on. Huawei stressed the point that while they can provide general hardware or work with specific customers on a custom solution, the actual processing of what their customers want to do with the data their clients produce is up to them.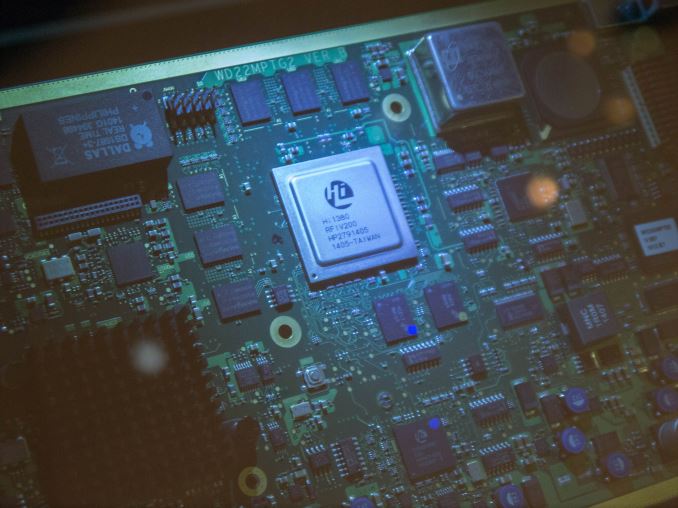 "4-in-One Multi System on Chip Smooth Evolve to LTE-A"
capable of GSM, UMTS, FDD LTE and TDD LTE
With the internal metrics of throughput or the results of the customer analyzed data, both the customer and/or Huawei can deploy infrastructure to cover blackspots or enhance the direction of content – in one scenario, we saw a mockup of Huawei's software which had what can be described as 'Amazon Recommendations'. It was almost as clear as 'your users seem to be requiring this (a) in regions (b)(c), we recommend the following products (x)(y)(z)'. There was no particular mention of any common PCIe accelerators usually associated with data analytics (Xeon Phi, GPUs, FPGAs), which makes us wonder how much is custom HiSilicon compared to off-the-shelf parts. Of course within all this, Huawei offers a sustained servicing and maintenance package, similar to how big tech firms bring in the revenue after selling the hardware.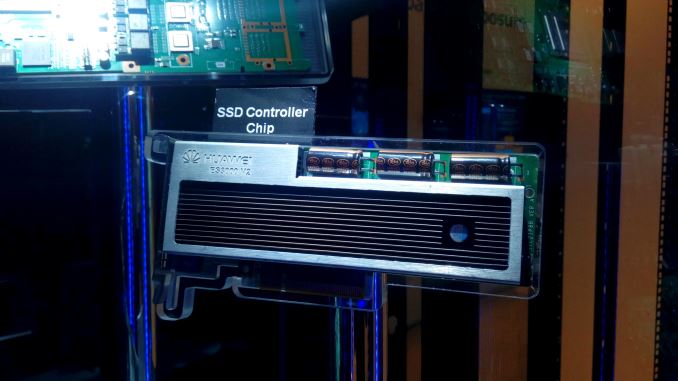 So here's in interesting thought – Huawei is in the SSD business. That pretty much came out of left field, but it in retrospect it should have been one of those things that was probably pretty obvious. Here's a PCIe SSD, with a custom HiSilicon Hi1812 controller supporting PCIe 3.0, NVMe, 800K IOPS and 3.1 GB/s of read bandwidth with MLC planar NAND. That makes it sound like there's a RAID controller in there, as no individual single controller we know of can reach those speeds (Samsung's MGX can do 2.5 GB/s). There's no telling if it uses an ARM IP variant or a custom ISA developed by HiSilicon, which makes it interesting. Underneath the explanation of the Hi1812 are a couple of other choice parts, scratching the surface of just how deep the rabbit-hole goes.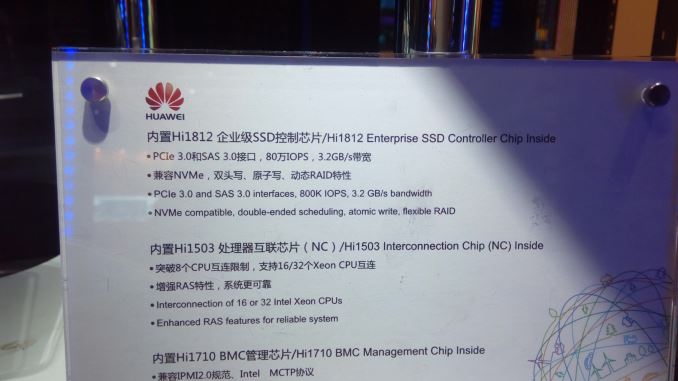 Because Huawei has HiSilicon to develop custom hardware and SoCs fit for purpose, it allows the vertical integration element to be rather interesting from the outside. We've talked before about how HiSilicon keeps its cards close to its chest, and in a similar situation to some of ARMs partners that do not make announcements, we can start to get a picture of just how deep HiSilicon permeates into Huawei's infrastructure division and how most of us probably have data that has passed through Huawei-based networking products through the web, and how much the hardware is a part of that process.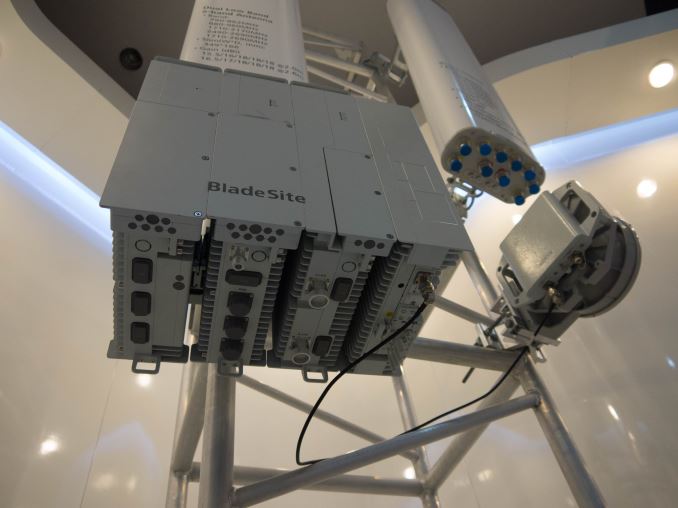 Blade-like modular baseband-station and antennas
For any of our UK readers, with the recent trip of Xi Jinping to the UK you may have heard the recent discussions in the UK about having China invest in our new power plants. The concept of this for some citizens results in the fear about having China as part of that process. But most people don't realize that China as a provider is already in the ecosystem – when people access the internet, their data most likely goes through a series of hops that might include Huawei network switches between device and <insert email client> or <insert social media network platform> or when a website script may call on services elsewhere on the web and you don't even realize. So aside from the commonly named network infrastructure players in the west, such as the commonly known Cisco, Alcatel-Lucent, Nokia or Ericsson, there are players such as a Huawei or a MediaTek that have their arms in the game as well. Given how vast the market is, especially for total worldwide revenue, there are many players that the general public (or even technology magazine readers) won't have ever heard of.