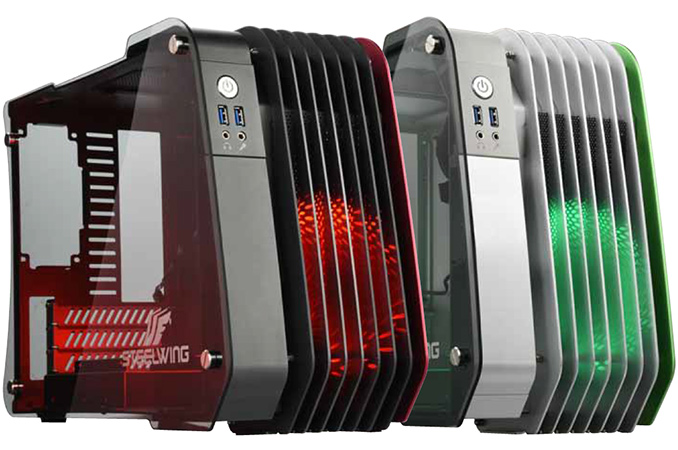 Enermax has started shipments of its new SteelWing chassis this week, designed specifically for small form-factor desktop PCs. The new PC case is made of aluminum and tempered glass, it has an extravagant yet capacious design with advanced ventilation and can fit in a custom liquid cooling system, a high-end graphics card and a powerful processor. The SteelWing is essentially designed to be an aesthetic centerpiece.
The Enermax SteelWing (ECB2010) chassis can accommodate an mATX or a Mini-ITX motherboard, a typical full-height high-end graphics card (up to 290 mm in length), one SFX PSU, as well as two or more 2.5"/3.5" storage devices (one 2.5"/3.5" SSD or HDD can be installed next to the case fan, but only if the space is not used by an LCS radiator). The PC case uses a semi-open design featuring seven aluminum plates as well as one 120-mm fan to ensure proper airflow in the constrained space of the SteelWing. For front panel IO, the case also has two USB 3.0 Type-A ports as well as two 3.5 mm audio jacks on the front panel.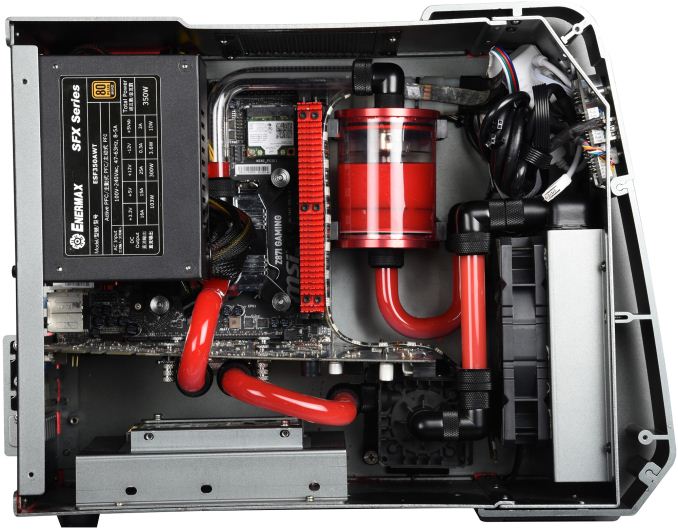 Enermax's press image. That graphics card looks like a banana (says Ian)
Since the PSU is located right next to the CPU, maximum height of the CPU cooler is 80 mm. This limits the choice of the cooling system to either something low-profile (Intel's stock coolers, or something like Noctua's LH9A), or a sealed liquid-cooling system with a 120-mm radiator (such as the Enermax Liqmax II 120S). Enermax does not impose any limitations for TDP because there is enough space inside the case to house a custom liquid cooling system. As a result, the maximum SFX PSU wattage could be the only limiting factor when it comes to CPU or GPU TDP.
Enermax SteelWing
Motherboard Size
Micro-ATX, Mini-ITX
Drive Bays
External
-
Internal
Front: 1 × 3.5"/2.5" if the space is not used
Rear: 1 × 3.5" and 1 × 2.5"
Cooling
Front
1 × 120 mm (included)
Rear
-
Top
-
HDD/Side
-
Bottom
-
Radiator Support
Front
Up to 120 mm
Rear
-
Top
-
Side
-
Bottom
-
I/O Port
2 × USB 3.0, 1 × Headphone, 1 × Mic
Power Supply Size
SFX
Dimensions
W: 176 mm × H: 300 mm × D: 387 mm
Colors
Green: ECB2010G
Red: ECB2010R
Features
Glass side panel
Price
$159.99
On the aesthetics end, the Enermax SteelWing has either a green or a red aluminum side panel accompanied by a green or a red 120mm fan. Such styling is clearly made to appeal to performance enthusiasts with a color coded GPU arrangement as well.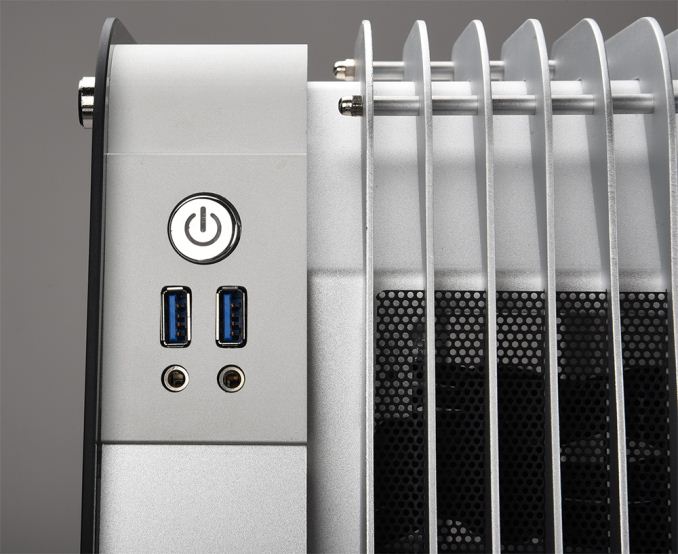 Enermax says that the SteelWing chassis are set to be available in the U.S. in the coming days for $159.99 (a tip: first at Newegg).
Source: Enermax