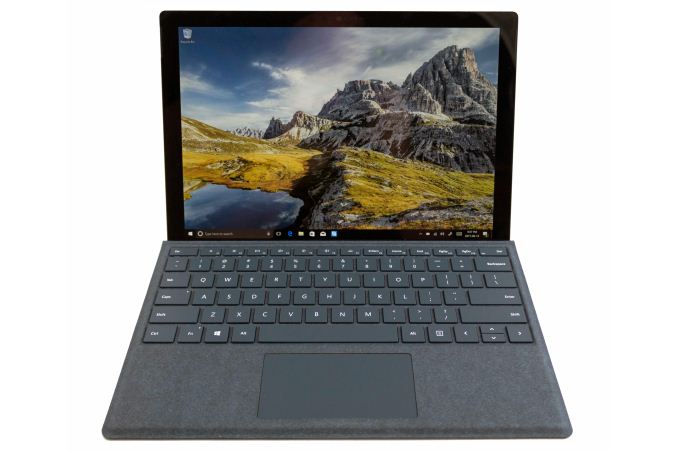 The Microsoft Surface Pro has undeniably carved out a new segment in the PC space. But what was once a powerful, but heavy, thick, and unwieldly tablet when it was first launched, has become a thin, light, and even more powerful tablet in the following years. It was really the launch of the Surface Pro 3 that finally changed Microsoft's fortunes in the hardware game. This was the first Surface Pro that was able to bring the weight and thickness into check, and the 3:2 aspect ratio screen was a revelation in this product category where 16:9 or 16:10 displays were really all that was offered in the Windows world.
In October 2015, Microsoft launched the refreshed Surface Pro 4 which was a bigger improvement than you would have guessed. The overall dimensions and look of the tablet were similar to the Pro 3, but the display was a big step forward, offering 267 pixels per inch, and outstanding color reproduction. The new keyboard launched with the Surface Pro 4 was really one of the biggest highlights though, offering an edge to edge keyboard with island keys, and a far more useable trackpad as well.

Now approaching the summer of 2017, it's been a while since the Surface Pro 4 launched, but its successor has finally come to market: the Microsoft Surface Pro (2017). Yes, Microsoft has dropped the numbering system – and this is probably the the most appropriate time to do it, I feel – but far more important than whatever name Microsoft picks is the hardware. Although on the outside it may seem to be a small refresh, Microsoft has over 800 new custom parts inside, improving their flagship 2-in-1 device in several key areas.
The Surface Pro 4 and Surface Book were the first devices launched with Intel's Skylake-U series processors, and Microsoft had to work overtime to sort out some power management issues with the then-new Skylake platform and Modern Standby. So it's perhaps not that surprising to see them sit out the initial launch of Kaby Lake until they could ensure they had all the bugs worked out.
But with the launch of the Surface Pro this year, they've now moved onto the latest Intel CPUs, which offer both improved performance and thermals. Microsoft has not made any other dramatic changes for processing though, and the Surface Pro keeps the same CPU lineup as the outgoing model, but with 7th generation replacing 6th generation. That means there is a Core m3-7Y30 4.5 W CPU in the base model, a Core i5-7300U in the mid-range, and a Core i7-7660U in the top end. However Microsoft has also extended the passive cooling configuration to the Core i5 as well. This change comes thanks to some important improvements in the cooling system, which we'll take a look at in a bit.
Microsoft Surface Pro
Model Tested: Core i7-7660U, 16GB, 512GB, $2199
Processor
Intel Core m3-7Y30 (2C/4T, 1.0-2.6GHz, 4MB L3, 14nm, 4.5w)

Intel Core i5-7300U (2C/4T, 2.6-3.5GHz, 3MB L3, 14nm, 15w)

Intel Core i7-7660U (2C/4T, 2.5-4.0GHz, 4MB L3, 14nm, 15w)
Memory
4 GB, 8 GB, 16 GB Dual-Channel
Graphics
Intel Core m3-7Y30
Intel HD 615 (24 EUs, 300-900 MHz)
Intel Core i5-7300U
Intel HD Graphics 620 (24 EUs, 300-1100 MHz)
Intel Core i7-7660U
Intel Iris Plus Graphics 640 (48 EUs, 64 MB eDRAM, 300-1100 MHz)
Display
12.3" 2736x1824 3:2 PixelSense
LG Display, Touch and Pen support
100% sRGB color + enhanced color, individually calibrated panels
Storage
128 GB, 256 GB, 512 GB, 1 TB PCIe NVMe PM971
Networking
802.11ac, 2x2:2, 866Mpbs Max, 2.4 and 5GHz
Bluetooth 4.1
Marvell AVASTAR
Audio
Stereo Speakers (front facing)
Dolby Audio Premium
Battery
45 Wh, 45 W AC Adapter with USB charging port
Right Side
USB 3.0
Mini DisplayPort 1.2
Surface Connect Port (charging and docking)
Left Side
Headset Jack
Power Button
Volume Rocker
Keyboard Connector
Dimensions
292 x 201 x 8.5 mm (11.5 x 7.9 x 0.33 inches)
Weight
Core m3: 766 grams (1.69 lbs)
Core i5/i7: 786 grams (1.73 lbs)
Cameras
Rear: 8.0 MP auto-focus
Front: 5.0 MP auto-focus and Windows Hello support
Extras
Surface Pen and Dial (sold separately)
Surface Dock - 2 x mDP 1.2, 4 x USB 3.0, 1 x Gigabit (sold separately)
micro SD card slot
TPM 2.0
Pricing
128 GB Intel Core m3 with 4GB of RAM: $799
128 GB Intel Core i5 with 4GB of RAM: $999
256 GB Intel Core i5 with 8GB of RAM: $1299
256 GB Intel Core i7 with 8GB of RAM: $1599
512 GB Intel Core i7 with 16GB of RAM: $2199
1 TB Intel Core i7 with 16GB of RAM: $2699
The new Surface Pro is certainly evolution rather than revolution, but considering the success Microsoft has seen with the Pro, it's hard to argue with the company's choice. In fact, despite the older generation CPU, it wouldn't be a stretch to state that the Surface Pro 4 was still the top of its category, with the best display, good battery life, and great performance. The new Surface Pro makes more subtle improvements, keeping many of the successful attributes of the outgoing model.
One of the features that many will be happy to see is that Microsoft will finally be offering a 4G LTE model as well, although it won't be available for a couple of months. It's one of the requests they've had from many of their customers, so it's great to see it as an option.
Accessories have been one of Microsoft's strongest suits, especially with the keyboard and pen that launched with the Surface Pro 4. Both the keyboard and pen have seen continuous improvement, and once again, Microsoft has released new versions as well. The flip side to that however is that the one accessory that was included with previous Surface Pros, the Surface Pen, is no longer included. This is a process that started with the Surface Pro 4 – where Microsoft introduced some mid-cycle SKUs that dropped the pen for a lower cost – and has now been extended to the entire lineup.
Overall it's tough to make massive changes when you already have one of the most successful products in a category, but we'll dig into the changes that are here and see how the latest Surface Pro stacks up both against the competition, as well as the outgoing model.