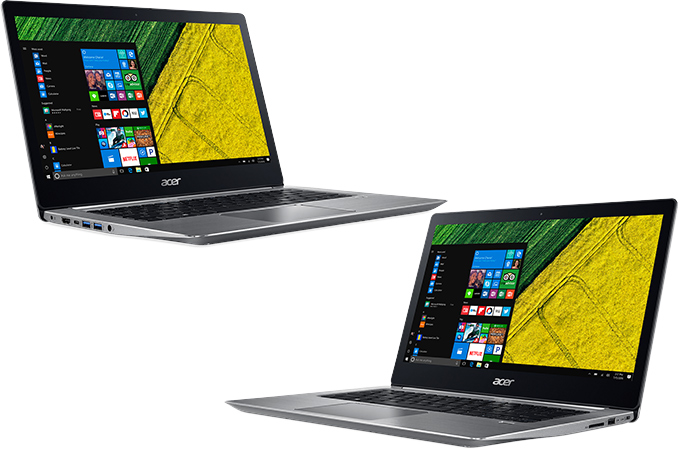 Back at the Ryzen Mobile launch, AMD announced three primary partners with three devices: the HP Envy x360, the Acer Swift 3, and the Lenovo Ideapad 720S. At the time, only HP had some information available, and has since pushed the Envy x360 to retail. The other two have been surprisingly quiet about their models, but today Acer steps up to the plate with lists and pricing.
Acer has, without any fanfare, added two laptops powered by AMD's Ryzen Mobile 2500U and Ryzen Mobile 2700U processors to its product lineup. The laptops have a metallic chassis, with a 15.6" IPS panel featuring a 1920x1080 resolution. Inside are AMD's 15 W Ryzen Mobile APUs, the Ryzen 5 2500U and the Ryzen 7 2700U, each with four cores, eight threads, and Vega 8 (512SPs) or Vega 10 (640SPs) integrated graphics respectively.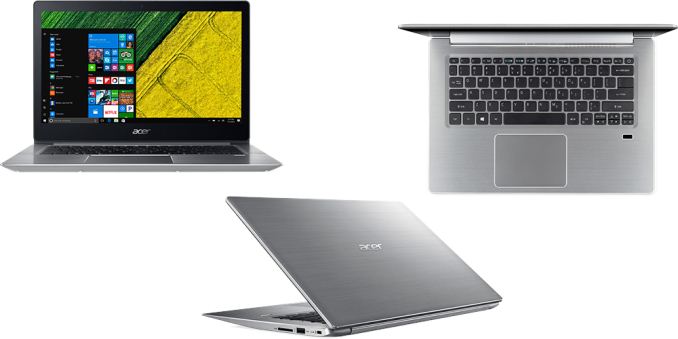 The new systems have 8 GB of DDR4 memory, and storage comes in at either a 256 GB SSD or a 512 GB SSD (no word if SATA or PCIe). For connectivity, the AMD-powered Swift 3 uses an 802.11ac Wi-Fi + Bluetooth module, three USB Type-A ports, one USB Type-C header, and an HDMI output. Finally, the notebooks are equipped with a backlit keyboard, a webcam, two speakers and a microphone. The Acer Swift 3 design is one of a typical workhorse notebook, for consumers who demand to have decent performance and portability but do not necessarily need a portable workstation or an ultrabook. Interestingly the specification sheets say that the battery is listed as 3340 mAh, which at 17.4 volts makes around 58 Wh, although the voltage of the battery is not specified.
Back at the Ryzen Mobile launch, AMD stated that the chassis for the Swift 3 was designed to dissipate 25W at maximum, so by putting a 15W APU in there, it allows for a higher XFR boost frequency, as well as boosting for longer. The launch article also listed the DRAM being in dual channel operation, up to DDR4-2133. Acer confirms neither of these points, but dual-channel would be a good choke point to alleviate for the graphics - the DDR4-2133 is below the DDR4-2400 that the Ryzen APU platform supports, however.
By today's standards, the Ryzen Mobile-based Swift 3 units can hardly be called thin or light — the device weighs around 2.2 kilograms and is 1.87 cm thick. Acer could have lower the weight by choosing plastic over metal for the chassis, but at the cost of rigidity, look and overall user experience. Meanwhile, being ultraportable is not the purpose of the vast majority of 15.6" laptops anyway. To Acer's credit, it's worth pointing out that the Ryzen Mobile-based Swift 3 are slightly thinner (but a bit heavier) than HP's Envy x360 featuring the same APUs. We currently have the Intel-based Swift 3 units in for testing, so this would be an interesting counterpoint.
Acer Swift 3 Laptops Based on AMD Ryzen Mobile APUs
SF315-41-R8PP
NX.GV7AA.003
SF315-41-R6J9
NX.GV7AA.004
Display
Diagonal
15.6"
Resolution
1920×1080
Type
IPS
CPU
AMD Ryzen 5 2500U
4 Cores with SMT (8T)
2.0 GHz Base
3.8 GHz Turbo
mXFR Support
2 MB L2 + 4 MB L3
Vega 8 iGPU
15 W
AMD Ryzen 7 2700U
4 Cores with SMT (8T)
2.2 GHz Base
3.8 GHz Turbo
mXFR Support
2 MB L2 + 4 MB L3
Vega 10 iGPU
15 W
Graphics
AMD Vega 8
512 stream processors
1100 MHz
AMD Vega 10
640 stream processors
1300MHz
RAM
Capacity
8 GB
Type
DDR4 (frequency unknown)
Storage
256 GB SSD
512 GB SSD
Wi-Fi
802.11ac Wi-Fi module (unknown vendor)
Bluetooth
4.x
USB
2 × USB 3.0 Type-A
1 × USB 2.0 Type-A
1 × USB 3.0 Type-C
Other I/O
HDMI 2.0a, webcam, TRRS connector for audio, speakers, microphone, SD card reader
Dimensions
Height
18.8 mm | 0.74"
Width
370.5 mm | 14.59"
Depth
255 mm | 10.04"
Weight
2.2 kg | 4.85 lb
Battery Capacity
3320 mAh (58 Wh at 17.4V?)
Price
$750
$950
Acer's Swift 3 SF315-4-series notebooks are already listed on the company's website, so expect them to be available commercially in the coming weeks. As for pricing, Acer's Taiwan site had the Swift 3 featuring the Ryzen Mobile 2500U and a 256 GB SSD listed at $750, whereas the more advanced Swift 3 featuring the Ryzen Mobile 2700U and a 512 GB drive was listed for $950 at retail.
Related Reading
Source: Liliputing