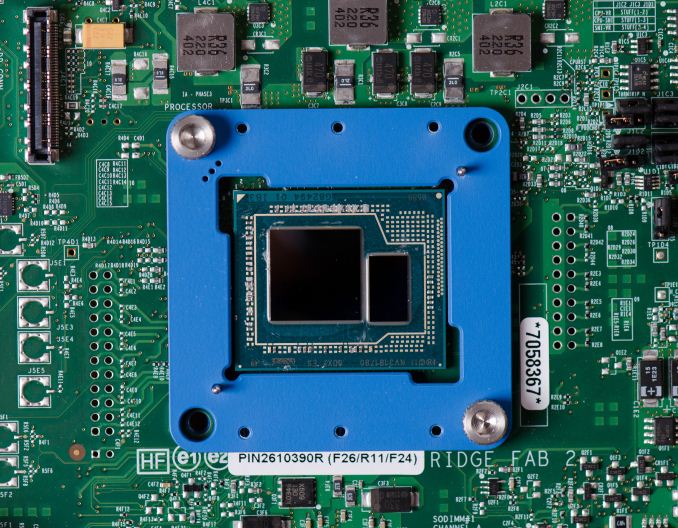 At both the Intel Haswell launch and the first shipping Haswell Xeon silicon, I lamented the lack of a Crystal Well Xeon part in the line-up. It would make sense that a large L4 cache on a CPU would be a prime target for workstation and server applications, as well as the gaming methodology used by Crystal Well in the Mac/Clevo laptops and Brix Pro system. Thus when searching for information on Xeon E3 SKUs today, my surprise came at the listing of Iris Pro 5200 enabled Xeon silicon.
Slipping somewhat under the radar, the Xeon E3-1284L v3 is a BGA only processor, featuring lower frequencies than any other Crystal Well SKU to date. The 47W quad-core part has a base clock of 1.8 GHz, hitting 3.2 GHz as the max turbo frequency. That is a big jump from base to turbo, so it would be interesting to see what the breakdown turbo frequencies are depending on per-core loading. As with the other similar SKUs, we have 32GB DDR3-1600 support, however ECC is supported and the memory bandwidth comparison on ark.intel.com would make this component aimed more for laptops and mobile devices rather than desktops. The integrated Iris Pro 5200 graphics have the highest base frequency of any Iris Pro part at 750 MHz, rising to 1.0 GHz at turbo which is incidentally the lowest turbo frequency of the Iris Pro 5200 range. vPro, VT-x, VT-d and TSX-NI are all enabled for this part as well.
Both CPU-World and ark.intel put the release of this part at Q1'14 (CPU-World states February 2014), however much like the initial Crystal Well parts, I would imagine we were 6 months out from seeing any products with the CPU coming to market. It could turn out that this SKU is just a specific customer's request – it would seem a little odd just to have one processor of this nature in the Xeon line-up. But if your volume is sufficient, Intel might make it just for you.
Anand, Ganesh and I have each taken four separate looks at different Crystal Well hardware, including Intel's Customer Reference Board, the iMac, a Clevo and the GIGABYTE Brix Pro.