AnandTech Year In Review 2019: CPUs H2
July 2019
Enter July, and the key question on everyone's lips this month was regarding the new Ryzen 3000 chips. On July 7th, the embargo was lifted on the 12-core Ryzen 9 3900X and the 8-core Ryzen 7 3700X. Gavin and Andrei stepped up to the plate for this review, easily our biggest of 2019, with a full deep-dive analysis of the new design.
The AMD 3rd Gen Ryzen Deep Dive Review: 3700X and 3900X Raising The Bar
Our underlying results showcased that Zen 2 does indeed have a ~15% uplift compared to Zen+, or around +23% over Zen 1. More importantly however, in terms of performance per clock against the Core i9-9900K, the new Ryzen 9 3900X on the industry standard SPEC2017 tests, was scoring higher for its frequency than Intel was. This was broadly interpreted as AMD taking the IPC crown from Intel on such a significant test, meaning that AMD doesn't need to hit such a high frequency to get the same performance as Intel.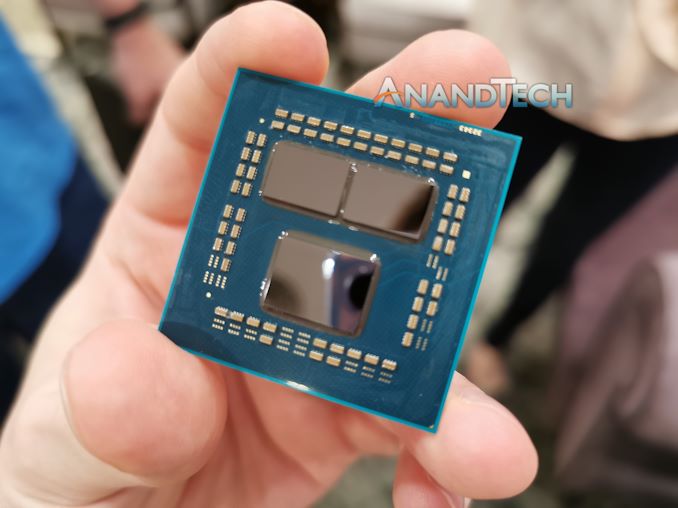 Ultimately, due to Intel's high 5.0 GHz single-core frequencies and 4.7 GHz all-core frequency, it still took the crown in single threaded workloads compared to the 4.6 GHz of the 3900X. However, 12 cores against 8 was no contest, especially at a lower power consumption as well. To quote our review:
"[AMD has] never been this close to Intel in over a decade. This is no longer the story of the AMD that is trying to catch up to Intel; this is now the story of the AMD that is once more a formidable rival to Intel. And, if the company is able to continue to execute as well, we should be seeing even more exciting things in the future. It's remarkable that AMD has been able to achieve all of this while consuming significantly less power than Intel's best desktop chip."
Hiding underneath the launch of the new Ryzen 3000 chips were the APUs based on Zen+. AMD's cadence of having the APUs lag behind a generation from the latest CPU technology is perhaps understandable, but naming them Ryzen 3000 as well is sometimes a bit confusing.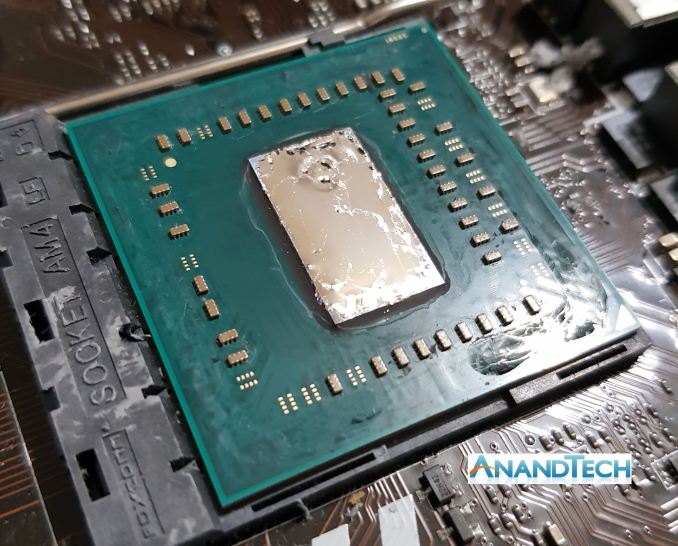 AMD Ryzen 3000 APUs: Up to Vega 11, More MHz, Under $150, Coming July 7th
The Ryzen 5 3400G and Ryzen 3 3200G are still built on the older Zen+ architecture, offering enhanced frequencies over the Zen 1 APUs, but their goal is mainly in that $99 and $149 product price point.
August 2019
As we move into the second half of the year, one of our first articles was our Ice Lake benchmark preview. We were one of a few publications given early access to Intel's Ice Lake reference design, and in an act of defiance to how long it would take, we ran an extensive array of microarchitecture analysis tests. This included a full run-down of the instruction set, runs of SPEC2006 and SPEC2017, and also looking into the cache and memory latency, plus a few of our regular tests bundled in.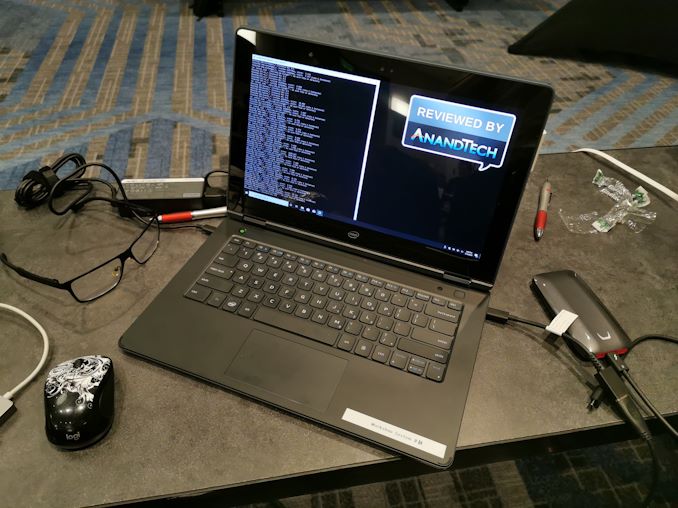 The Ice Lake Benchmark Preview: Inside Intel's 10nm
We confirmed that Intel had increased the L1 latency from 4 cycles to 5 cycles, which would at a high level kill performance, however the increased size of the L1 cache (48 KB from 32 KB) and the L2 cache (512 KB from 256 KB) along with other functional updates actually improved performance across the board. Performance per clock, we measured a 19% uplift for Ice Lake over the previous generation Coffee Lake – slightly more than the +18% that Intel had been advertising. If Intel were to put Ice Lake in the desktop, it would again take the IPC crown in the desktop market. One metric that Intel did vastly improve on with Ice Lake was the graphics. We saw a 2x or more improvement over the Whiskey Lake chip we compared it against.
However we did note that Intel's 10nm CPU frequency is low compared to its latest 14nm hardware – Intel is trading off IPC for frequency, ultimately giving almost equal performance between the two chips (Whiskey Lake and Ice Lake). The proof in the pudding would be in the power measurements when we get OEM devices later in the year.
The other side of August was the launch of AMD's cash cow: Rome, known as 2nd Generation EPYC. Where Intel can offer 28 cores, AMD can now offer 64 cores, with >3x the PCIe lanes and 33% more memory channels. Intel's previous CEO had stated that Intel's job was to not let AMD capture 15-20% of the market share – Rome is the product that Intel has feared most.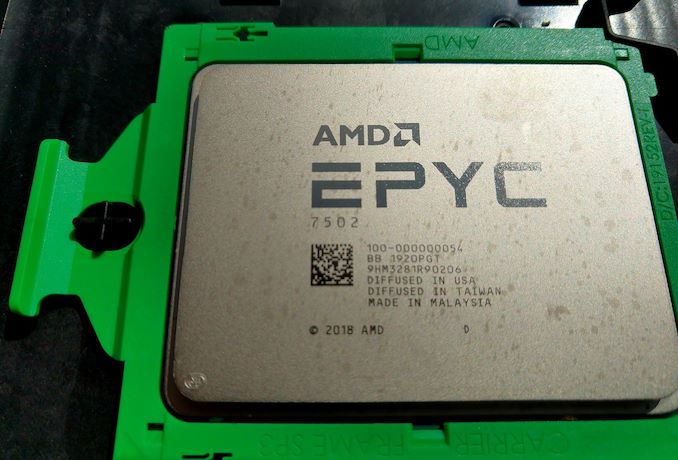 One of the key differences in Rome, over the previous generation Naples, is the use of a central IO die. Each of the 8 chiplets in a Rome CPU connects to the IO die if it wants to access main memory or PCIe lanes, meaning that every core has equal latency to both. One of the main pain points of the previous generation was that this was not the case, and AMD would appear to have solved this issue, as well as provide each core with a nice hunk of L3 cache to help with bandwidth over the second generation infinity fabric.
AMD Rome Second Generation EPYC Review: 2x 64-core Benchmarked
The most expensive 64-core CPU, with support for up to 8 TB of memory, is the EPYC 7742. This chip has a base frequency of 2.25 GHz, a boost frequency of 3.4 GHz, an RRP of $6950.
In our review, we stated at the time:
"At the high end, AMD offers you up to 50 to 100% higher performance while offering a 40% lower price. Unless you go for the low end server CPUs, there is no contest: AMD offers much better performance for a much lower price than Intel, with more memory channels and over 2x the number of PCIe lanes. These are also PCIe 4.0 lanes. What if you want more than 2 TB of RAM in your dual socket server? The discount in favor of AMD just became 50%."
I interviewed Forrest Norrod back at E3, and when asked about EPYC customers, he stated that they had a doubling of platforms in development for Rome compared to those available for EPYC. There was so much interest in fact that they had to turn away some platform requests just due to the sheer number that were coming through.
An Interview with AMD's Forrest Norrod: Naples, Rome, Milan, & Genoa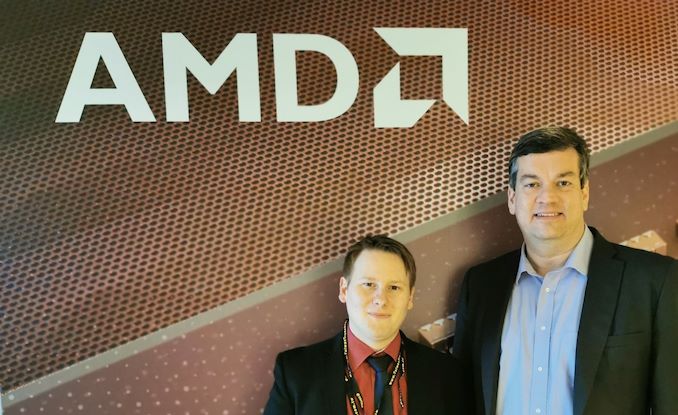 Also in August, we had the annual Hot Chips conference (a favorite of mine). Dr. Lisa Su had the keynote for the first day of the show, where she covered AMD's product portfolio as well as recent wins with the Zen 2 hardware on Ryzen and EPYC. As part of the Q&A session, I asked about AMD's strategy in the workstation space, especially given the new Workstation section on the website. Our exchange went something like this: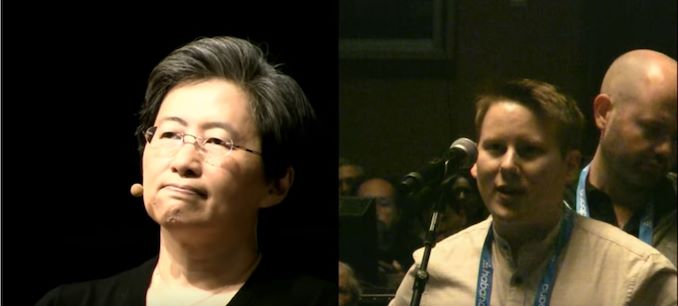 That face a CEO makes when I start asking questions
Also present, Jon Masters (ex-Red Hat, now Nuvia)
IC: 'Recently we have noticed that AMD has a new workstation-specific dedicated area on the website and have also advertised for workstation personnel. Can you speak about how your current strategy will develop in the workstation space, especially as it relates to product names that already exist in this space, such as Threadripper?'
LS: 'I thought this wasn't a product presentation! [laughs] No I'll certainly answer that. We want computing to significantly advance, whether you're talking about desktops, or whether you're talking about servers, or you're talking about workstations, on both the CPU and GPU side, and even in notebooks. What you'll see from us is the same techniques that we brought in with Zen and next-gen graphics will flow through all of these product lines at some point in time. I know there's a lot of interest around Threadripper, I see people are wondering when we're going to launch Threadripper – I can say that the third generation Threadripper will be coming shortly. Does that help?'
IC: 'No. [laughs]'
LS: '[laughs] How about less than a year? Does that help?'
IC: '…no? [laughs] If I keep saying no, maybe she'll say a date!'
LS: '[laughs] Hah! You know I get that there's so much excitement around Threadripper – we have just launched our desktop product but you'll see Threadripper soon.'
IC: '2019?'
LS: '[laughs] How about this - you will definitely hear about Threadripper in 2019! How about that?' [applause]
You can see the full exchange (and the keynote) here.
September 2019
If taking the overall performance crown wasn't enough, AMD hit it home in September. The company announced a new EPYC 7H12 processor – a high frequency high core count product specifically built for high-performance customers. AMD pushed the TDP of its EPYC line up from 240 W to 280 W in order to do it, with an expected all-core turbo around 3.0 GHz. AMD stated that this chip is designed for liquid cooling, and any HPC partner that wants it can order it, but the company is not going to offer the chip on general release, and as a result there is no official price for it. We expect that if it had one, it might be anywhere from $7500-$10000.
AMD's New 280W 64-Core Rome CPU: The EPYC 7H12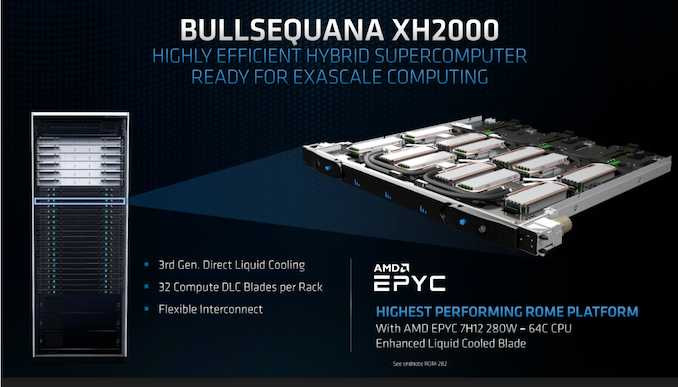 Noticeably absent in September was AMD's 16-core Ryzen 9 3950X, the one that had been promised for September back at E3. AMD responded to these claims stating that demand for the 3950X was significantly higher than expected, and that it would be delaying the part until November. Because the 3950X requires two good performing 8-core chiplets, people speculated that all of AMD's good silicon was going to the higher margin EPYC portfolio, as the company is still trying to drive revenue in the server space back up from zero, and this was causing the delay.
AMD also announced that its next generation Threadripper would also be coming in November, starting with a 24-core product. The official quote is:
'We are focusing on meeting the strong demand for our 3rd generation AMD Ryzen processors in the market and now plan to launch both the AMD Ryzen 9 3950X and initial members of the 3rd Gen AMD Ryzen Threadripper processor family in volume this November. We are confident that when enthusiasts get their hands on the world's first 16-core mainstream desktop processor and our next-generation of high-end desktop processors, the wait will be well worth it.'
At the tail end of September, AMD announced its Ryzen 3000 Pro line of processors for commercial pre-built units.
AMD Announces Ryzen Pro 3000 Series CPUs For Q4
October 2019
Within the first day of October, due to leaks, Intel moved up the embargo on the information of its new Cascade Lake-X processors. These Core i9-10000X class processors would offer 10-18 cores, with most noticeably a 16-core being absent (to prevent direct comparison with AMD, most people assumed). What marked this disclosure significant was that Intel was launching these processors at half the price of the previous generation. This would mean that at $979, users could get an 18-core Intel HEDT part. Not too long ago, that amount of money would only get you six Intel cores.
Intel's Cascade Lake-X CPU for High-End Desktops: 18 cores for Under $1000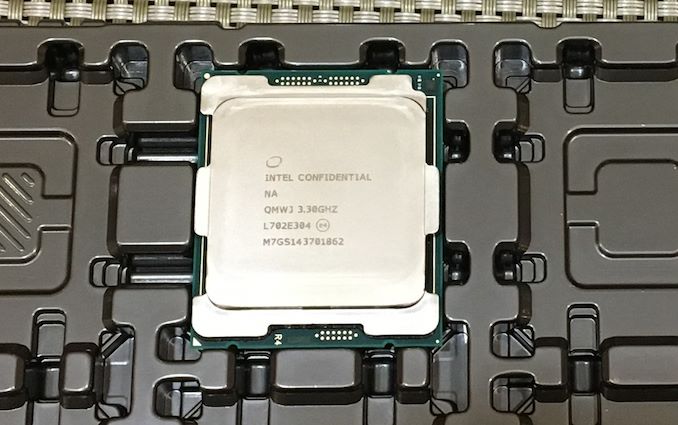 As part of this disclosure, Intel was promoting the fact that this CPU has support for Thunderbolt 3, Wi-Fi 6, and Intel 2.5 gigabit Ethernet. The only issue is that those don't come with the CPU or chipset – they require the motherboard vendor to put them on the board. In essence, any CPU can support these if the motherboard has them… At least it confirmed the presence of Intel's 2.5 GbE i225 controllers.
Only a few days later, we saw one of the key announcements in the notebook market: Microsoft was updating its line of high-end notebooks. The key part of this announcement was the use of both Intel and AMD processors in the Surface Laptop – a high volume segment for all companies combined. This was seen as a design win for AMD, who has been gaining slow traction with its Ryzen Mobile APUs up to this point. With the 15-inch design, users could have a choice: Intel Ice Lake i5 or i7, or a semi-custom AMD Ryzen 7 or Ryzen 5 APU. The Ice Lake parts were similar to other Ice Lake designs, but AMD's APUs were 'semi-custom' offering one more compute unit than the other Ryzen APUs on the market.
Microsoft Announces Surface Laptop 3 Family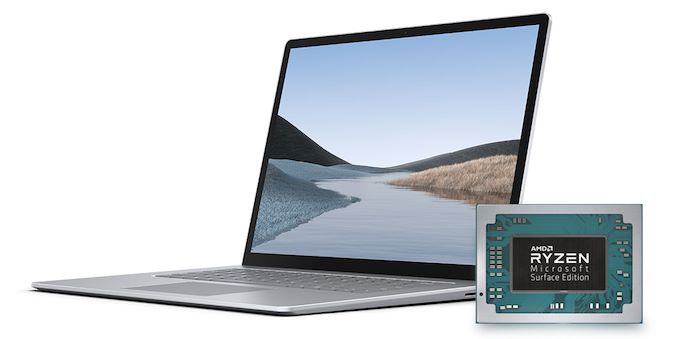 Initially it was described to us that AMD would be the version for end-users/consumers, while the Intel model was built for companies (the 'commercial' market) to buy in bulk for their employees. Intel corrected that statement, saying that while the Microsoft website will direct end-users to buy AMD on the front page, there are links to where users can buy Intel models.
From a CPU perspective, it was hard not to look deeper into what the 'semi-custom' in the AMD Surface Edition APUs meant. We spoke with AMD who gave some details: ultimately 'semi-custom' in this context is more than just hardware, but also goes into software. Co-optimization of the design is included in this, something Intel surely did as well, however AMD also cited their work on security and the close links between Microsoft's Xbox division and AMD's semi-custom team on the software side as an angle to this collaboration. AMD also confirmed that they are working on at least one more semi-custom version for Microsoft in the future.
AMD's Ryzen Microsoft Surface Edition and what Semi-Custom Means
A couple of weeks later, the embargo lifted on the first Microsoft Surface Laptop reviews. Our day one review coverage covered the Ryzen 3 version of the Surface Laptop 15-inch, which noted that the relationship between AMD and Microsoft was clearly solid through the use of a semi-custom design, however the CPU based on Zen+ still had a way to go to match the Intel CPUs. Despite work on the power profile the Ryzen Mobile APU, the high platform power is still an Achilles heel for AMD designs. Despite being in a premium design, which is a clear win for AMD, it still faces strong competition against Intel systems. As we tested Ryzen 5, which is the lower performance part, it only did more to strike this fact home.
The Microsoft Surface Laptop 3 (15-Inch) Review: AMD Ryzen Surface Edition
We did a more fair comparison between Intel and AMD APUs in the Surface Laptop in December, when we were able to source both Ice Lake Core i7-1065G7 and Ryzen 7 3780U units in a 15-inch form factor.
In the last week of October, we published our review on the Core i9-9990XE. This is Intel's super-secret auction-only CPU, offering 14 cores all at 5.0 GHz all the time. By all respects, this processor is an absolute beast: it ripped through our benchmark suite like there was no tomorrow, smashing our compilation benchmark as the best processor we've ever tested, and for anything that relied on single threaded frequency or a variable threaded workload, the 9990XE performed really well.
The Intel Core i9-9990XE Review: All 14 Cores at 5.0 GHz

Unfortunately it didn't perform as number one when it came to multi-threaded tests. Having 14 cores when the same vendor offers 18, or when the competition can offer 16-32, means that even with the super frequency there's still a barrier a CPU like this can't overcome. Our blender rendering test showed this all too well: 14-core 5.0 GHz took 162 seconds, but the Intel 18-core at a very competitive all-core frequency was faster at 140 seconds, and that's before we get to the unlocked 28-core (102 seconds) or AMD's 32-core TR2 (96 seconds), both of which are actually cheaper to buy. But for anything that was more constrained by single thread, then a 5.0 GHz Intel chip hits the spot, and there are plenty of high-frequency traders who want that performance. As long as they can deal with the power: we saw a +270W delta between idle and AVX2 load, which is well above the 255W TDP listed for this part.
With all that in mind, only a few days later the embargo lifted on Core i9-9900KS reviews. This is Intel's 8-core all 5.0 GHz part which had been teased all year. Ultimately Intel wanted to put itself in the lead for all single-thread performance, as well as gaming, in advance of future launches of the year. We were unique in testing this as we'd only just reviewed the 14-core 5.0 GHz part, so for us perhaps the 8-core version didn't feel all that special. The question that Intel were trying to solve with this part was:
'Do you want the fastest ST consumer processor, or the best all-rounder? Why not both!'
The Intel Core i9-9900KS Review: The 5 GHz Consumer Special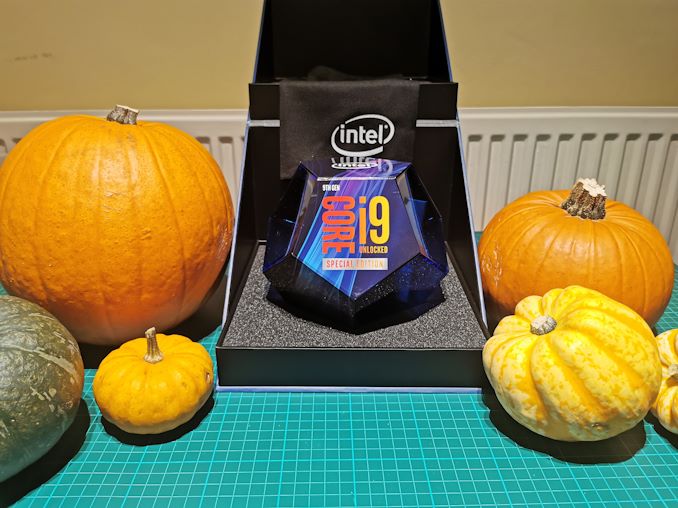 Ultimately Intel made the best 8-core on the market. Compared to any other 8-core available, the 9900KS won pretty much every benchmark, and it made for a great gaming processor as well. For Intel to bin this chip to offer a full warranty at 5.0 GHz is an impressive feat, and then the $513 tray price is really sweet, as people were expecting it to be nearer $750. At that price it becomes a difficult choice between that and the Ryzen 9 3900X, which wins out on pure multi-threaded test due to 12 cores, and depends if you can find either of them at normal pricing.
November 2019
Due to the delays of various bits of hardware, November ended up being a big cluster. Neither AMD nor Intel decided to take into account that the annual Supercomputing conference was happening in the middle of the month, and decided to launch processors around it!
The AMD Ryzen 9 3950X Review: 16 Cores on 7nm with PCIe 4.0
First up was one of the headline acts of the year: AMD's Ryzen 9 3950X with 16-cores in an AM4 desktop package. With this launch it meant that the AM4 socket had stretched all the way from 4-cores in September 2016 through to 16 high-performance cores in late 2019. At $749, the 3950X also marked a new price high for any processor considered 'mainstream' – in fact there was a lot of debate that if this price indicated that it should be more of a desktop CPU, however my twitter poll showed because it was still on AM4, this CPU is still very much a desktop processor, albeit 'enthusiast' desktop.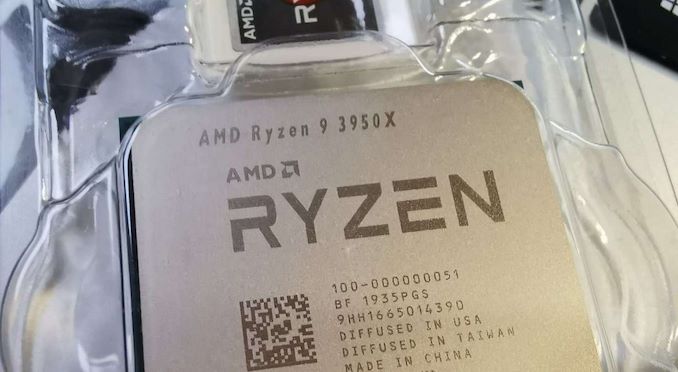 With two full 8-core dies, we positioned our Ryzen 9 3950X review in the context that not everyone needs 16 cores, but some people do, and that this product isn't aimed at everyone, just at those that do need it. Offering 16 cores for $749 is still a steal compared to the 6-cores at $979 we used to get several generations ago. For competition, users could either consider the 14-core Core i9-10940X at a similar price, or the 8-core Core i9-9900KS launched the previous month, for $513. Ultimately the AMD chip lost in single threaded performance against the 9900KS, but not by too much, and the AMD chip smashed the Intel one in multi-threaded tasks.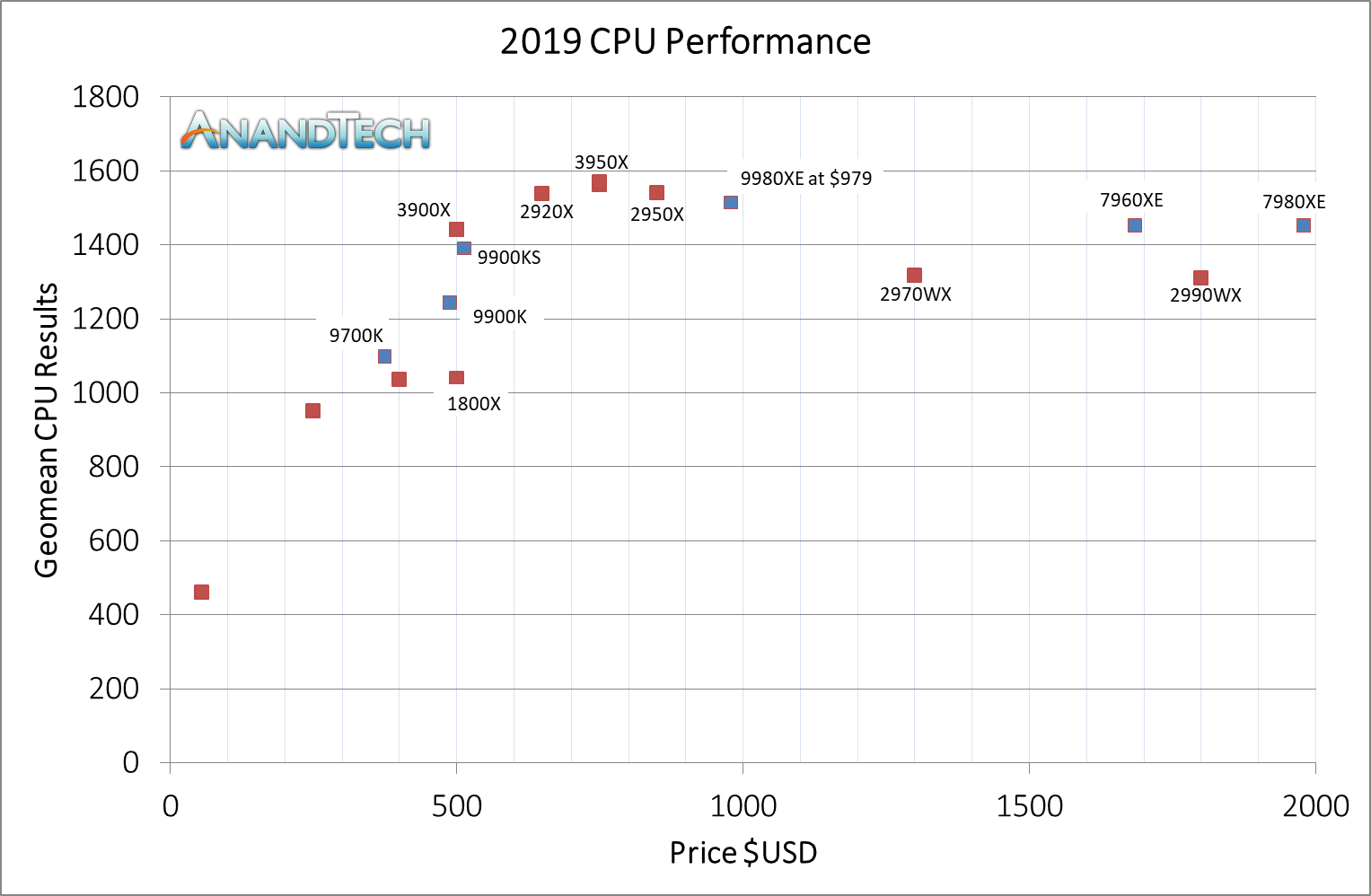 At the 30,000 ft holistic view, weighting benchmarks appropriately where a +20% lead on an ST benchmark is scored the same as a +20% lead on a multithreaded benchmark, the Ryzen 9 3950X became our best ever processor tested. High ST performance and desktop-leading MT performance does that. One criticism that could be rightly made is that for this price of CPU, a user should expect to be on the high-end desktop. I don't disagree.
Before we get to the big stuff, in the middle of the launches was Supercomputing. At this conference we saw Raja Koduri take to the stage at HPC DevCon to give some details about Intel's Xe GPU strategy, but from the CPU side of things, put on the table that the Aurora supercomputer will have Sapphire Rapids CPUs (the one after Ice Lake Xeon) when it is delivered in 2021.
We got a chance to interview Raja, in his first technical interview since he joined Intel almost two years ago. It's mostly about GPU stuff, but this is the sort of exclusive I live for.
AnandTech Exclusive: An Interview with Intel's Raja Koduri about Xe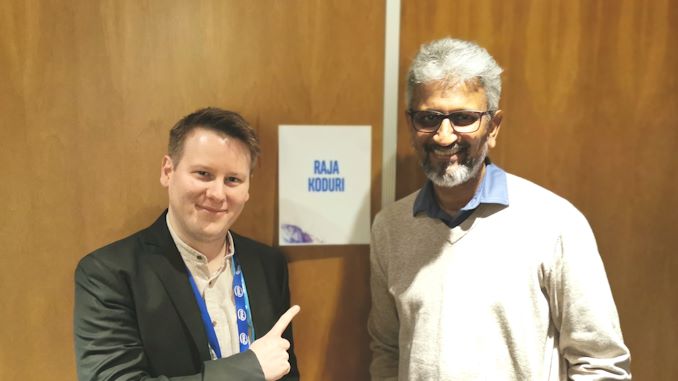 Two weeks later, AMD and Intel decided to launch their new high-end desktop CPUs on the same day. Initially both companies set their embargoes for 9am Eastern on November 25th, however a few days before then Intel emailed all the press to say they had moved their embargo earlier by six hours. This caused a lot of ridicule: moving the embargo to an earlier time meant that reviews that went live at that time would not be able to publish direct results from AMD, therefore 'avoiding' competition. This lead most of the press to believe that Intel wanted reviews where they weren't compared to AMD, in order to mislead people who read the reviews between 3am and 9am. Some press went on the offensive, launching their review early with the AMD numbers doctored, but offered a long explanation as to why they thought Intel was being shady (see the LinusTechTips video, titled 'Intel is PATHETIC'). Others, like us, bemoaned the fact that this was the case on social media, and ultimately decided to delay the review until the original start time. We weren't prepared to play in these shenanigans, especially during a quiet time for traffic. Ultimately, as the numbers played out, everyone was more interested in AMD's results.
But to cover what was actually launched: Intel launched Cascade Lake-X. In total, we saw four CPUs: the 18-core, the 14-core, the 12-core, and the 10-core. As stated previously, there is no 16-core such that there is no direct comparison with AMD's 16-core hardware – Intel's official line on this is that there isn't a gap in their product portfolio to facilitate the entry of a 16-core.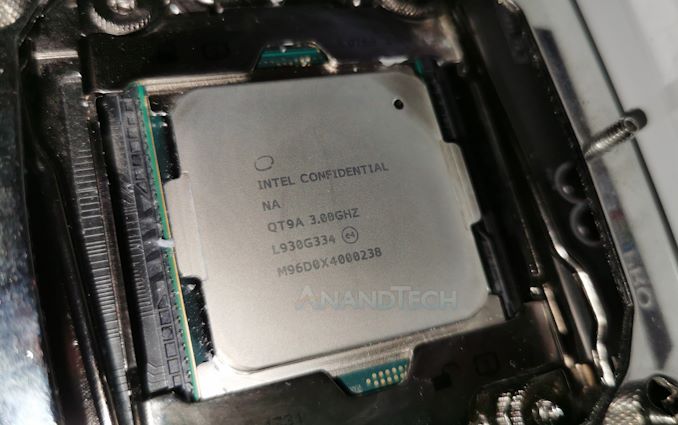 It's a Cascade of 14nm CPUs: AnandTech's Intel Core i9-10980XE Review
At the end of the day, the Core i9-10980XE that we reviewed performed slightly better than the Core i9-9980XE that Intel launched the previous year, due to the increased frequency. The other feature of note, detectable, is the use of Cascade Lake, and the first round of hardware-based security updates that aren't present in the 9980XE and Skylake-X family. For users that need Intel's latest high-end desktop, it's a definite plus to the product.
Another plus is the price – moving the 18-core part down to $979 is the price reduction that most of us suspected that Intel needed to make in order to stay competitive. Intel's latest HEDT platform now spans from $590 to $979, while AMD's new 3rd Gen Threadripper HEDT platform starts at $1400. We're now in bizarre world, where Intel's best HEDT part doesn't even touch the price of the entry level AMD HEDT processor.
And with that, we move on to AMD's new third generation Threadripper product. The previous generation already had 24-core and 32-core hardware, but the chiplet/IO die paradigm solved the major issue with those parts – unequal DRAM access latency. Much like the Rome EPYC CPUs on which the 3rd Gen Threadripper are built, having a central IO die equalizes DRAM and PCIe latency across a single chip, making it a lot easier to write code for and making the chip a lot faster overall.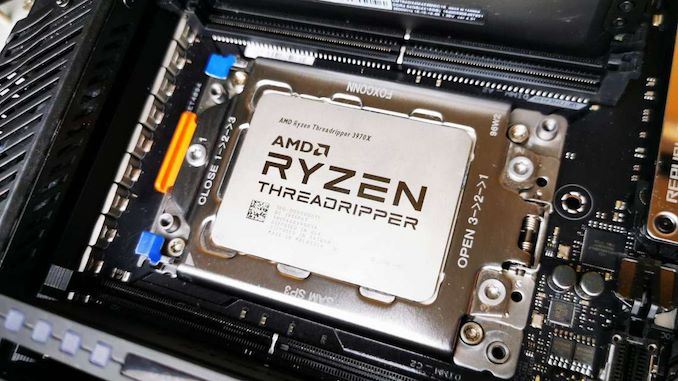 The AMD Ryzen Threadripper 3960X and 3970X Review: 24 and 32 Cores on 7nm
The difference is so striking that the 24-core Threadripper 3960X, one of the new CPUs, easily beats AMD's old 32-core 2990WX in almost all of our benchmarks. Add in the increased frequency, the new microarchitecture, and the unified memory design, and AMD had a hit compared to its old hardware.
Obviously comparisons to Intel's HEDT were made: for example, the Core i9-10980XE with 18 cores has a base frequency of 3.0 GHz but a turbo of 4.6 GHz, where AMD's TR3 3960X with 24 cores has a base frequency of 3.8 GHz but a lower turbo of 4.5 GHz. Both chips are surprisingly competitive in single core performance, due to AMD's performance-per-clock advantage with Zen 2 over the iterated 'Skylake' design, even if the frequencies were in favor of Intel by 100-200 MHz. When it comes to MT performance, in all but AVX-512 code, the AMD processor wins. The 32-core takes that win a lot further away, seemingly out of reach of Intel in the desktop space for a couple of years. The only way Intel could compete today is by bringing its 28-core to the desktop, which would absolutely eat into its workstation market.
Even Luxmark, built on Intel's Embree engine, gets a good thrashing
That's not to say that the 24-core and 32-core don't have their faults. The processors are expensive ($1400 and $2000), the motherboards are expensive ($300+), and at 280W TDP, you best go for some good $150+ liquid cooling. But the performance is hard to ignore in the benchmarks that matter. For these CPUs, web benchmarks don't matter, gaming benchmarks (at any resolution) don't matter. Rendering and throughput benchmarks do matter. I've never used the word 'bloodbath' in a review before, but this time I did.
On the back of both of these launches, Wendell and I did another video about the products and the state of the CPU market.
December 2019
Here are in December, and thinks have gone quiet. Well, all quiet except for our Intel vs. AMD review of the Microsoft Surface Laptop 3 (15-inch) family. In this test, we put the best on each side against each other in a unique never-been-seen-before fist fight. The rumble has commenced.
The Microsoft Surface Laptop 3 Showdown: AMD's Ryzen Picasso vs. Intel's Ice Lake
Perhaps expectedly, Intel's Ice Lake won the showdown. Ice Lake's raw performance is a step above Whiskey Lake, which AMD was struggling to hold on with anyway. The high performance and low power consumption of Ice Lake is a hard combination to beat, especially if you're on a custom AMD processor built with previous generation cores on a 12nm process. The one place where AMD was able to hold its own was in the gaming section, where the 'custom' part of the design, with an extra compute unit enabled, did help with extra performance in some tests. But elsewhere, Intel was the clear winner.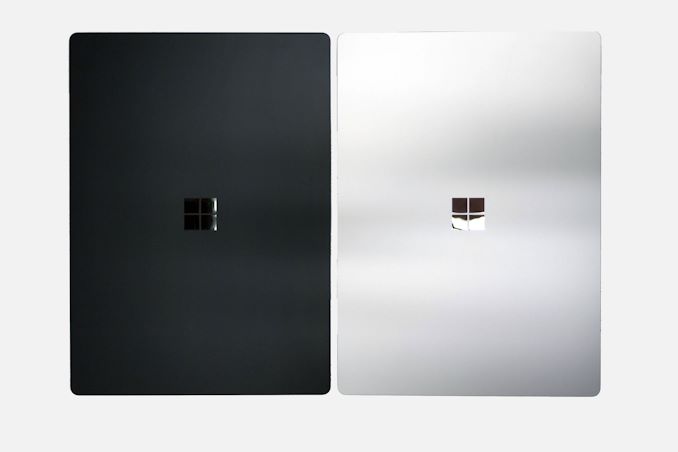 One could question if AMD moving to Zen 2 in mobile would have a big impact – perhaps AMD would fit in 8 cores where Intel has four, but then it becomes more of an efficiency battle between AMD using TSMC 7nm and Intel's own 10++ manufacturing process. Unfortunately a Zen 2 based APU wasn't ready in time for Microsoft, and we have to wait until the next generation of Surface hardware to perhaps see a fairer right. But kudos to Intel for this win, for sure.
A Blast From the Past
Interested to read what happened in 2018? Spectre, Meltdown, Visiting GlobalFoundries, 28 cores at 5.0 GHz, interviewing Jim Keller at Intel ?! Click here:
https://www.anandtech.com/show/13746/anandtech-year-in-review-2018-cpus