System Performance
Powered by the latest Intel Core i7-1185G7 processor, the MSI Prestige 14 is our first look at Tiger Lake in a production device. Intel's Ice Lake platform was a strong step forward, with a new process and a new microarchitecture, and Tiger Lake looks to improve on that with a tweaked CPU core, improved frequencies thanks to the improved 10 nm Superfin process, and perhaps most importantly, Intel's new Xe graphics in Tiger Lake promise a big step forward in terms of integrated graphics performance.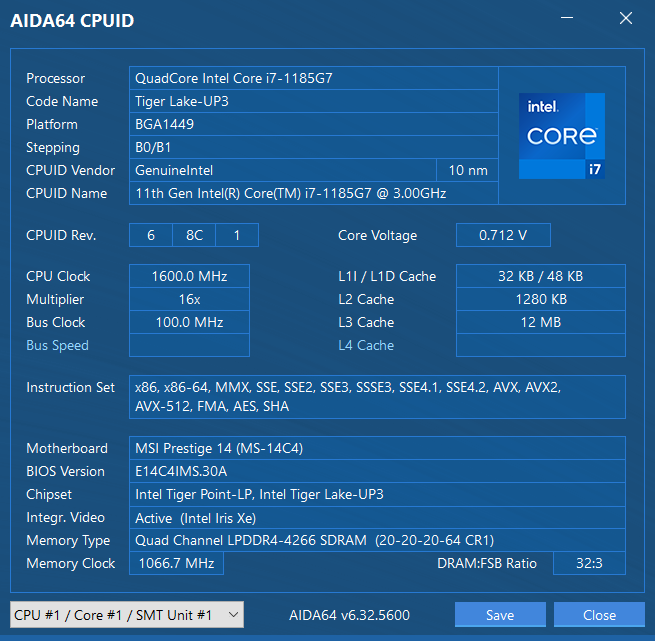 The Core-i7-1185G7 features four Willow Cove cores, with a peak single-core Turbo frequency of 4.8 GHz. This alone is a big jump over the Core i7-1065G7, which topped out at just 3.9 GHz. The CPU is fed by LPDDR4X-4267 memory as well, which is an improvement over the last generation of devices. The new Tiger Lake platform also adds support for not just Thunderbolt 4, but also PCIe 4.0, meaning faster storage is available.
While Intel has certainly struggled over the last several years, the company does seem to be moving in the right direction again, albeit not as quickly as they would probably prefer. Let's dig into this new Tiger Lake platform and see how it performs. As a reminder, you can use our Online Bench to compare the MSI Prestige 14 Evo to any other laptop we've ever tested.
PCMark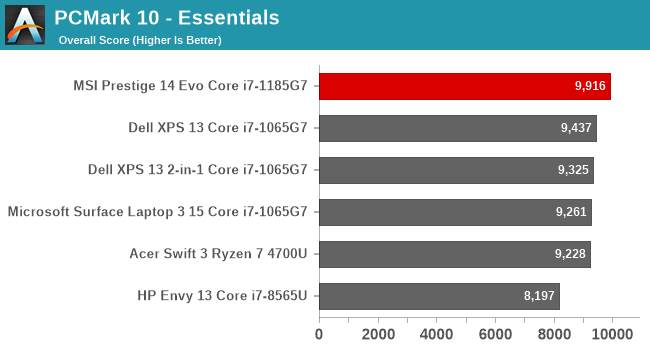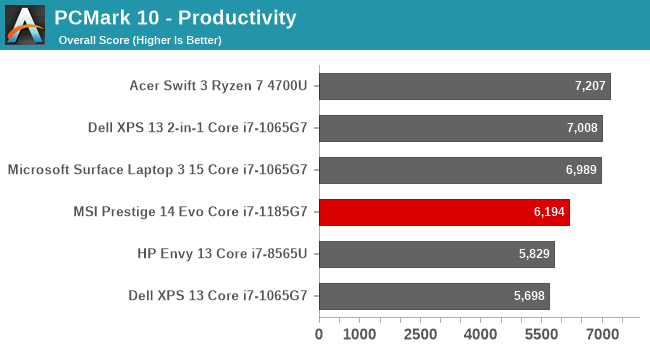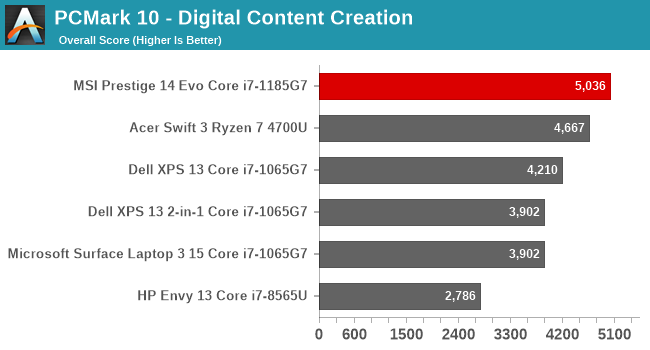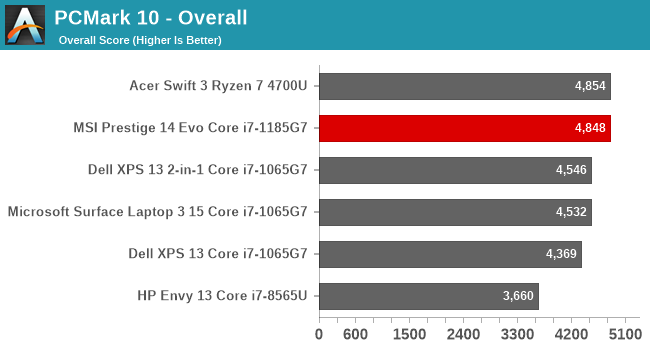 UL's PCMark tests all aspects of a system, from CPU and GPU performance, to memory and storage, with several test suites focusing on different use cases, and using real-world applications such as web, video chat, and gaming. The MSI Prestige 14 performs very well here thanks to the improved Willow Cove CPU and the new Xe graphics.
Cinebench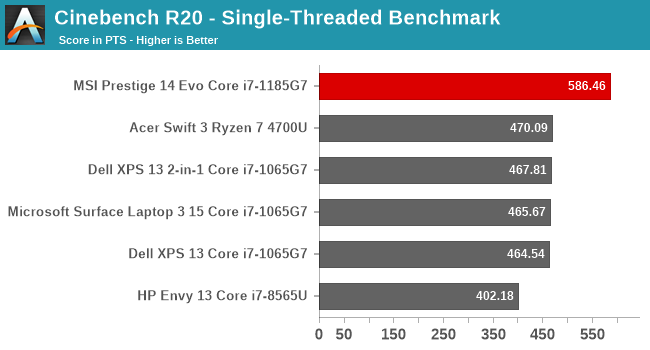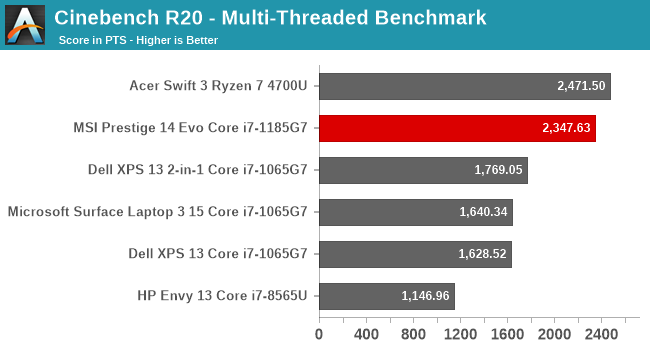 Although version R23 has just been released, for now we'll continue to showcase R20 scores until we have enough R23 results for comparisons. The higher-frequency Tiger Lake design makes a large jump in single-threaded performance, easily surpassing the other laptop processors. On multi-thread, the quad-core i7 offers eight threads thanks to SMT, and scores very close to an eight-core Ryzen 7 4700U. Tiger Lake makes a big jump here compared to Ice Lake.
Handbrake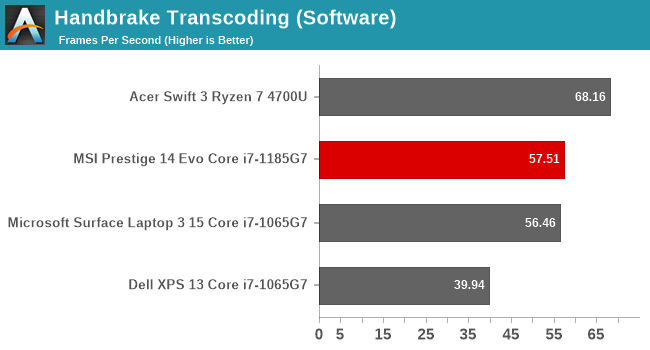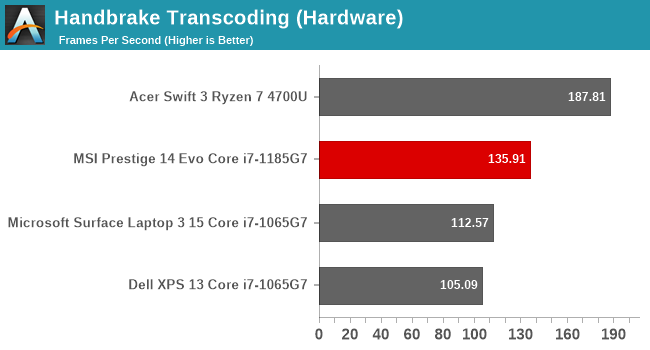 For video transcoding, Handbrake is likely the most popular solution. It offers both software transcoding done on the CPU, as well as hardware transcoding, which in the case of an Intel processor is Intel's QuickSync media block. Somewhat surprisingly, the software transcode was not really much faster on the new Tiger Lake than it was on Ice Lake, but the hardware transcode did gain over the older design. It still can't quite match Renoir though on software or hardware transcoding.
7-Zip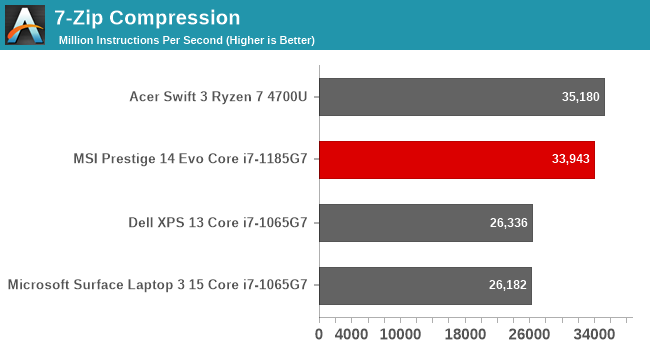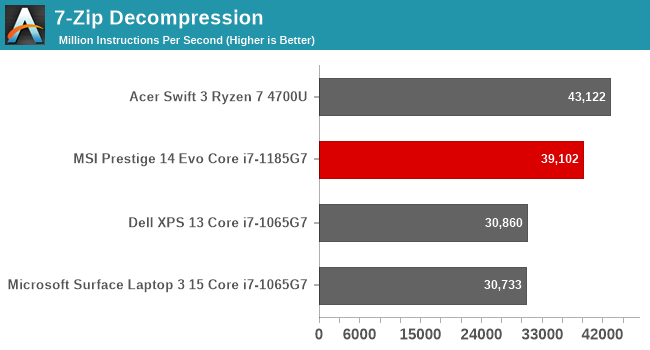 The open source file compression utility 7-Zip includes a built-in benchmark. The gains Intel has made over Ice Lake show up again here, with a strong win over last year's i7 laptops. The eight cores on the Ryzen 7 4700U though are well-utilized here, and Tiger Lake can't quite catch up with just four cores.
Web Performance
For 2020, we have moved to the new Chromium Edge on Windows 10 for all web testing. As much of the performance of the web can be tied to the underlying browser, consistency is key, and we found the Chromium Edge was one of the best performing browsers on Windows.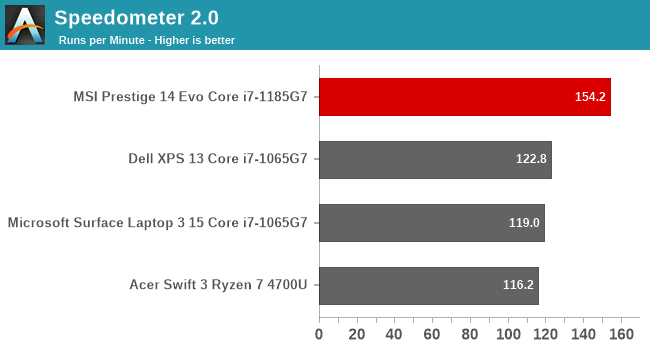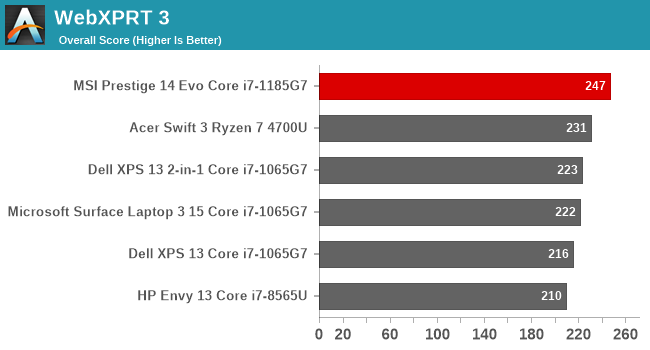 The gains Tiger Lake has made over Ice Lake on web performance are significant, and the higher frequency of the i7-1185G7 really makes a big difference here. The gains in Speedometer 2.0 are very impressive.
Storage Performance
Tiger Lake is the first platform from Intel to offer PCIe 4.0 support, which, at least for now, is mostly tied to faster storage. MSI has tapped the Phison PS5016-E16 SSD controller in both 512 GB and 1 TB size offerings, with the review unit being the smaller 512 GB model.
For 2020, we've moved to utilizing the PCMark Storage tests, which utilize real-world application traces for programs such as Adobe CC, and common tasks like booting Windows. The benchmark records bandwidth and access time, and calculates an overall score.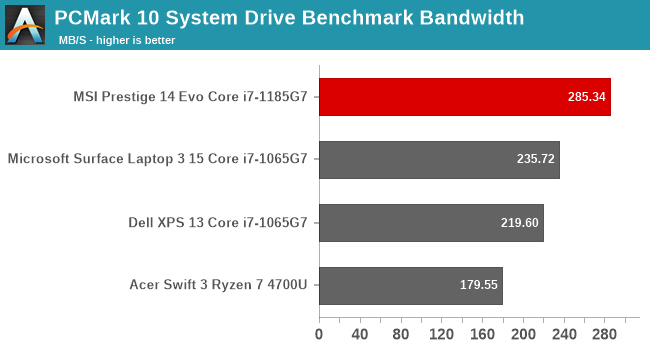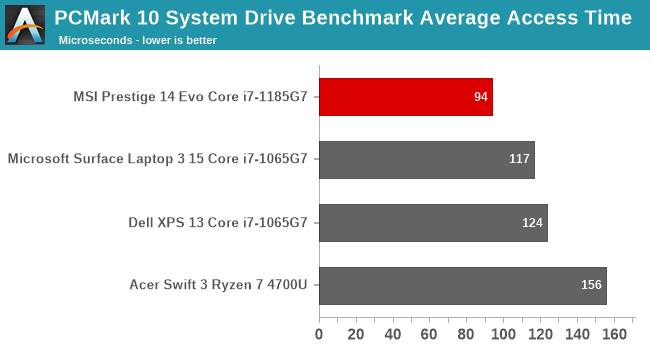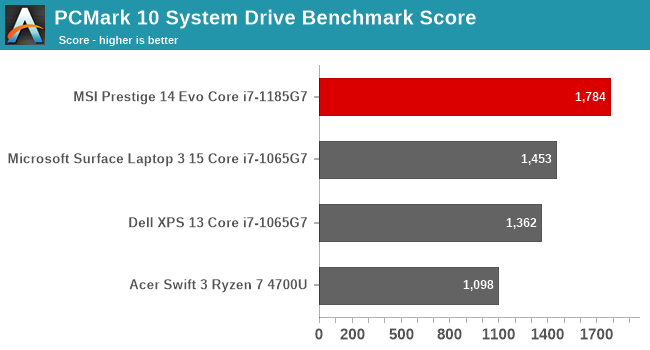 The new PCIe 4.0 drive is the top performing laptop drive we've tested yet. The results are not wildly higher than the PCIe 3.0 drives tested in the past, but that is to be expected for most actual storage tasks, and unless you are doing a lot of large file copies, the extra performance is noticeable, but not as big of a jump as going from SATA SSDs to NVMe would have been.