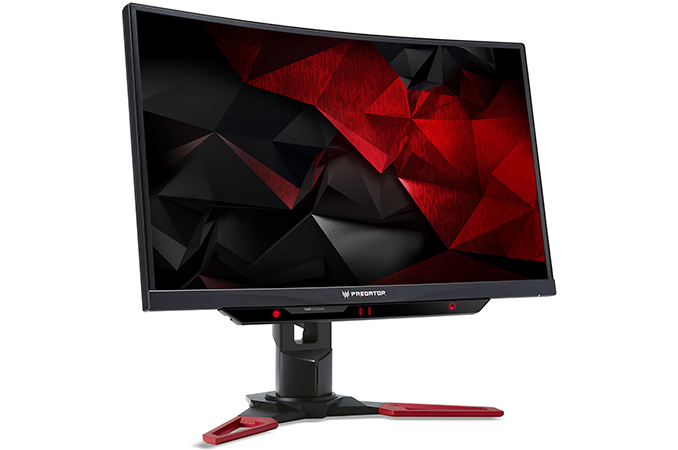 Acer has introduced three new Predator gaming monitors equipped with Tobii eye tracking technology at this week's IFA trade show in Berlin, Germany. The new screens are the first gaming displays to incorporate sensors from Tobii, but apart from them, they also offer very high refresh rates as well as NVIDIA's G-Sync dynamic refresh rate technology.
The Tobii EyeX technology was first demonstrated at CES 2013 (at the time it was called Tobii Gaze) as an alternative means of input from the traditional mouse or keyboard. The EyeX sensor is equipped with IR LEDs and an RGB camera to track eye positions and gaze points, where the EyeChip SoC as well as the EyeX software use the data from those sensors to control cursor in Windows or camera orientation in games. The polling rate of the EyeX sensor is 60 Hz and typical eye to application latency is specified to be around 15±5 ms. Tobii's tech is compatible with Microsoft's Windows Hello and typical Windows apps.
While the eye tracking technology can speed up interaction with certain programs and even make life easier for people with disabilities, developers of software compatible with EyeX are primarily focused on games. In fact, there are around 40 games that support Tobii's EyeX eye-tracking already (including Deus Ex: Mankind Divided and Tom Clancy's The Division). Given the current positioning of the technology, it is absolutely logical for Acer to integrate the EyeX sensor into its Predator displays.
Initially, Acer will offer three gaming monitors with built-in eye tracking: the Predator Z271T, the Predator XB251HQT and the Predator XB271HUT. All three displays feature NVIDIA's G-Sync technology, but the manufacturer does not reveal exact dynamic refresh rate ranges. As for other peculiarities, all three monitors feature at least one DisplayPort 1.2 input as well as distinctive design with red and black color scheme.
Acer Predator Displays with Tobii Eye Tracking Tech at Glance
Predator Z271T
Predator XB251HQT
Predator XB271HUT
Panel
27" VA
24.5" TN
27" TN
Resolution
1920 × 1080
1920 × 1080
2560 × 1440
Max Refresh Rate
144 Hz
240 Hz
165 Hz
Curvature
1800R
-
-
Inputs
DisplayPort 1.2
Display Port 1.2
DVI
D-Sub
Display Port 1.2
DVI
D-Sub
Price
€799
unknown
€899
The Acer Predator Z271T is based on a curved 27" VA panel with FHD (1920×1080) resolution and a 144 Hz maximum refresh rate. The product will be available in EMEA in October with prices starting at €799.
Meanwhile the Acer Predator XB251HQT features a 24.5" TN panel with FHD (1920×1080) resolution, a 240 Hz refresh rate, and an ultra-thin bezel (which Acer calls ZeroFrame). The pricing and availability timeframe of this one remain unknown at this point.


Finally, the Acer Predator XB271HUT has similar design to the XB251HQT (so, it has similar controls as well as the ZeroFrame ultra-thin bezen), but uses a 27" TN panel with WQHD (2560×1440) resolution and a maximum refresh rate of 165 Hz. Expect this display to be available sometimes in December for €899 in Europe.


The monitors are not exactly affordable, but it's worth keeping in mind that the EyeX eye tracker costs $140/€119 when sold separately, and the displays feature rather high refresh rates along with G-Sync. Otherwise the integration of eye tracking into gaming monitors is an interesting move in general and a way to differentiate Predator displays from competing products. So it will be interesting to see whether the new screens will become popular among gamers, and how much of that market is willing to pay the price premium for the functionality.
Source: Acer