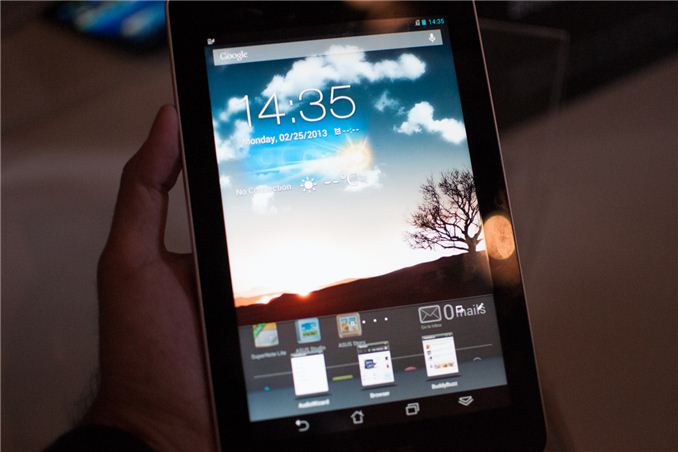 In its annual tradition at MWC, ASUS held a press conference off-site to introduce some of its mobile devices. The introductions are always interesting and typically unique in the marketplace. This year was no different.
To kick things off, ASUS introduced the Fonepad: a 7-inch Android 4.1.2 tablet that also serves as a phone. Samsung launched the Galaxy Note 8.0 earlier this week with a similar capability. While I don't expect many folks to want to hold a 7-inch tablet up to their face, having the ability to combine both tablet and smartphone functionality into one can be tempting. I can see the Fonepad being compelling if you don't make calls all that often but would rather carry a small tablet than a large smartphone, or if you are fine using a Bluetooth headset.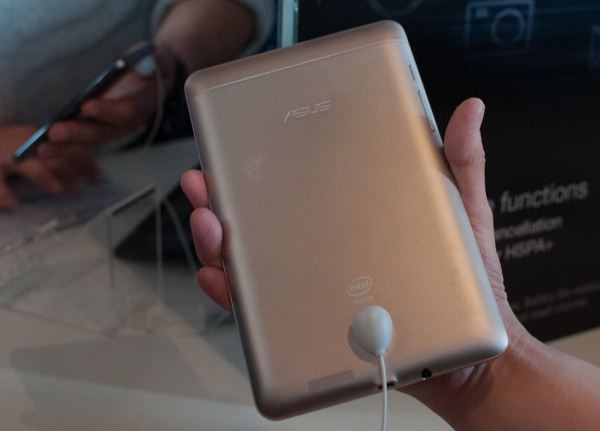 The device is pretty much a Nexus 7 but with a nice metal back. The dimensions are near identical to the Nexus 7 at 196.4mm x 120.1mm x 10.4mm with a weight of 340 grams. The display resolution remains 1280 x 800 and the IPS panel is LED backlit.
In a curious change of pace, ASUS integrated Intel's Atom Z2420 SoC (single-core + HT, 1.2GHz 32nm, PowerVR SGX 540). I'm curious to see how the single core, low-clocked Atom SoC does compared to Tegra 3 in a tablet. Driving all phone functionality is Intel's XMM 6265 baseband, with support for 850/900/1900/2100MHz WCDMA and 850/900/1800/1900MHz EDGE/GSM bands. There's support for 802.11b/g/n and BT 3.0.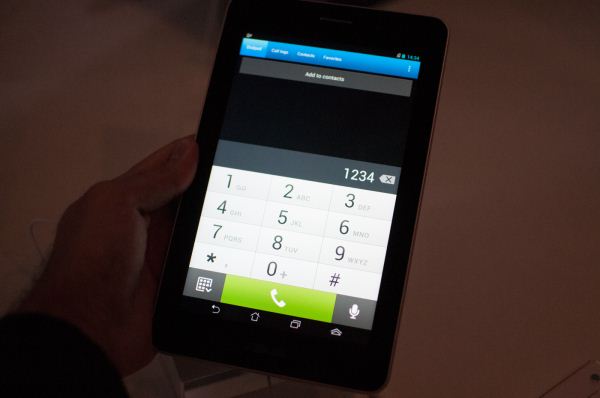 The Fonepad features 1GB of LPDDR2 memory and 16GB of NAND on-board, with a microSD slot for additional storage expansion (a notable absence from the Nexus 7). There's an integrated 16Wh battery (like in the N7) and the device will be available in titanium gray and champagne gold (like the Transformer Prime).
The big selling point of the Fonepad is its price: $249. That's a pretty impressive deal for a full featured smartphone and 7-inch tablet in one. It's a bit of a quirky product, but I can definitely see the Fonepad filling a niche.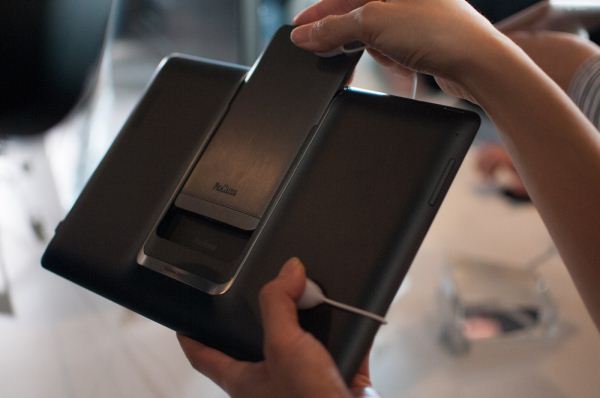 Next up is the ASUS PadFone Infinity. For those of you who aren't familiar with the PadFone concept, it's pretty simple. Take a phone that can dock into and power a tablet display and you have PadFone. The tablet part is strictly a display + battery, all compute and connectivity is driven by the phone element.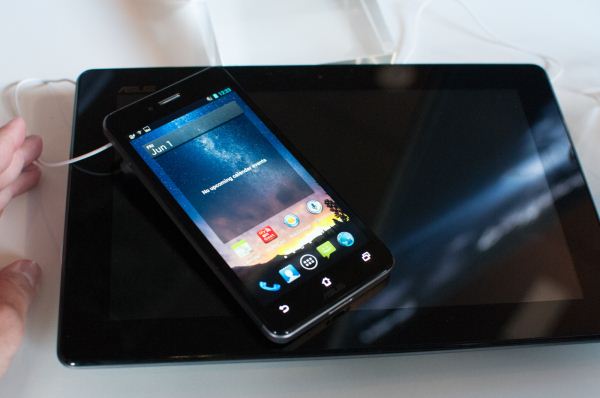 The PadFone Infinity takes a 5-inch 1080p Snapdragon 600 based smartphone running Android 4.2 and pairs it with a 10.1-inch 1920 x 1200 tablet dock (the PadFone Infinity Station). The phone weighs 141g and features an integrated 2400mAh battery, while the tablet dock weighs 530g and comes with a 5000mAh battery.
The phone integrates 2GB of LPDDR2-1066, and will come in both 32GB and 64GB versions. ASUS claims support for 802.11b/g/n and 802.11ac with WiFi Direct, BT 4.0 and NFC. Thanks to Qualcomm's baseband, there's full DC-HSPA+ and UE category 3 LTE support.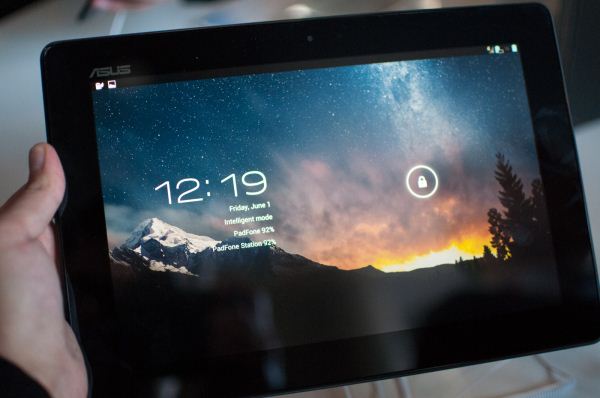 The PadFone features a 13MP rear facing camera with f/2.0 aperture lens and a 2MP front facing camera. When in tablet mode, the rear camera remains unimpeded while the front camera is replaced with a 1MP module.
Video out is supported via a Mobility DisplayPort interface (MyDP) that runs over the standard micro-USB port on the PadFone.