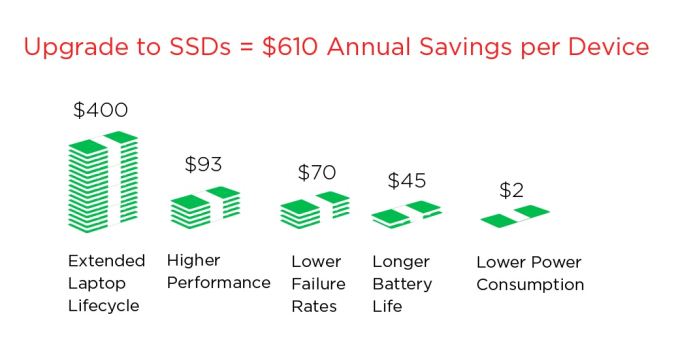 Last year SanDisk introduced the SanDisk Tech Assisted Refresh (STAR) program for enterprises to ease the transition from hard disk drives (HDDs) to SSDs. SanDisk gained valuable experience from its internal upgrade program where 4,600 employees' laptops were migrated from HDDs to SSDs and with STAR program SanDisk is bringing the benefits of its internal program to all enterprises.
The core benefit of STAR program is that it requires no resources from the customer company. One of the main obstacles of SSD upgrades is the fact IT managers cannot abandon their daily routines and perform SSD upgrades on hundreds, or even thousands of computers, and hiring temporary workforce is both risky and expensive. In SanDisk's STAR program, the upgrade and migration is fully done by SanDisk's technical specialists, who will come onsite and perform the data migration and SSD installation overnight, resulting in zero downtime for the employees.
For any company, one of the most important financial metrics is the Total Cost of Ownership (TCO). By upgrading existing laptops with SSDs, companies are able to extend the lifecycle of a laptop from 3-4 years to 4-5 years, which results in annual savings of approximately $400 per laptop. For a company with 1,000 corporate laptops, that is deferred savings of $400,000 by simply extending the lifecycle of the laptop with an SSD.
Additionally, SSDs have higher reliability and lower failure rates when compared with traditional HDDs because SSDs are not susceptible to mechanical wear or crashes due to jarring motion. With less failures, there is less downtime for employees and the IT managers can also focus on other duties rather than replacing failed HDDs and reimaging the system data. Furthermore, SSDs offer significantly higher performance and battery life, which allows the employees to work longer and more efficiently. When considering all the advantages, SanDisk estimates that an SSD equipped laptop results in total annual savings of $610 per laptop.
For full details and customer experiences of SanDisk's STAR program, please refer to the STAR SSD Upgrade Program whitepaper.