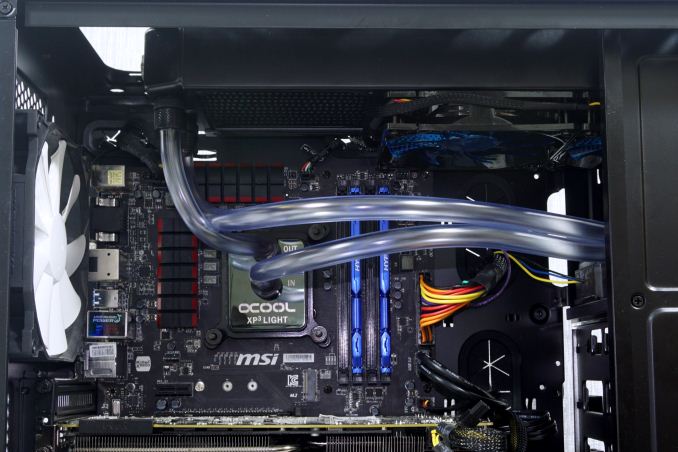 Not so long ago, PC liquid cooling was considered to be an extreme approach, one performed by hardcore enthusiasts and overclockers alone. There were no commercial products available and every individual system was designed by the user. Radiators were modified heater cores extracted from cars, CPU blocks were rare and occasionally machined at local workshops using a copper block and a mill, while high-performance tubing came from shops with medical supplies.
As demand grew, aided by the ever-increasing noise of small CPU heatsinks, companies specializing in these "open loop" liquid cooling solutions began turning up -- a little too fast perhaps, as tens of companies were founded within a few months' time and very few of them actually survived for more than a couple of years. Enthusiasts could then buy specialized liquid cooling equipment and even whole kits from just one seller and only had to assemble the setup into their system. That of course is no simple process for an amateur and a nightmare for a system builder, who had to find ways to ship systems pre-filled with coolant or assume that the user has the skills required to fill & maintain such a system. The payoff in terms of cooling was often immense, but the potential market remained limited to advanced users only.
Liquid coolers finally achieved adoption with the wider enthusiast use base at the start of this decade, when the likes of Asetek and CoolIT Systems came up with an inexpensive closed loop solutions, a design was just as simple to install as a common air cooler and required virtually no maintenance at all. However, as convenient as these all-in-one (AIO) solutions may be, hardcore enthusiasts find them lacking and inflexible. Some of the compact AIO designs can hardly compete against air-based solutions in terms of performance. A few companies began making their systems expandable, but the main parts of the system still cannot be upgraded. As such, AIO coolers rarely are acceptable solutions for the most hardcore of enthusiasts and overclockers, who need the best performance and still prefer designing and building their own liquid cooling systems.
Alphacool is a German designer and manufacturer of liquid cooling systems for PCs who has also diversified into producing liquid cooling systems for industrial and medical applications. They are one of the oldest companies in the field and, even though we did have a review of their recent Eisbaer AIO solutions, their specialization lies with the design, manufacturing and supply of high performance liquid cooling parts for advanced PCs.
Except from individual parts, Alphacool also supplies their products as complete pre-tested kits. It is one of these kits that we will be reviewing today, the NexXxoS Cool Answer 360 DDC/XT. The kit includes:
1x Alphacool NexXxoS XP3 Light Cooling Block
1x Alphacool Repack 5,25 Bay Reservoir
1x Laing 12V DDC-1T Pump
1x Alphacool NexXxoS XT45 Full Copper Radiator
3 meters AlphaTube tubing HF 13/10 (3/8"ID) - clear
6x Alphacool HF 13/10 Compression Fittings G1/4
3x 120 mm Alphacool Coolmove Fans
1x Alphacool CKC Cape Kelvin Catcher Liquid 1000ml
1x ATX-bridging plug (24 Pin) - black
Packaging & Bundle
Alphacool supplies the NexXxoS Cool Answer 360 DDC/XT kit in a large, very sturdy cardboard box. The artwork is simple, based on pictures of the included parts and basic information about the kit.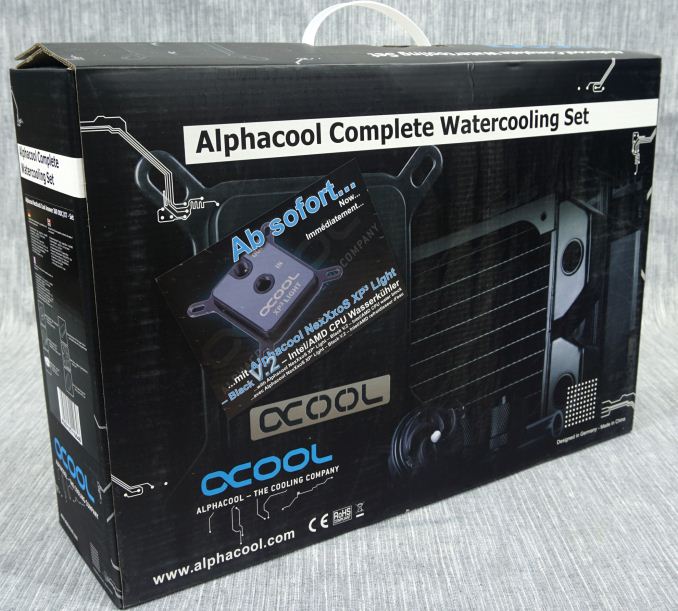 Every included part is packed in its own cardboard box, meaning that the exterior box only provides shipping convenience and protection. The packaging of the individual parts, with the exception of the liquid pump, bears the Alphacool company logo. The clear PVC tubing does not have its own packaging, though that would be redundant as it is nearly impossible to damage such an item during transport. Alphacool also supplies a thorough manual.