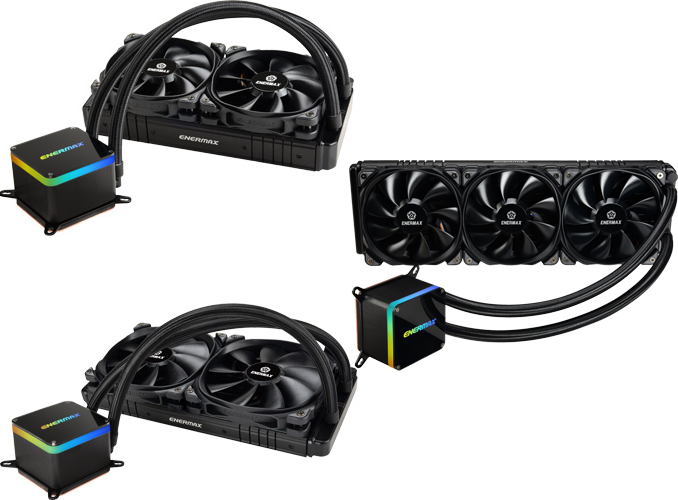 Enermax has introduced its new family of all-in-one liquid cooling systems (AIO LCS) for mainstream and high-end desktop CPUs. Capable of dissipating upwards of 500W of heat, the LiqTech II lineup includes models with 240-mm, 280-mm, and 360-mm radiators, all featuring a high-performance pump. To make the devices more attractive to modders, Enermax is also offering one of the LiqTech II SKUs in white.
Interestingly, Enermax seems to be aiming for overkill here. The company, one of a handful of AIO LCS makers to target AMD's Threadripper platform, is porting their TR4 cooler design to this more mainstream cooler.
The Enermax LiqTech II coolers are compatible with all mainstream sockets in use today, as well as Intel's HEDT socket, meaning it works with Intel's LGA2066/2011/1366/115x sockets as well as AMD's AMx/FMx. However AMD's TR4 socket continues to require one of the company' specialized extra-large TR4 coolers.
The new AIO LCSes use the EF1 pump featuring a ceramic nano PI bearing, a micro-channel cold plate (complete with a shunt channel), a flow rate of 450 Liters/hour, and addressable RGB lighting that connects to its radiator using weaved polyamide rubber tubing. Depending on exact model, the LiqTech II coolers are equipped with two or three fans featuring a high-pressure blade design as well as anti-vibration rubber pads to reduce noise.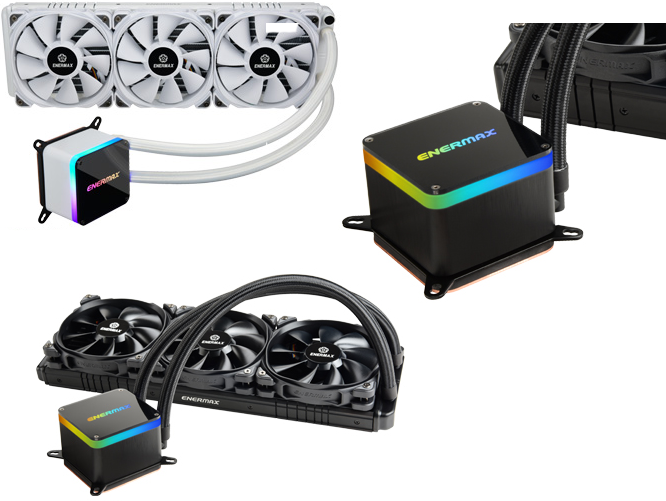 All of Enermax's LiqTech II LCSs are rated for over 500 W of cooling, which is a steep upgrade from the first-gen LiqTech LCS (~300 W), which pre-dated the company's more recent TR4-inspired designs.
Specifications of Enermax LiqTech II-Series Cooling Systems
LiqTech II 240
ELC-LTTO240-TBP
LiqTech II 280
ELC-LTTO280-TBP
LiqTech II 360
Black: ELC-LTTO360-TBP
White: ELC-LTTO360-TBP-W
Dimensions
Waterblock
Pump
Length
71 mm
Width
71 mm
Height
63 mm
Radiator
Length
274 mm
313 mm
394 mm
Width
120 mm
140 mm
120,,
Depth
39 mm
28 mm
28 mm
Fan
Length
120 mm × 2
140 mm × 2
120 mm × 3
Width
120 mm × 2
140 mm × 2
120 mm × 3
Depth
25 mm
Fan (single)
Speed (RPM)
500-2300
500-1500
500-2300
Airflow
(CFM)
23.81 ~ 102.17
31.86 ~ 80.71
23.81 ~ 102.17
Static Pressure (mm-H2O)
0.673 ~ 6.28
0.960 ~ 4.812
0.673 ~ 6.28
Noise (dBA)
14 ~ 28
14 ~ 25
14 ~ 28
Power
3.6 W
2.4 W
3.6 W
MTBF (hrs)
≧160,000 @ unknown oC
Connector
4-pin PWM connector
Pump
Speed (RPM)
3000 (needs to be confirmed)
Life Expectancy
≧100,000 @ unknown oC
Power
4.8 W
Tubing Length
400 mm
Compatibility
AMD
AM4/AM3+/AM3/AM2+/AM2/FM2+/FM2/FM1
Intel
LGA 2066/2011-3/2011/1366/1156/1155/1151/1150
TDP
≧500 W
The motive behind Enermax's the move to adapt its LiqTech TR4 II to other CPUs is clear: Intel's 'extreme' Core i9-9980XE dissipate 165 W of power at stock clocks and will dissipate far more when overclocked. Besides, Intel's mainstream Core i7/i9 processors go well above their official sub-100W TDPs provided that they are cooled properly, which means that better cooling translates into higher performance in many cases.
Enermax plans to start sales of its LiqTech II coolers in early December. The company has not announced pricing, but considering the fact that the LiqTech II TR4 LCS starts at $140, it is likely that versions for other CPUs will start at around the same price point.
Related Reading:
Source: Enermax (via Hermitage Akihabara)