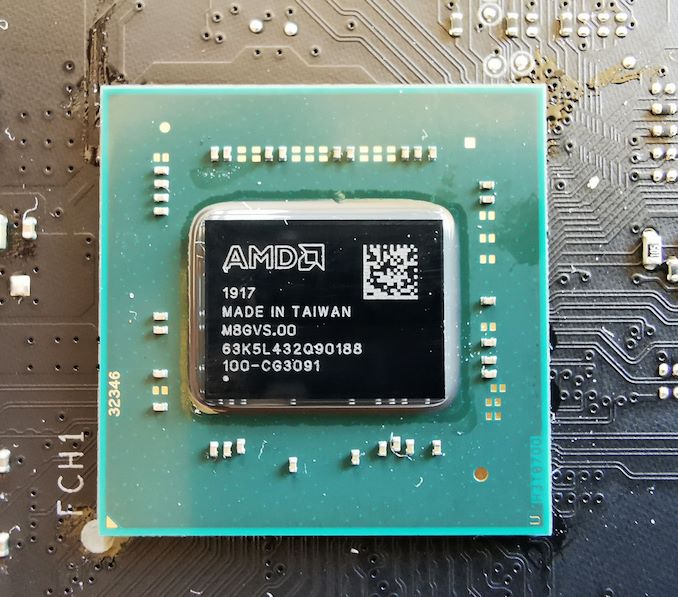 During Computex 2019, AMD's CEO Dr Lisa Su introduced the company's newest AM4 platform chipset, the X570. Designed to support the new AMD Ryzen 3000 series processors, X570 is just as big of an update as the new Zen 2 architecture is. On paper, it has a lot of talking points: the new PCIe 4.0 interface, the 11 W operating TDP, and more USB 3.1 G2 connectivity for vendors to work with. In this article, we'll be analysing all of the available X570 motherboards we could find.
The AMD X570 Chipset Overview: PCIe 4.0 is Here
Among the biggest additions to AMD's AM4 platform is the introduction of PCIe 4.0 support, courtesy of the new X570 chipset. X570 marks the first consumer motherboard chipset to feature native PCIe 4.0 – which can double the bandwidth available for everything from SSDs to video cards, offering the opportunity to improve performance when these peripherals get bus-bottlenecked.
Better still, PCIe 4.0 isn't just a feature of the X570 chipset; the Ryzen 3000 series also support PCIe 4.0 for the integrated PCIe lanes that the CPUs are directly hosting, thanks to the I/O die at the heart of each chip. As a result, the X570 chipset and Ryzen 3000 even use PCIe 4.0 to talk to each other, with that link consuming 4 dedicated lanes from each chip.
Directly comparing AMD's trio of AM4 X-series chipsets, the X570 chipset naturally adds the aforementioned PCIe 4.0 lane support, an improvement over the predecessors' X470 and X370's last-gen PCIe 3.0 standard.
Another big plus to the new X570 chipset is more support for USB 3.1 Gen2, as well as AMD allowing motherboard manufacturers to play with 12 flexible PCIe 4.0 lanes (Out of the total of 24; 4x for CPU, 8x fixed for PCIe) to implement features how they wish. With the flexible I/O lanes, vendors can add features such as SATA ports, PCIe 4.0 x1 slots, or even 3 more PCIe 4.0 NVMe M.2 slots.
AMD X570, X470 and X370 Chipset Comparison
Feature
X570
X470
X370
PCIe Interface (to peripherals)
4.0
2.0
2.0
Max PCH PCIe Lanes
24
24
24
USB 3.1 Gen2
8
2
2
Max USB 3.1 (Gen2/Gen1)
8/4
2/6
2/6
DDR4 Support
3200
2933
2667
Max SATA Ports
8
8
8
PCIe GPU Config
x16
x8/x8
x8/x8+x8*
x16
x8/x8
x8/x8+x4
x16
x8/x8
x8/x8+x4
Memory Channels (Dual)
2/2
2/2
2/2
Integrated 802.11ac WiFi MAC
N
N
N
Chipset TDP
11W
4.8W
6.8W
Overclocking Support
Y
Y
Y
XFR2/PB2 Support
Y
Y
N
One of the biggest changes in the chipset is within its architecture. The X570 chipset is the first Ryzen chipset to be manufactured and designed in-house by AMD, with some helping ASMedia IP blocks. Previously, with the X470 and X370 chipsets, those chipsets were directly developed and produced by ASMedia, with the company building them on a 55nm process.
Meanwhile, we've also seen chipset TDPs rise and fall over the generations. The X370 started things off at 6.8 W, and X470 improved upon things to bring the chipset TDP down to 4.8 W. However for X570, thanks to the high power costs of PCIe 4.0 the TDP of the chipset has gone back up, and significantly so; even the lower-power version of the chip still has an 11 W TDP.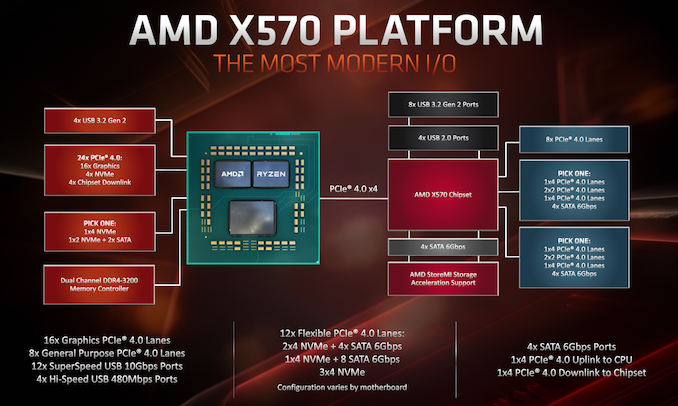 As a result of the increased power consumption of the X570 chipset, better chipset cooling is required. All but one of the motherboards launching in this first round of products are featuring an actively cooled chipset heatsink. While it is expected that AMD will be working on improving their chipset TDP for future generations, for now the increased power has forced manufacturers to implement more premium and more effective ways of keeping the X570 chipset and various other motherboard components cooler.
Tagential to the X570 chipset itself, this new generation of motherboards have forced vendors to keep a closer eye on their power delivery designs and to make sure that they're following AMD's new specification for the 105TDP class chips which require current delivery of up to and above 140A. Notably motherboard vendors have said that the upcoming 16-core Ryzen 9 3950X was the baseline for which the new VRM designs were validated against. In particular, this means using better heatsinks so that the MOSFETs themselves can keep their collective cool.
Finally, while more a product of the Ryzen 3000 CPU itself, memory support has also been improved thanks to a better IMC on the Ryzen 3000. Thanks to this supported frequency boost, some motherboard vendors are advertising speeds of up to DDR4-4400, which were unheard of for an AMD processor until now. Even base frequencies have improved for the X570/Ryzen3000 platform, as the maximum officially supported memory frequency has now increased to DDR4-3200, up from DDR4-2933 on X470/Ryzen2000, and DDR4-2667 on X370/Ryzen1000.
We investigated in our Ryzen 7 Memory Scaling piece back in 2017, we found out that the Infinity Fabric Interconnect scales well with frequency, and it is something that we will be analysing once again when we get the initial launch of the Ryzen 3000 series and X570 motherboards out of the way, and potentially allow vendors to work and improve on their early launch firmware versions for AMD's new 7nm silicon.
The Current X570 Product Stack: 35+ New Motherboards Announced
With the importance of the Ryzen 3000 product launch for AMD underscoring the large potential of the new CPU, motherboard manufacturers have been lining up masses of X570 boards, all with the aim in offering users differentiating configurations in terms of connectivity, components, as well as price points.
Below is the current X570 product stack announced for launch, including models from all the usual suspects: ASRock, ASUS, GIGABYTE, and MSI, as well as solitary additions from Biostar with its X570 GT8 Racing, and Colorful with its iGame X570 CVN Gaming Pro V14 model. It is expected that even more boards will be introduced in the future, as motherboard vendors gain experience and feedback with their first round of boards.
ASRock:
A total of 10 new boards, with a mixture of gaming-focused boards including the Phantom Gaming series, as well as the X570 Creator – which is as the name says, aimed at professionals and content creators. The Taichi makes a comeback, and it's rumoured that a higher end X570 Taichi Ultimate will make an appearance before the end of the year. ASRock also has rear panel Thunderbolt 3 on a couple of boards, which some users will appreciate.
ASUS:
The largest X570 product stack with 12 new models. However the large number is a bit overstating things, since it comes as a consequence of ASUS offering both Wi-Fi and non-Wi-Fi versions of some of its boards. The new Crosshair VIII models dominate the high-end segment, while the small form factor Impact series makes its highly anticipated comeback after a couple of years. In the mid-range, there are the ROG Strix gaming branded models, while the Pro WS X570-Ace caters to workstations. Users looking for models without an overly aggressive gaming theme will find the ASUS Prime more their style, while the entry-level TUF Gaming brand also makes an appearance.
Biostar:
Just one board for the launch of the X570 chipset: the X570 Racing GT8. This is an ATX model, and we've been told that Biostar will be releasing a mini-ITX model (most likely the X570GTN) in the coming months.
Colorful:
Just one model for launch day. Colorful or iGame are mainly sold in the Asian markets, so we don't expect them to be available in the western world anytime soon.
GIGABYTE:
9 boards, with a varied range stretching from the highly-equipped flagship X570 Aorus Xtreme, all the way down to the X570 Gaming X. GIGABYTE is one of just three vendors (along with ASRock & ASUS) who has a mini-ITX model.
MSI:
The smallest X570 product stack from the big four vendors with a total of 7 new boards. This is partially because unlike some of the other vendors, MSI isn't releasing dueling Wi-Fi/non-WI-Fi versions of the same boards; instead either a board includes Wi-Fi 6 as a standard feature or no Wi-Fi at all. MSI also has the board with the most impressive accessory bundle, with the X570 Godlike including a 10 GigE NIC in addition to its 2.5 GigE NIC on the rear panel. It's nice to see MSI going better than Gigabit when compared with X470.
X570 Motherboards Available at Launch (07/07)
Model
Size
Price
(Amazon)
Price
(Newegg)

ASRock X570 Aqua

E-ATX
-
-

ASRock X570 Taichi

ATX
$339

$300

ASRock X570 Creator

ATX
-
-

ASRock X570 Phantom Gaming X

ATX
-

$350

ASRock X570 Phantom Gaming 4

ATX
-

$155

ASRock X570 Phantom Gaming-ITX TB3

mITX
-

-

ASRock X570 Steel Legend

ATX
$260

$200

ASRock X570 Extreme4

ATX
-

$240

ASRock X570 Pro4

ATX
-

$170

ASRock X570M Pro4

mATX
-

$186

ASUS ROG Crosshair VIII Formula

ATX

$700

$700

ASUS ROG Crosshair VIII Hero WIFI

ATX

-

$380

ASUS ROG Crosshair VIII Hero

ATX
-
$360

ASUS ROG Crosshair VIII Impact

mDTX
-
-

ASUS ROG Strix X570-E Gaming

ATX
$330

$330

ASUS ROG Strix X570-F Gaming

ATX

-
$300

ASUS ROG Strix X570-I Gaming

mITX
-
-

ASUS TUF Gaming X570-Plus WIFI

ATX

$200
$200

ASUS TUF Gaming X570-Plus

ATX

$190
$190

ASUS Pro WS X570-Ace

ATX

$380
$380

ASUS Prime X570-Pro

ATX

$250
$250

ASUS Prime X570-P

ATX

$170
$170

Biostar X570 Racing GT8

ATX

-
-

Colorful CVN X570 Gaming Pro V14

ATX

-
-

GIGABYTE X570 Aorus Xtreme

E-ATX
-

$700

GIGABYTE X570 Aorus Master

ATX

-
$360

GIGABYTE X570 Aorus Ultra

ATX

$300
$300

GIGABYTE X570 Aorus Pro WIFI

ATX

-
$270

GIGABYTE X570 Aorus Pro

ATX

-
-

GIGABYTE X570 Aorus Elite WIFI

ATX

-
-

GIGABYTE X570 Aorus Elite

ATX

$200
$200

GIGABYTE X570 I Aorus Pro WIFI

mITX
-
$220

GIGABYTE X570 Gaming X

ATX

-
$170

MSI MEG X570 Godlike

E-ATX

$700
$700

MSI MEG X570 Ace

ATX

$370
$370

MSI Prestige X570 Creation

E-ATX
-
$500

MSI MPG X570 Gaming Pro Carbon WIFI

ATX

$260
$260

MSI MPG X570 Gaming Edge WIFI

ATX

$210
$210

MSI MPG X570 Gaming Plus

ATX

-
$170

MSI X570-A Pro

ATX

-
$160
On the next page is a summary of each board's power delivery system, with each subsequent page containing a brief analysis/rundown of all the individual boards.