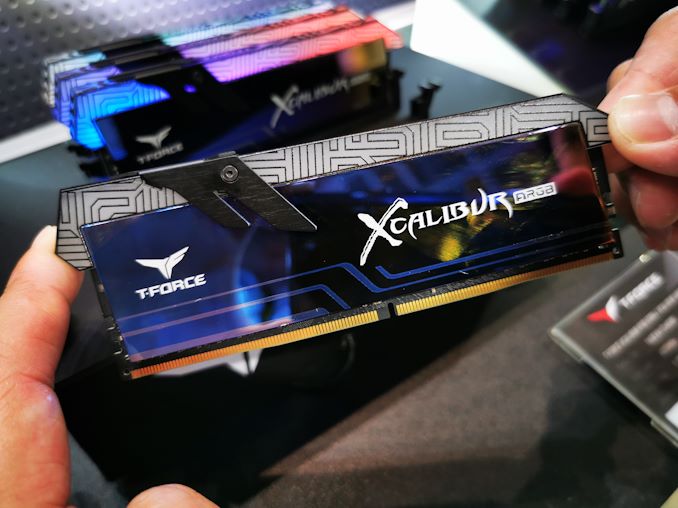 At Computex 2019, TeamGroup unveiled a couple of new products aimed at users looking for high-end components. One of these was its refreshed T-Force Xcalibur DDR4 memory now with addressable ARGB LEDs.
During CES 2019, TeamGroup announced a set of ASRock Phantom Gaming branded Xcalibur RGB modules, fast forward to Computex 2019, TeamGroup had its new T-Force Xcalibur ARGB on display with the new ARGB heatsinks modelled over a high-end kit of DDR4-4000 Samsung B-Die based memory kit.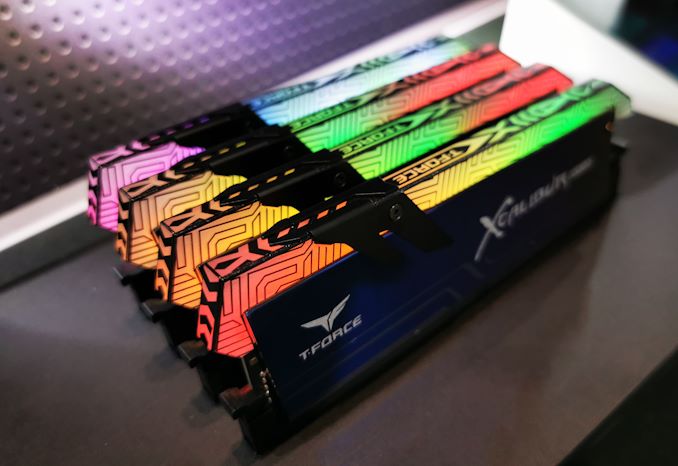 The T-Force Xcalibur ARGB memory is very similar in design to the previous special edition Xcalibur RGB modules, but with new addressable RGB LEDs which seems to be the new market trend for gaming-focused brands. Each heatsink has a black aluminium finish with the Xcalibur and T-Force logos, with the 120 degrees angled lighting coming from the light bar at the top of the module which includes an Aztec inspired patterning.
While TeamGroup only had a DDR4-4000 16 GB (2 x 8 GB) kit on display, it remained silent on which frequencies and capacity configurations it would be available to end users in. It will likely cover the same kits the T-Force Xcalibur RGB are available in including DDR4-3600 and DDR4-4000.
Want to keep up to date with all of our Computex 2019 Coverage?

Laptops

Hardware

Chips
Follow AnandTech's breaking news here!