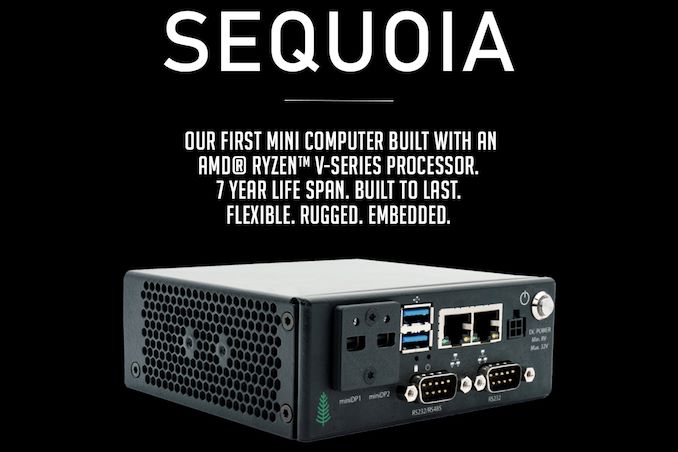 SimplyNUC, a maker of ultra-compact form-factor (UCFF) PCs, has introduced its first PCs that use AMD's Ryzen Embedded processors. The Sequoia units are rugged commercial systems designed for applications like edge data analytics, electronic kiosks, and digital signage that can withstand up to 95% of relative humidity as well as temperatures as high as 60°C.
SimplyNUC will offer two versions of its Sequoia UCFF systems: the Sequoia v6 equipped with AMD's quad-core Ryzen V1605B processor with AMD Radeon Vega 8 graphics, 4 GB of memory, and a 128 GB SSD. Meanwhile the Sequoia v8 is powered by AMD's quad-core Ryzen V1807B processor with AMD Radeon Vega 11 graphics, 4 GB of DDR4 RAM, and 128 GB SSD. As always with SimplyNUC PCs, the Sequoia computers can be tailor-made in accordance with requirements of a particular client.
UPDATE 11/15: AMD's Ryzen V1605B is a quad-core processor that was incorrectly called a dual-core CPU by the PC maker.

Being flexible systems aimed at a wide range of applications, all SimplyNUC Sequoia UCFF PCs feature very extensive connectivity, which includes Wi-Fi 5, Bluetooth 5, optional 4G/LTE modem, two GbE ports (controlled using Intel's i210-LM), two Mini DisplayPort outputs, Serial RS-232/Serial RS-485 video outputs, an optional microSD card reader, and several USB 3.1 Gen 2 ports.
When sold in default configurations, SimplyNUC's Sequoia v6 will cost £445, whereas the Sequoia v8 is to be priced at £560. Since we are talking about embedded systems, the manufacturer guarantees a seven-year supply for the computers (starting from November 2019) and will offer them with warranty options of up to five years.
Related Reading:
Source: SimplyNUC