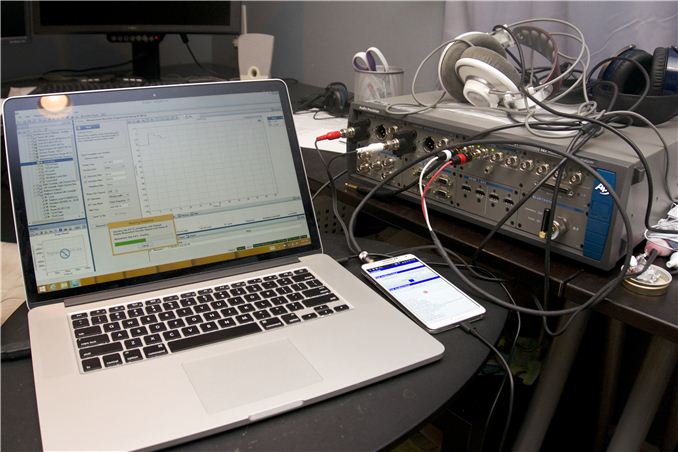 We spend a lot of time watching and listening to our smartphones and tablets. The younger you are the more likely you are to turn to them for watching a movie or TV show instead of an actual TV. For a lot of us it is our primary source of music with our own content or streaming services. Very rarely when new phones or tablets are announced does a company place any emphasis on the quality of the audio.
Display quality also used to receive very little attention. As more and more people reported on the display performance, more companies started to take notice. Now benefits like "Full sRGB gamut" or "dE < 3" are touted on new products. So now we are going to introduce a new set of testing for smart phones and tablets, audio performance.
To do this right we went to the same company that all the manufacturers go to: Audio Precision. Based out of Beaverton, OR, Audio Precision has been producing the best audio test equipment out there for over 25 years now. From two channel analog roots they now also test multichannel analog, HDMI, Optical, Coaxial, and even Bluetooth. Their products offer resolution that no one else can, which is why you will find them in the test and production rooms of almost any company.
Just recently they introduced a brand new set of audio tests for Android devices. Combined with one of their audio analyzers, it allows us to provide performance measurements beyond what has been possible before. Using an Audio Precision APx582 analyzer we set out to analyze a selection of Android phones to see what performance difference we can find. More phones and tablets will follow as these tests can be run.
The Test Platform
The test platform is the Audio Precision APx series of audio analyzers. For this initial set of tests I used an APx 582 model, which has two analog outputs and 8 channels of analog inputs. The outputs are not necessary as all of the test tones are provided by Audio Precision for playback on the devices. For each set of tests we can add a load, simulated or real, to see how the device handles more demanding headphones. For this article I am sticking with only a set of the updated Apple Earbuds. They are probably the most common headphone out there and easy to acquire to duplicate testing. For future tests the other loads will be AKG K701 headphones and Grado SR60 headphones. Both models are popular, and I happen to own them.
There are a few main tests we are going to use for all these reviews. Those key tests are maximum output level, Total Harmonic Distortion + Noise (THD+N), Frequency Response, Dynamic Range (as defined by AES17), and Crosstalk. These tests are the exact same ones that manufacturers will be running to verify their products. Most of these tests will be run at maximum output levels. Most amplifiers perform best at close to their maximum levels, as the residual noise compared to the signal decreases, and so that is what they are typically tested at.
We might add more tests as we decide they are relevant to our testing. I will also attempt to go back and fill in as much data as possible from previously reviewed devices as time permits. Now to look at the tests and see our results for our initial set of phones.