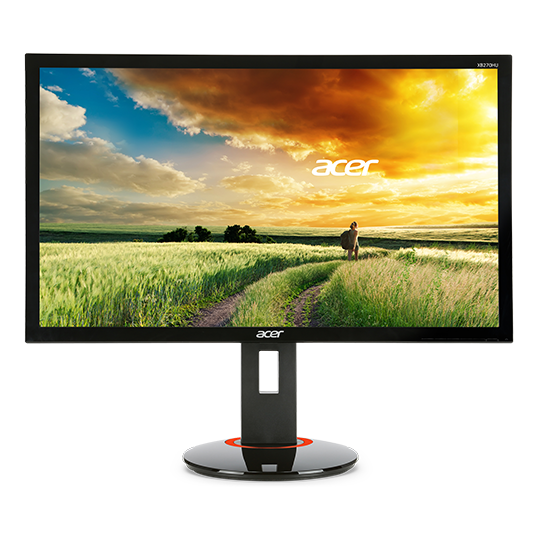 Acer XB280HK: Introduction, Design and Specs
When it comes to gaming, 4K displays present a conundrum (beyond 4K being used incorrectly, but I'll still use it). On the one hand, all the extra pixels allow for far more detail. On the other, that is a lot of pixels to push for a GPU. Even with the best GPUs out there, you might – okay, will – have to disable certain features and start to introduce aliasing and other artifacts. A solution to this might be G-SYNC to enable gaming that looks smooth even when running below 60 FPS, and that's what we're looking at today.
G-SYNC, only available on video cards from NVIDIA, allows frame rates below the normal optimal speed of 60FPS to still look very smooth. The Acer XB280HK is the first G-SYNC display to also feature a 3840x2160 resolution. Unlike some other G-SYNC displays the Acer only runs at 60Hz and below, though I don't believe running faster than 60Hz at 4K resolutions will be much of an issue right now. Anand previously reviewed G-SYNC and described the details of how it works.
Like all currently shipping G-SYNC displays (with the exception of the IPS Acer display announced at CES 2015), the Acer uses a TN-panel. For 120Hz or 144Hz G-SYNC panels you often need to use TN, but 60Hz would allow for IPS. The likely culprit here is cost, as the Acer currently sells for under $800. Other 4K 28" IPS displays cost at least as much and lack G-SYNC, making them a much worse choice for gaming than the Acer. Since I am not a gamer myself, all the gaming comments for this review will be done by Jarred Walton. Aside from some WiiU or Magic Online, my gaming days are well behind me (or ahead of me).
Like most G-SYNC displays, the Acer has but a single DisplayPort input. G-SYNC only works with DisplayPort, and if you didn't care about G-SYNC you would have bought a different monitor. It also has a USB 3.0 hub with two ports on the rear-bottom and two on the side. There are no headphone connections or speakers, so it is fairly bare-bones as far as connections and extra features go.
The included stand is very good overall. Built-in adjustments for height, tilt, swivel and pivot make it a very flexible option, and though running a TN panel in portrait mode can be problematic at best, the ability to pivot does provide for easier access to the bottom ports when connecting peripherals. It also has 100mm VESA mounting holes if you desire to use another stand or even wall mount it. The outer bezel is a shiny plastic, which is not my favorite as it shows fingerprints and smudges very easily. Though an $800 monitor should have a nice stand, many displays choose form over function but Acer does it correctly here. I really see no reason to replace the stand they provide.
The OSD works well, with a row of buttons on the bottom of the screen and icons directly above them indicating what they do. There's no guessing which is correct, and no touch-sensitive buttons that don't work well. Acer provides basic, simple, effective controls that everyone should be happy with. There are a decent number of controls available, including gamma and color temperature. There is also an optional frame rate indicator that you can see on the left side of the screen. This gives you a quick indication of what your actual frame rate is, since G-SYNC should remain smooth even when it drops below 60Hz.
From a user interface perspective, the Acer XB280HK hits all the right notes. The stand is very adjustable while the controls are easy to use. The only real thing I would change is to make the bezel a matte finish instead of glossy to avoid fingerprints, and because I think it just looks better.
Looking just at the specs and the exterior design, the Acer XB280HK has a lot going for it. The big questions are how well will it perform when gaming at 4K with G-Sync, and how does the monitor perform on our objective bench tests?
Acer XB280HK G-Sync

Video Inputs
1x DisplayPort 1.2
Panel Type
TN
Pixel Pitch
0.1614mm
Colors
16.7 Million
Brightness
300 cd/m2
Contrast Ratio
1000:1
Response Time
1ms GtG
Viewable Size
28"
Resolution
3840x2160
Viewing Angle (H/V)
170 / 160
Backlight
LED
Power Consumption (operation)
42.5W
Power Consumption (standby)
0.5W
Screen Treatment
Anti-Glare
Height-Adjustable
Yes
Tilt
Yes, -5 to 35 degrees
Pivot
Yes
Swivel
Yes, 45 Degrees
VESA Wall Mounting
Yes, 100mm
Dimensions w/ Base (WxHxD)
25.9" x 22" x 9.6"
Weight
17.2 lbs.
Additional Features
4x USB 3.0, G-Sync
Limited Warranty
3 Years
Accessories
DisplayPort Cable, USB 3.0 Cable
Online Price
$785