After a very public development process over the last couple of years, this year we have seen the consumer release of virtual reality headsets become a matter of when, not if. The launch of the first generation of consumer VR headsets is now just a quarter away, and as software and hardware developers move out of the experimentation phase and into the production phase, we are seeing the complete VR ecosystem take shape. The hardware is coming along, the games are in development, and now the first benchmarks are being announced.
This morning benchmark developer Basemark and game engine developer Crytek are announcing that the two of them are partnering together to develop a new dedicated VR benchmark. In a presentation aptly named "Can it Run VR?" Basemark and Crytek have laid out their goals for the benchmark, which will be built around Crytek's CRYENGINE. The two companies will be developing a full AAA quality VR benchmark for PCs running on top of DirectX 12, with the end product to be a "real-world" benchmark thanks to its use of a commercial game engine. Crytek for their part are no strangers to VR, with CRYENGINE already powering the Back to Dinosaur Island VR Tech demo.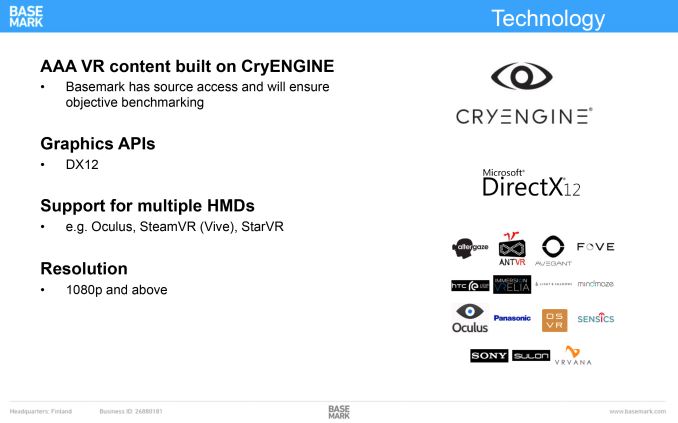 For their benchmark, Basemark and Crytek are looking to evaluate several aspects of VR. Along with the expected look at framerates – Oculus has been pushing 90Hz – Basemark has also stated that the VR benchmark will have the capability to measure latency, both for inputs and displays. Latency has been a big focus point for the first generation headsets due to the fact that it is so crucial in causing/combating motion sickness, so the fact that the benchmark will incorporate testing for it may very well be the most important feature of this benchmark. Having a neutral 3rd party provide a standardized latency test will go a long way towards not just comparing headsets, but helping manufacturers improve them as well. Meanwhile, Basemark and Crytek have also mentioned that they will be looking at additional tests further down the line, including headset image quality and dynamic range.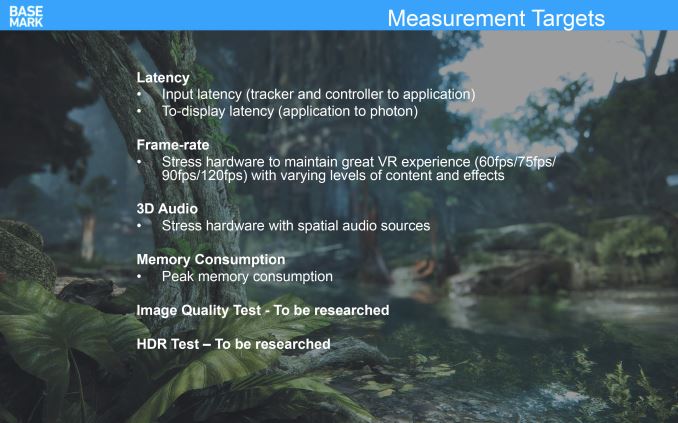 Finally, while the benchmark is being announced today, the nature of the announcement makes us believe that the benchmark is still in early development. As part of their press release Basemark is including a call to action, inviting interested companies to sign up and participate in the development of the benchmark. As a result no firm date is attached to the project right now, but it's a safe bet that this is going to be a 2016 release.
Source: Basemark