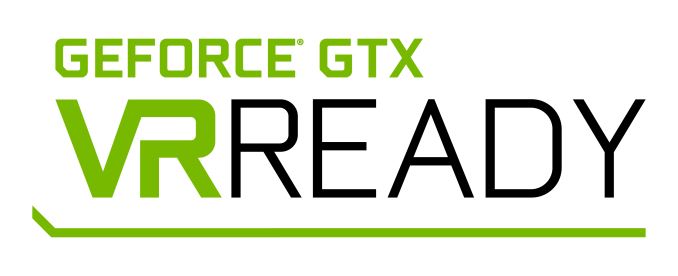 With CES 2016 quickly ramping up ahead of Wednesday's official opening, NVIDIA is hitting the ground running. While the company will be holding their traditional CES press conference this evening – with a focus this year on self-driving cars – the company's consumer GeForce division is also at the show with their own products and technologies to show off. To that end, early this morning the company sent over a press release for a new branding program they're launching, which they are calling the GeForce GTX VR Ready Program.
The VR Ready Program will be a new branding/badging initiative from NVIDIA, that similar to past branding initiatives, is being created to label components and systems that the company considers to be VR ready. NVIDIA's press release notes that they see a need to make it clearer to consumers which systems and components will be suitable for VR, which is why they are launching this program. Meanwhile more pragmatically speaking, this is also the latest effort by NVIDIDA to build up an ecosystem around VR and head mounted displays, as the company sees VR as a major market for high-end GPUs in 2016 and beyond.
As for the actual system requirements for the GeForce GTX VR Ready program, these are are unsurprisingly almost identical to Oculus's previously announced Oculus Rift recommended system specifications.
Desktop GPU: GeForce GTX 970 or better
Mobile GPU: GeForce GTX 980 or better
CPU: Intel Core i5- 4590 equivalent or greater CPU
A PC with USB 3.0 support,
8GB+ RAM of Memory/RAM
2x USB 3.0 ports and HDMI 1.3
Windows 7 SP1 or newer
Consequently, NVIDIA hardware vendors putting together cards and systems for the Rift can by and large join NVIDIA's VR Ready program just by following Oculus's existing recommendations.
NVIDIA will be offering the badge for both complete systems and retail video cards. Complete systems will need to meet all of the above requirements, while video cards need to be a GTX 970 or better. The press release does not note a specific date this badging program will go live, but with the associated website going live today, it would appear that the badging program will be launching imminently, a couple of months ahead of the expected spring releases of the Oculus Rift and HTC Vive headsets.
Source: NVIDIA